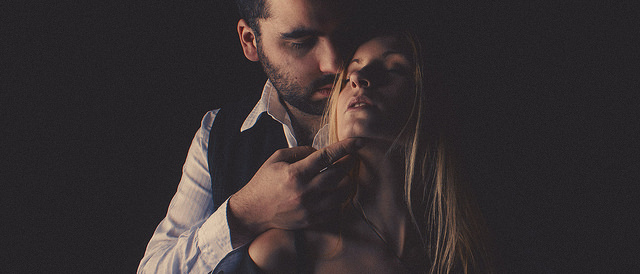 **Warning: adult language ahead!
.
"It isn't about diamonds, fuck the flowers, all she wants is someone to keep her bed warm every night and touch her like it's agony not too." ~ J.Rose
.
I've never had someone give me their all—but this time that is all I will accept.
The thing that I've realized is that I've never been with someone who has made me one of their priorities—and in that process I have poured 200% of myself into the relationship trying to make up for it.
But the actuality is that it never worked. Because one person can't make up for the emotional or physical distance of another—no matter how hard we might try.
The reality is that I accepted less because at the time that was all I thought I was worthy of.
I thought that it was acceptable to be in a marriage where I did everything and got nothing in return.
I believed that it was normal to have men want to fuck me, but not want to give their hearts to me.
In the end, none of these relationships was the fault of my partner at the time—it was mine.
I doubted myself and my worthiness of love.
The truth that I realized, long after the fact, was that I didn't fully love myself—and so, I never expected someone else to.
I was 50/50 with my own soul—so it seemed only natural to pick of pieces and breadcrumbs from those who tossed their meager offerings my way.
But I never felt truly satisfied—even when I felt the transparent shower of happiness from these shallow interactions.
It wasn't until I was left alone with myself that I realized I was trying to seek outside validation of my own worth from these men.
I was relying on them to make me happy, to make me feel interesting and even depending upon them for the acceptance that I was physically attractive.
I needed to be left alone to realize that everything that I was seeking from others was precisely what I needed to discover within my own heart.
It took a long time to fall in love with myself—and to be at a point where I don't feel the need to apologize for it anymore.
But now, not only do I know who I am and what I want—I also know what I deserve.
And this time—I want it all.
I want a partner who sees what he has, while he is looking into my eyes deeply, with a lingering curiosity to know more.
Someone who makes me laugh, with belly rumbles all the way down to my crimson painted toes.
He's a man who I don't have to prove myself to, because he sees not the brush of my soft long hair or wisps of blue eyes—but my soul.
And it's that part of me that he will have fallen in love with first.
I want a man who gives me his all.
Not because we won't have other commitments or priorities that we need to honor and uphold, but because even apart from each other, we will know that we are even stronger because we are travelling on our individual paths with an authentic togetherness.
I want it all—not because I am greedy or have expectations that are too high, but because that is how much I have to give to another person.
I am overflowing with ripe and juicy love, and I am holding out for a man who I won't ever be too much for.
My overzealous personality and commanding presence won't be something that he wishes to tame, but rather just one aspect of the woman I am—because he knows that like the seasons, a change is just a tempestuous eyelash blink away.
And when I am feeling introverted, quiet and reclusive, he will know that the only thing he needs to do is just let me fall against his chest—because on those days, I won't feel the strength to do much else.
I'm ready to give someone my all—I'm ready to let the last remaining bits of my walls fuckin' crumble to the earth in a dusty storm of self-protection and sabotage.
My insecurities are nothing but the dried fallen leaves of last year's trees, already forgotten and hidden beneath blankets of pure silken snow.
All of the past hurts and mistakes—I wear them like luminescent scarlet rubies in my crown, because they have made me the queen that I am.
While at times I wished that I could have rushed the process, the truth is that I needed time to bloom.
And now I know that, truthfully, the best of things can't ever be rushed.
I want a man who can bring me to my knees, and make my heart shake by just looking at me—because I know that I will do the same for him.
Though he won't want to change me—he also will know that transformation is inevitable for me, as every morning I am constantly rearranging myself into the best possible version of the woman that I want to be.
And he will know that mediocrity just isn't in my vocabulary, and though he may shake his head at the storm that I am at times—he won't ever waiver in his love and support.
Though I have let a select few traverse the temple that is my body, this man will claim it as his own—and even in his absence, my body will still burn from him pressing his lips into all of those places that no other ever did.
This time, I simply just want it all.
The delicious taste of ebony midnights escapades across my skin and succulent sunrises that spread a smile across my face.
I want to be loved down to my toes and fucked into a breathless splendor.
And now, I am waiting until I get just that.
Because when we finally know that we deserve it all—we'll also know that it will be worth the wait.
Relephant read:
Bonus:
.
Author: Kate Rose
Editor: Yoli Ramazzina
Photo: Flickr/Maximilian.M