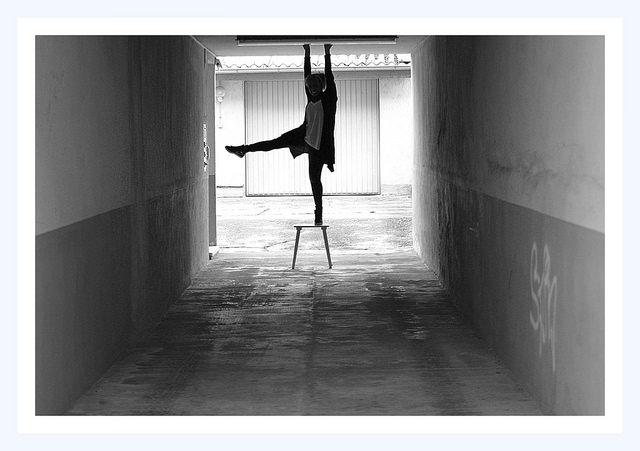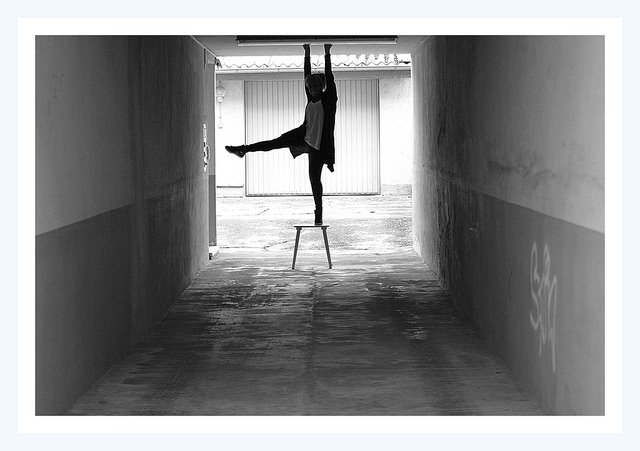 "Dancing, singing, storytelling and silence are the four universal healing salves." ~ Gabrielle Roth
I walked into Sweat Your Prayers (5 rhythms ecstatic dance) on Sunday and the woman at the desk said: "Just so you know today is a memorial healing dance. One of our tribe spontaneously lost her husband of many years on Thursday and we are honoring him and making space for her to grieve today."
My first thought was: "Well sh*t, I came to feel better. I didn't come here to be sad, to cry or to bring the bag of grief I'm carrying around to the surface."
I wanted joy, uplift, happiness…I wanted the qualities that have been eluding me in my grief.
Yep, I have been wallowing lately. I made a decision and took action to leave a relationship that created massive change and upheaval on all major fronts in my life—relationship, location, job, friendships, activities, and finances.
While I chose this change, the magnitude of sadness and confusion I experienced was unexpected. I teach that choice empowers us and here I was fighting to believe and trust my own understanding, my own teachings, and my own passionate beliefs.
With reticence, I opted to stick it out and go in. I mean, I had driven 35 minutes to be there, given up the opportunity to go crush hill repeats on my bike (this is my most familiar way of handling my grief) and gotten myself all dolled up in my "dance clothes"—what a waste of cuteness that would have been.
I entered the room to find only a handful of people, most surrounding or acknowledging Julie (not her real name)…all crying. The wave of emotion nearly swept me off my feet. I felt my throat tighten; I felt my pain come to the surface…I felt myself resist with fervor. I remembered the Taoist teaching that the oak tree that resists the wind breaks and the willow tree that bends with the wind survives.
I bent…as I began gently swaying with the music, I let the tears come to the surface and pour from my being.
As the two-hour dance session began, the room was solemn. Nearly everyone was teary. A particular reverence had enveloped the space. While it was clear that each person was an individual dancer, the dance became a body of people with a common focus. We were there to heal from grief, to bend with it, to move it through and from our bodies.
"By having a reverence for life, we enter into a spiritual relation with the world. By practicing reverence for life we become good, deep, and alive." ~ Albert Schweitzer
A typical 5 Rhythms Sweat Your Prayers session comes in two waves of five rhythms: Flowing, Staccato, Chaos, Lyrical and Stillness. In each of these rhythms we are invited to explore the depth of our self, our relationship to our bodies and our relationship to our emotions. Rolling with the energy in the room, I allowed myself to bring my grief right up to the surface.
While Flowing, I treated myself with kindness. I moved slowly, delicately…feeling into the parts of me that were aching with exhaustion from carrying pain instead of joy. I let the pain dance out of my being. I could almost see it leaving me…a dark energy. I recall consciously asking God to not allow it to attach to anyone else but to dissipate it with divine love and transform it for a greater good.
Along came Staccato. Gabrielle Roth's teaching suggests that staccato is practicing the power of masculine energy and that it allows us to access the warrior within. I found my warrior alright. As the beat energized, I felt angry! I stomped and pounded and maybe even let out a warrior cry. I mildly cringe at that probability although nobody in the room would take offense to such a natural act of release.
I allowed the anger to rise and transform with the drumming beat. I experienced a visceral transition from anger to power.
In the middle of the wave comes Chaos. With all of the power and sense of purpose coursing through my body, I offered my chakras to chaos. Practicing a method of release I learned at Wings Seminars, I stood in one place and began shaking. I shook my hands, I was bouncing maniacally, my head and mane of hair flipped wildly about, and I shook my ass and hips like I was birthing a vortex. I was so in my body I had no recognition of my mind, my thoughts…my grief. The music relented and every cell in my being was abuzz with passion for life.
As Lyrical began, I felt like I was taking flight or rebirthing myself. Mired down in grief, I was incapable of seeing who I truly am, what I have to contribute and how my light shines in the world. After only 45 minutes of dance, I found my highest self.
I recalled the contract I made with myself in 1998:
I am gracious, joyful, free…living Truth.
Being a shamanic practitioner, I sometimes like to dance my spirit animals. I let Eagle express through me. We soared about the room making eye contact with each being, with each bare soul, with every vulnerable and courageous person who was dancing away their grief. I was blessed to see the divine in everyone.
As Stillness brought the wave to completion, I was in an utter state of bliss. I offered myself a respite in the form of lying on the floor. To those gently dancing around me I offered a radiant smile, a twinkle of encouragement and a gaze of love. I felt part of something greater than myself and my limited humanness with all of its pains and pleasures.
While I am reluctant to imagine that I have evolved to a point that I will never touch grief again, I now know what I am going to do if it hits. I'm going to dance it out! Join me?
Author: Carin Aichele
Editor: Renée Picard
Photo: lolla li/Flickr