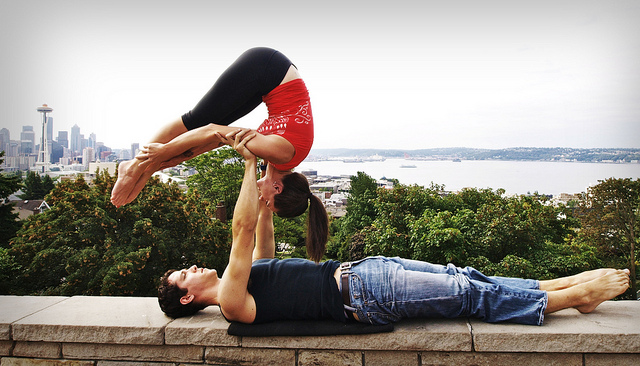 This article originally appeared on MeetMindful. elephant is proud to share their content, and we think you'll love them just as much as we do. Happy reading! ~ Ed.
Part of what makes yoga such a special pastime is the feeling of oneness we experience as we connect with our body, spirit, and breath. Now, imagine if you were to take this practice and experience it with your partner.
The word "yoga" literally translates to "union," and while it is meant to unite our mind and body, this same principle can be applied to uniting two people. Relying on each other to sustain positions creates a strong bond; not only does it requires trust, but it's fun and invigorating.
If you have any reservations about trying out yoga as a couple's activity instead of always going solo, consider these ways that doing yoga together can benefit your relationship:
Facilitates Bonding
If the daily grind is starting to cut into the time you and your partner use to spend together, new activities are always welcomed. Unfortunately, there can be a lot of distractions—such as checking e-mails from work, social networking from cell phones, or distractions from children or others—when couples try to spend quality time together. The great thing about yoga is it's about being totally present in the moment, which means you and your partner will be giving each other your complete attention. This awareness of one another is the best quality time you can possibly get.
Great for Firing up Libido
Doing couples yoga can help rev up your libido in multiple ways. The obvious would bethe close physical contact and the intimacy of synchronized breathing. It's also a great time to pick up on each other's pheromones, while noticing how good your partner looks in those form-fitting yoga pants. Those who crave emotional connection and intimacy will also appreciate being able to look into each other's eyes, holding hands, and bonding. Getting your heart rate up and having a good workout is also known to increase sex drive.
Provides Laughter & Fun
They say couples who play together, stay together, and there definitely seems to be some truth to that statement…
~
Author: Brooke Janssens
Editor: Katarina Tavčar
Photo: Kristin Wall/Flickr