We have to wear our skin every day of our lives. And although it's amazingly resilient, our skin requires at least occasional attention and care.
But deciding which body care products to use can be a challenge. Aisle after aisle of department store skincare products have been carefully crafted (and marketed) to improve and protect your skin, but which ones are actually safe and healthy? And why does it matter?
More and more research points to the potentially negative impacts that chemical-heavy body care products can have on our skin, reproductive health, brain development, liver function, and nervous system. In fact, some skincare product ingredients are considered carcinogenic.
We asked expert herbalist Faith Rodgers, to help you make sense of your options. We'll share actionable tips and information for choosing what you rub, spray, and wipe on your body. We'll give you info about her favorite body care herbs, and as an added bonus, Faith will share her personal recipe for homemade baby wipes.
The Genesis of Faith Rodgers' Expertise
It was Faith's experience as a nursing assistant at a Denver hospital that encouraged her to pursue herbal medicine. She witnessed firsthand how overly medicated our culture had become and knew she could find other ways to help people heal. In her pursuit, she discovered an herb school in Boulder, Colorado, called the North American Institute of Medical Herbalism (now called the Colorado School of Clinical Herbalism), which she says profoundly changed her life. She explains:
"At herb school, a whole new world opened up for me. We've become so disconnected from the plant world, but this used to be our birthright. People used to just inherit this knowledge and know how to eat and use the plants around them; we're so far away from that now."
While in herb school in 2007, Faith expanded her education by working at Rebecca's Herbal Apothecary, an enchanted herb shop in downtown Boulder. There she learned how to make medicine under the tutelage of the shop owner, Rebecca Luna. There she discovered that the alchemy of natural skincare and herbalism stokes her passion.
In 2015, Faith struck out on her own to launch the Little Herbal Apothecary, an online store that offers a line of "really clean, really good" products for pregnant women, new moms, and babies. She continues to teach workshops on natural skincare and is currently in the process of opening a teaching space and apothecary in Lafayette, Colorado, about 10 miles east of Boulder. She also offers skincare formulation and consulting services.
Faith says, "I think skincare is an area that people often overlook. They're eating organic meats and organic vegetables and trying to make good choices, but then they're often putting really yucky products on their skin."
Buy Great Skincare Products for your Family with these Four Tips:
From Faith's experience, parenthood is often the inflection point at which people become more interested in healthy, sustainable living. Yet making informed decisions becomes a game of sifting through heaps of information, which is time-consuming and often presents more questions than answers. New parents have tons of extra time and energy for that endeavor, right? Wrong.
Here are Faith's four essential tips for finding safe, high-quality bath and body care products for your family.
Tip #1: Read Labels
First and foremost, when you see "natural" on a label, you are not in the clear. "Natural" is an unregulated term that can mean almost anything. Faith explains that even in natural body care products, there may be many harsh chemicals, synthetic fragrances, and potential carcinogens.
A diligent review of the label will tell you what's in the product. Chances are, you'll see ingredient names you don't recognize. That's when the Skin Deep database, a project of the Environmental Working Group, comes to the rescue. Skin Deep assigns a safety rating to each ingredient so you can make informed decisions about whether products are right for you and yours. The database includes the underlying scientific studies on which the ratings are based, giving you confidence that the information provided is unbiased and research-based.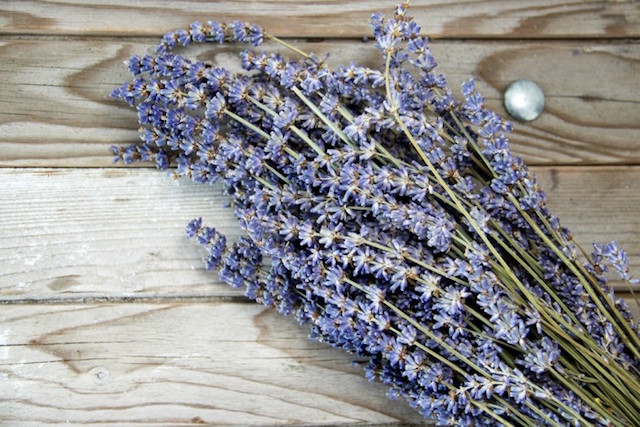 Tip #2: Buy Organic or Wildcrafted Products When You Can
Unfortunately, seeing "organic" on a label doesn't mean you're in the clear either. Pesky marketing! Instead, look for items that have the USDA seal in addition to "100% organic" or "organic" labeling. However, we're not suggesting that you altogether avoid products that don't have the organic label. In fact, ethically wildcrafted herbs (plants that are responsibly harvested in the wild) cannot be labeled organic because they are not cultivated (grown on a farm) and organic standards don't apply in the wild, but in some cases they are actually the healthiest option.
Want to up your game? You can make sure those wildcrafted herbs aren't endangered. How can you tell without a recent botany degree? Visit the United Plant Savers' Species At-Risk list, which outlines which plants are endangered. Feeling overwhelmed? We get it! Take baby steps to start.
Tip #3: Avoid "Fragrances"—They're Not What You Think
When the ingredient list for a product includes "fragrances," that means the merchandise contains what the FDA defines as "complex mixtures of many different natural and synthetic chemical ingredients." Companies are not mandated to list these individual ingredients because the specific recipes are considered "trade secrets"—intellectual property the FDA does not require companies to report. To put it plainly, when you use a product with fragrances, you run the risk of absorbing possibly harmful, and impossible-to-identify, ingredients through your skin. Avoid, avoid, avoid.
Tip #4: Choose Glass When You Can
For packaging, glass is always Faith's preferred choice. It contains zero harmful ingredients and is recyclable and reusable. When plastic packaging is the only option, be careful that the plastic doesn't leach toxins, and opt for something recyclable. To take out the guesswork, Faith recommends sticking with high-density polyethylene (HDPE) and polyethylene terephthalate (PET) plastics.
Four Key Skincare Herbs for your Family:
When thinking about making your own skincare products, a big hurdle might be learning about the qualities and uses of various herbs. There are countless medicinal herbs and herb combinations to include in your body care concoctions, but try not to get overwhelmed. Be clear about the purpose of your skincare product, choose the herbs that support that goal, and start small. To help, here are four of Faith's favorite herbs and information about how she uses them.
Herb #1: Calendula (Calendula officinalis)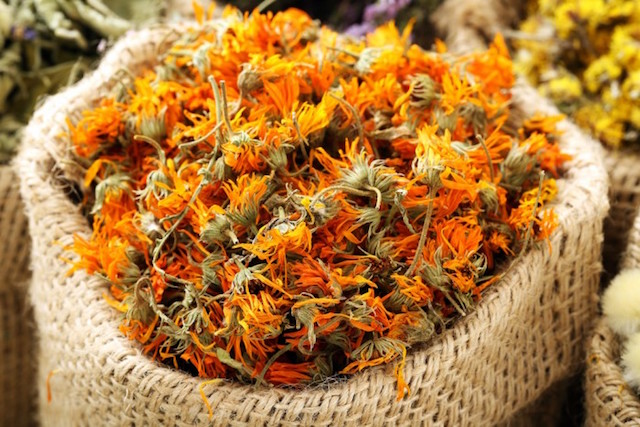 Faith says, "A simple calendula-infused olive oil was the only moisturizer I used on my kids for the first couple of months of their lives." In fact, she puts calendula in almost every skincare product she makes. This valuable herb soothes inflamed skin and is great for rashes, eczema, and other irritated skin conditions. It is also a vulnerary herb, meaning it helps heal wounds and is effective for treating everything from cuts and scrapes to chapped lips. Faith creates healing salves, lotions, and creams with calendula-infused oil. She typically uses olive oil in her own herb-infused oils, but notes that you can also use jojoba, almond, apricot, coconut, and others.
Herb #2: Lavender (Lavandula angustifolia)
Faith considers lavender another skincare panacea. She explains, "For burns and rashes that are hot to the touch, I like to use a small amount of the essential oil, diluted in liquid aloe vera or floral water [hydrosol]. This can help to cool the heat. Once a burn is no longer hot to the touch, you can use oil infusions, salves, lotions, etc. And, because lavender is antiseptic, it's useful in antibacterial salves and creams."
Herb #3: Chamomile (Matricaria chamomilla)
If your little one (or anyone else you love) won't go to sleep or has a tummy ache, call on chamomile—one of Faith's favorite herbs for kids. It soothes and calms the nervous system so it's great in nighttime massage oils or simple herbal baths. It relieves gas and bloating, so Faith often uses the infused oil for tummy rubs when her kids have stomachaches. It is also a powerful anti-inflammatory, perfect for use in battles against rashes, hives, eczema, and sore muscles. As with lavender, Faith uses chamomile-infused oil, essential oil, and floral water in her skincare products.
Herb #4: Plantain (Plantago major)
Plantain, a soothing ingredient for skincare products, makes them extra soft (or emollient). According to Faith, "When you add plantain-infused oil to salves and lotions, it makes them extra moisturizing. It is also a vulnerary herb, as well as an antiseptic, so it is great for first-aid salves." Faith adds the infused oil to her healing salves, body lotions, and creams.
Most Baby Wipes are Nasty, Way Before you Wipe a Tookus with Them—Learn to Make your Own:
In Faith's experience, making homemade baby wipes is an easy and satisfying way to begin crafting your own body care products. You might consider it a priority too. "Because wipes are used on the most sensitive skin on a baby's body, it's worth paying special attention to what products you use," says Faith. "Even natural wipes are often loaded with junk."
What kind of junk can be found in store-bought wipes? Chemicals you definitely don't want on your baby's skin, such as formaldehyde, dioxin, parabens, and fragrance.
You might wonder what all those preservatives are doing in something as straightforward as a baby wipe. Manufacturers use preservatives to prevent mold from growing on the pre-moistened wipes; the chemicals increase the shelf life of these products. You can keep preservatives off your ingredient list by making your homemade wipes in small batches and using them within five days.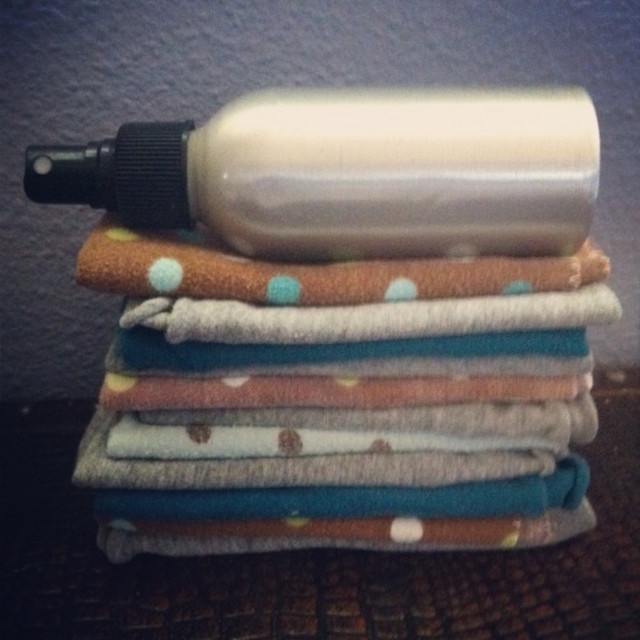 Step-by-Step Homemade Baby Wipe Instructions
Yield: Approximately 8 fluid ounces of solution for reusable or disposable wipes
Supplies
For reusable cloth wipes:
 2 spray bottles (Faith recommends 4- or 8-ounce bottles for home use and a 2-ounce bottle for your diaper bag)
12, 9-inch-by-9-inch pieces of soft cotton fabric that are sewn around the edges to keep the material from fraying, or buy cloth wipes that are already sewn
2 storage containers or bags of your choice to store the dry and clean wipes and the wet and dirty ones separately
For compostable/disposable wipes:
20 to 30 paper towels
Reusable wipes container or other storage container Ingredients
4 fluid ounces water
3 fluid ounces liquid aloe vera
1 fluid ounce witch hazel extract
2 tablespoons apricot kernel oil (or another healing oil like olive, almond, or jojoba)
8 total drops lavender or tea tree essential oil (optional: exclude if you have very young babies)
Aloe vera is soothing, cooling, and healing to the skin. It provides relief from itchy skin and rashes. It is also an antifungal, which is helpful for the prevention and treatment of diaper rash. For this recipe, make sure to get a liquid aloe vera rather than a gel (the gel is just the liquid aloe with an added thickening agent).
Witch hazel extract is soothing, anti-inflammatory, and antibacterial, and it adds a preservative quality to the formula.
Apricot kernel oil is a great moisturizer for sensitive skin.
Lavender or tea tree essential oils are both cleansing and antibacterial; they're also natural preservatives. Lavender specifically soothes red, irritated, or inflamed skin. Tea tree is antifungal and can heal diaper rash. You can choose either one, a combination of both, or consider leaving out these ingredients for kiddos with sensitive skin.
Instructions
For cloth wipes:
Mix all of the ingredients together in a jar to combine them fully.
Pour the liquid into one or more spray bottles, depending on the size you'd like to use.
Spray a cloth with the solution when you're ready to wipe.
For disposable wipes:
Mix all of the ingredients together in a jar to combine them fully.
Fold paper towels into thirds and load them into a container.
Pour the liquid into the container over the paper towels to saturate the wipes. The wipes should be thoroughly moist, but not swimming in the solution.
Use as you would store-bought disposable wipes.
Want to learn more from Faith? Visit the Little Herbal Apothecary blog and download Faith's free ebook, The Little Herbal: A Beginner's Guide to Herbs for Kids, which is chock-full of simple, useful recipes. And, be sure to check out her events page for a list of upcoming skincare workshops in the area.
If there's a topic you'd like to learn more about, email me at [email protected] or visit Hatch Lab.
*An earlier version of this article was posted at Hatch Lab (Eds: Joy Herbers & Maggie Wells)
Author: Mara Rose

Images: Christina Kiffney Photography; denio109 & Tatiana Mihaliova via Shutterstock.com; Faith Rodgers

Editors: Emily Bartran; Travis May