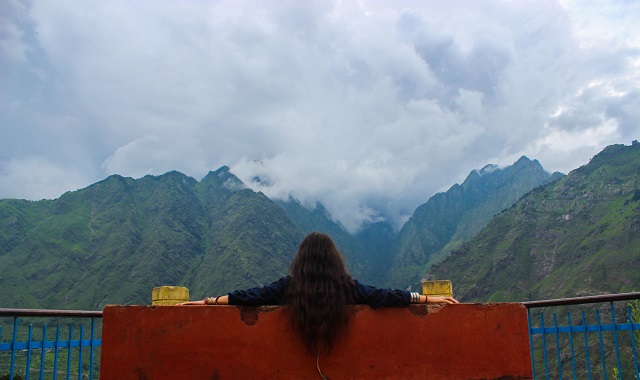 Two years ago, backpacking won my heart.
I choose the word "backpacking" instead "traveling," because I believe that backpacking is a somewhat nomadic lifestyle that differs entirely from tourism.
To backpack is to live on a certain budget, with only a couple of much needed items. It is moving from one place to another, at times with little to no planning. However, the most beautiful thing about backpacking is the fact that you get to choose the long roads instead of the shortcuts traveled by most people.
To this day, not everyone understands the passion I've developed for backpacking over the past few years. Sometimes, words fail me when explaining this gratification.
Despite all its ups and downs, backpacking is an extremely joyful experience. I get to meet plenty of other travelers along the way, connect with locals, explore new places, and enjoy the freedom and acceptance that backpacking brings.
What I enjoy most about carrying a backpack and roaming around, though, has to be the spiritual lessons that I keep learning.
We are usually familiar with spirituality on the theoretical level, but seldom do we truly experience it. Backpacking gave me the chance to grab spirituality in the palm of my hands, and this is what keeps me hooked on booking tickets every year. Long after my trips are over, I'm still able to reflect on what I experienced and put those lessons into practice.
I am currently in a dorm writing, with my backpack next to me, ready to head to the train station and travel to a new state in India. With an inexplicable happiness resonating in my heart, I can say that backpacking has taught me six pivotal spiritual lessons.
1. We own more than we need.
I've always been a hoarder, ever since I was a little kid. I have a difficult time throwing away things I no longer need; consequently, I have accumulated clothes, toys, books, and useless things. Backpacking has turned the tables for me, as now, I only travel with one backpack, which does not allow me to carry more than I need.
Sadly, we have been brainwashed to think that we need a lot of stuff. We unconsciously believe that the things we have will give us permanent happiness. Through backpacking, I learned that true gratification isn't through material things. The more I'm traveling, the lighter my backpacking is turning, and the happier I am becoming. On my current trip, I am traveling with two pairs of pants, two tank tops, and one jacket. Guess what? I haven't needed anything else.
2. Impermanence.
Backpacking helped me realize impermanence on a much deeper level since everything is swiftly impermanent during backpacking. For instance, you meet people who become your closest friends only to leave them after days or weeks. You stay in places that become your home, then after a short time you move to another new place.
Whenever I start getting comfortable in a particular area or with certain people, reality sneaks in and I find myself and others going our separate ways. At first, I used to struggle to let go of what I had become accustomed to. However, I learned with time to actually enjoy every moment and benefit from it, since clearly it will only last for a short period of time.
3. Letting go.
I am forever thankful to backpacking for teaching me how to authentically loosen my grip. During my first backpacking trip to Nepal, I had almost everything planned and quickly learned that control is only an illusion. When we let go and trust where the universe is leading us, we'll be surprised to see that it will actually take us where we are supposed to be. It will lead us to the people with whom we are meant to cross paths.
The more I travel, the less I plan. In fact, I made no plans during this trip. I only knew that I was taking a couple of courses in Dharamkot, India. The rest was uncertain, and I wanted it that way on purpose, as I knew I would be led to where I was supposed to be. In this way, the universe has never failed me.
4. Happiness comes from within.
While backpacking may look like rainbows and unicorns, things rarely go smoothly. I've faced situations that would normally make people upset or uncomfortable. During my last trip, I burned my leg on a bike and fainted on the streets of Manali. Just yesterday, I found out that I was sleeping on a bed infested with bed bugs. I slept on a chair until dawn. I became sick a few times during my vipassana course, due to food indigestion. I found an actual scorpion in my room two months ago and there were centipedes that followed me to almost every room I entered.
I could go on forever with what can go wrong during travel, including the long bus rides, the intolerable smells and the incessant amount of people I have to deal with. But despite all these difficulties, I can say I am happy, especially now that I realized that happiness comes from within. Outside factors can never dictate our state of mind as long as our inside is filled with joy. It's all about acceptance, learning to see the good and bad as another part of our experience.
5. Mind over body.
I struggled in the past to have control over my body. I could never go without a meal for more than four hours or manage to stay awake when I'm knocked down by fatigue. Backpacking has taught me that I can go without food for days, that I can go sleepless for days, and that I have control over my pain.
Sometimes, long distances, fatigue and unpleasant food mean I can't have an actual meal when backpacking. Bumpy roads that lead me to the Himalayas and trains that constantly stop often leave me sleepless. Guess what? I survived. When we are faced with a situation that forces us to be strong, we learn to control our bodies. Because sometimes, to be left with no other choice gives us strength and power we didn't know we were blessed with.
6. Love is the only language that exists.
Connecting with locals permeates the greater part of my travels. Personally, I believe that engaging locals comes before sightseeing and exploring. Having lived with many, I came to know that love goes beyond language.
Some people I met didn't speak English at all. There were no means of communication whatsoever between us. But we cooked together, ate together, exchanged gifts and laughed until we cried. I am now convinced that the greatest present one can give to another human being is his presence, regardless of language, religion or nationality.
Backpacking is an intense experience—it teaches us profound spiritual lessons that change us for the better. We don't have to leave everything and live as nomads for the rest of our lives, but trying it even once will bring us to deeper realizations about our lives and ourselves.
Author: Elyane Youssef
Image: Author's own
Editor: Nicole Cameron