If you're like me, you've been glued to the Rio Olympics, especially gymnastics (Go, Team USA!).
Each night the women competed, my boyfriend had a box of Kleenex ready for my impending tears of joy when they'd win yet another medal—or for the nervous tears I'd shed in anticipation of them performing their routines.
When some of the gymnasts would be interviewed, my boyfriend and I would laugh when they'd make references to their being "old"—they look (and are!) so young! Team USA's Aly Raisman even joked to Bob Costas that she's the "grandma" of her team since she's the oldest at 22 (compared to Laura Hernandez, who's 16).
In gymnastics years, perhaps Raisman feels 22 is getting up there, but if we all want some extra motivation to follow through on our goals, we should take a look at gymnast Oksana Chusovitina, who competed for Uzbekistan. She's 41, and Rio was her seventh Olympics.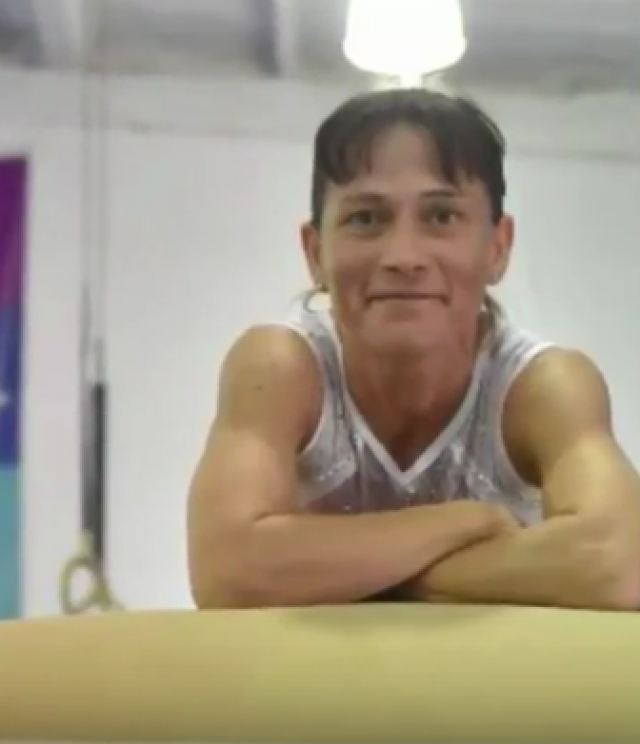 To put things into perspective, her son, Alisher, is 17, around the age of many of her opponents.
When Chusovitina competed in the vault, I felt myself get teary-eyed again. She did not medal, coming in seventh out of eight spots, but it's the principle of the thing.
In this era of having coworkers and bosses who are younger than us, perhaps we tell ourselves we're not as agile or quick as they are—we should just quit. But that's why it's much more important to stick it out and not give up, to follow Chusovitina's lead.
"On the podium, everyone is the same whether you are 40 or 16," Chusovitina told The Associated Press. "You have to go out and do your routine and your jumps."
Before competing for Uzbekistan again in this year's Rio Games, Chusovitina competed internationally for the Soviet Union, Unified Team, Uzbekistan and Germany.
She also won team gold at the Barcelona Games in 1992 (competing for the Unified Team)—her first Olympics. She then took home silver (competing for Germany) in Beijing in 2008. She also has 11 World Championships medals. Impressed yet? (I am!)
In addition, she came in fifth for vault in the 2012 Olympics and 2013 World Championships.
After the London Games in 2012, Chusovitina said she would retire, but I'm glad she didn't.
And, in case you're curious, she's not the oldest gymnast to compete in the Olympics. She would have to compete at the 2024 Olympics to break that record.
On or off the vault, we can learn a lot from Chusovitina. She's determined, focused on her sport, and made it into the Olympics and World Championships—and got up on that vault in the first place. She started something and saw it through, and is an inspiration to us all.
Chusovitina reminded us that it's never too late to go after our dreams, and showed the world that age is just a number.
You can take a look at her in action here.
~
~
Relephant: 
~
Author: Natalia Lusinski
Images: Red Dribble India / YouTube
Editor: Travis May