Melania Trump's nude model photos: "she has nothing to be ashamed of." {Adult}
"So many firsts. Have we ever seen a first lady nude before?" ~ Reddit <>
And: plagiarism, worked illegally here.
It's a new low, perhaps. Particularly following Michelle, whose speech Melania so infamously plagiarized.
It's one of those things. She has nothing to be ashamed of—she was a model, and might still be if she were active in the field. Nudity is God-given, or mom n'daddy given—we're all born wearing our birthday suit.
We've long seen her racy photos come to the fore from time to time—and it's long been rumored that her girl-on-girl nude photos would come up at some point. So this is no big deal—and at the same time, this certainly marks the first time a would-be First Lady (or First Gent, for that matter) has such a…nude, and publicly so, past.
"
Relephant read: "You have the wrong body for Ballet."

And…"How to Actually be Sexy," by Amy Jones.
Fox News anchor Julie Banderas: "If you are that smart, why are you posing half-naked on Instagram? As a role model, if you are so intelligent, why aren't you working as, I don't know, any other executive sort of? Have you seen her Instagram? She's half-naked in all of them!" pic.twitter.com/NSddJcDxcX

— Justin Baragona (@justinbaragona) May 4, 2022
We're leaving out the fully nude images, for obvious reasons (you know, it's not necessary).
"On Sunday, the New York Post ran a photo of a naked (but "starred"-out) Melania Trump photo with the somewhat clumsy headline "The Ogle Office" on its cover. One day later, it's cover boasted of "exclusive photos" of Melania's "menage a Trump." The paper splashed images of a young, twenty-something Melania entirely in the nude, and in some cases, with another naked young woman wrapped around her."
GOP Family Values. Let the spin begin. Melania Trump's girl-on-girl photos from racy shoot revealed https://t.co/6pvu6xeu1T via @nypost

— L•A•U•R•I•T•A (@SoCoLaura) August 1, 2016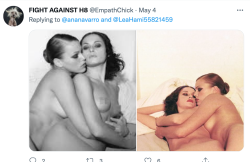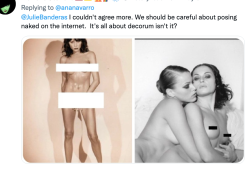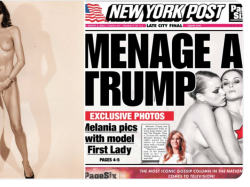 That said, there is a double-standard in Trumpland:
Soooooo just thought of something. You can't be Miss America if you have nude photos out there but Melania Trump wants to be First Lady???

— DoinitwitheR (@DoinitwitheR) July 22, 2016
~
Classic Relephant: "John Oliver Takes on Trump—& Yes, It's Brilliant."

Relephant bonus: Playboy Yoga. 

Great read: Are you a Naked Person?
[April Fool's edition]