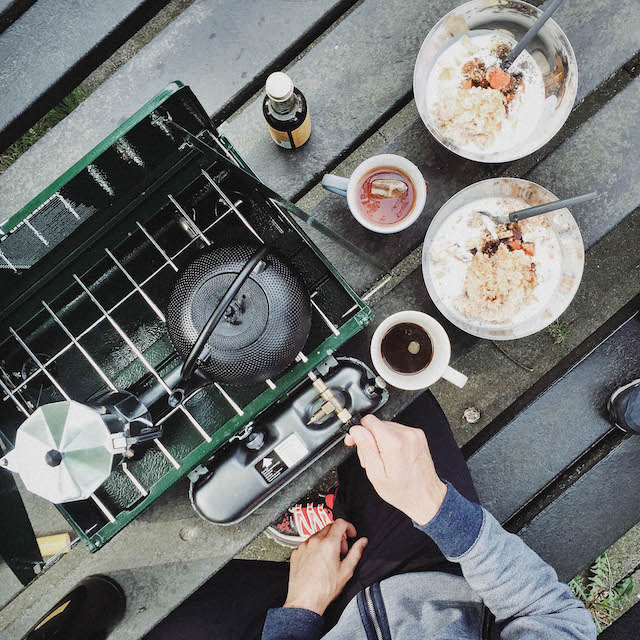 There is nothing quite like the open road.
It can quench our thirst for wanderlust and give us a sense of possibility. In a world where calendars are filled to bursting with appointments and obligations, taking an extended sabbatical from life is definitely a tempting option.
But before we consider giving conventional life the middle finger, let's not forget that living on the road requires serious consideration for balance. There is a fine line between the infinite opportunity of nomadic life and the stress of uncertainty that comes with being homeless.
It's important to keep those roots in the ground, despite the fact that we are bouncing all over the place. Here are a few things that have made all the difference for me:
Daily Touchstones: Living on the road means that our surroundings are in constant motion, and it's easy for time to whirl away.  Driving to new locations, making sure to see the sights, researching and being free to explore all require time. Trying to force a morning routine into the mix might end up stressing us out even more.
Instead of maintaining a schedule that is dictated by the clock, I use touchstones, or daily goals, and make sure I complete them most days. I hike or practice yoga, write in my journal and spend some time in meditation daily, no matter where in the world I am.
Flexibility: Nothing in life is constant, and living on the road means that change is even more present. Sweltering heat in Croatia might make it necessary to head north to cool down, and swarms of midges in the Scottish Highlands could be a reason to abandon the tent and rent an Airbnb for a few nights. This is all part of the beauty of being untethered—if things suck, you can move location. Let's not let a change of plan stop us from seeing the positive side of nomadic life.
Healthy Food: It's no secret that what we eat has a huge impact on the way we feel. We all know that living on chocolate croissants and Nutella crepes isn't a good solution for the long haul, but it can be hard to resist the pretty pastries behind the glass. A better alternative could be to check out local fruit and veggie markets. When traveling in a car or van, a camp stove and a few good knives can go a long way in cooking an awesome meal on the road. I usually end up avoiding items that need to be refrigerated and opting for things like olives, fresh bread and seasonal vegetables and fruit.
Alone Time: Traveling with a partner or with friends can translate into seriously close quarters. This makes it uber important to designate some me-time each day. We all need time to reflect and let the experiences compost down—extroverts and introverts alike.
Pampering: Saving money is fun—there is a thrill to hunting for the best priced gas on the interstate and most the amazing tacos for your buck. Traveling can definitely be done cheaply if you do it right, but it's important to give ourselves room to spend money when we need to. There are ways to experience luxury when on the road, and they don't need to exhaust the entire budget.
I camped on the beach in Texel, an island just north of Amsterdam, and then spent the entire day at a local hotel spa. The price was a fraction of the cost of a room, but I experienced all of the amenities and was able to treat myself when I needed it most.
Self-Care: It's not all about luxurious treats; the little things matter too. There is no joy in being tired and hungover while attempting to take in one of the most beautiful cities in Tuscany. Everything is more fun when we are rested and balanced. Playing the long game helps us to remember that we actually have plenty of time. We can always go back and see that monument next time—or after a long and restful nap.
Exercise: With the unpredictability of travel comes plenty of excuses to put off a workout. Whether on the road or at home, our bodies need movement. I usually do some research to find local gyms where I can workout and then take a shower, or I try to use the landscape as a place to sweat. On Isola d'Elba, an island off Italy's west coast, I swam in the ocean and followed it up with a rinse in an outdoor shower, and in the Alps I looked for trails that led to crystal clear lakes. The thought of getting cleaned up makes the reward of working out so much sweeter.
Getting Cozy: Traveling light is always the goal, but let's not forget the little things that help our mobile nest feel like home. I take a sarong with me and use it for a picnic blanket, a curtain and as a scarf. I always have a candle and essential oils in my bag for times when I need to create an impromptu ritual to help me feel grounded.
Slowing Down: Sometimes the road just gets to us. No matter how beautiful the next town seems, we may have to say no and stay in one place for a while. The point of long-term travel is to take the time to allow the experience to change us. If we are running from place to place we don't have a chance to reap the real benefits of an adventurous lifestyle. The answers to life's big questions are not waiting in the next destination, they are in the stillness that exists between the past and the present, right here, wherever that is.
Traveling Inward: Exploring the world opens up so much space for new life-lessons to come our way. When we let go of routine and certainty, we allow serendipity to guide us to where we need to go. The heart is a great compass, and if we follow it we can end up in the most unexpected places. I try to spend some time each day listening closely to what my intuition has to say, and it hasn't led me astray yet.
~
Author: Alicia Bockel
Image: Author's Own
Editor: Travis May