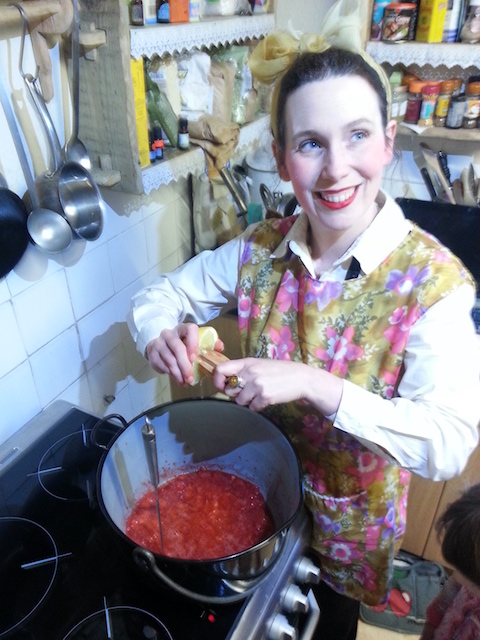 Now that spring has sprung, it's a great time to get in the garden and make cocktails.
Rather than just taking time to smell the roses, I like to jazz up my cocktails with them. In fact, there is nothing I enjoy more than a flower-infused drink.
I love making cocktails that incorporate edible flowers because it not only gets my taste buds tingling, but it also yields such pretty results. It can turn an ordinary gin and tonic into something extraordinary.
I just love seeing people's reactions when presented with a classic cocktail that has had a floral makeover. Indeed, flowers are an easy way of transforming drinks and drinks parties into something magical. Floral notes in something like a classic pink gin or a cosmopolitan can really create a stir—and can completely transform and lift a drink.
Playing around with drinks and adding things such as violet, lavender, rose, and geranium as I'm mixing the drink is the best way to perfect and balance flavours. In my opinion, it's the only way to create your own floral repertoire of cocktails.
It's really important to remember that flowers are volatile, meaning that they can vary in flavour, even when selected from the same bush on the same day. So, it's always best to sample the results as you go along and take nothing for granted.
My best advice is to play around and experiment with edible flowers in your own drinks and find out what flavour combinations you enjoy. However, to kick-start your reputation amongst your friends and family as a floral cocktail extraordinaire, I have put together a few of my favourite recipes and techniques.
To make a simple syrup with the flowers:
Mix equal parts sugar and water in a small saucepan until the sugar dissolves. Turn off the heat, add the flowers and allow the mixture to cool and steep for at least an hour, then strain the liquid. I like to bottle and label these simple syrups so that I have them on hand when creating floral cocktails. Rose, violet, primrose and geranium are some of my favourite syrups to make.
1. Frozen Hibiscus Cosmopolitan.
On balmy summer's evening, a frozen hibiscus cosmopolitan is my idea of the perfect drink.
Ingredients:
1 shot of orange liqueur
1 shot vodka
2 tbsp lemon juice
4 hibiscus flowers
1 tbsp lime juice
Method:
Shake all the ingredients with crushed ice and strain into an ice cream maker. Twenty minutes later, you'll have the perfect drink to sip in the garden that is more Lady Chatterley's Lover than Sex in the City. 
2. Chamomile Honey and Whiskey Toddy.
There is nothing like a traditional whisky hot toddy as a nightcap, but when combined with chamomile's ability to ease sleep and settle the digestion, it becomes the ultimate bedtime tipple. This really is a drink you can say you're taking for medicinal purposes!
Ingredients:
1 ½ shots of whisky
1 ½ tsp runny honey
1 tbsp freshly-squeezed lemon juice
1 tbsp chamomile flowers (or chamomile tea bag)
1 slice of lemon
Enough boiling water to fill a large teacup or mug
Method:
If you have access to fresh chamomile flowers, then simply mix a tablespoon of flowers with the honey and a splash of hot water and allow to steep for five minutes—otherwise a chamomile tea bag will suffice.
Place the strained chamomile liquid (syrup) into a teacup or mug, add the whisky, slice of lemon, lemon juice, and top up with boiling water. This can be garnished with a cinnamon stick or a few fresh chamomile flowers. Sip, relax, and enjoy!
3. Geranium Martini.
This sweet, sophisticated cocktail is magical to drink and so simple to make.
Ingredients:
2 shots vodka
1 shot dry vermouth
2 tbsp geranium syrup
1 tsp runny honey
Method:
Place all the ingredients into a cocktail shaker with some crushed ice. Shake and strain into a martini glass. Garnish with geranium flowers. Relax and contemplate being the 007 of the garden.
4. Primrose Bee's Knees.
This spin on the classic prohibition-era cocktail is one of my all time favourites. So simple, so sweet, and so shippable. It really is the bees knees.
Ingredients:
1 tbsp runny honey
2 shots gin
1 tbsp freshly squeezed lemon juice
1 tbsp primrose syrup
Primroses to decorate
Method:
Place all the ingredients in a cocktail shaker with ice, shake, and strain into a glass. Decorate with primroses and enjoy.
5. Rose Bellini.
This drink really is the ultimate in simplicity and sophistication. It is a great summer garden party drink and also makes a great bridal toast for weddings. You can use a sparkling wine instead of champagne if you wish.
Ingredients:
1 tbsp rose syrup
4 heavily-scented rose petals
Champagne
1 shot vanilla schnapps
Method:
In a champagne flute, place one tablespoon of home-made rose syrup and two heavily scented rose petals. Using a muddler or wooden spoon, press down on the petals and give it a few gentle twists until you start to smell their delicate fragrance. Add the vanilla schnapps and top up with champagne.
Garnish with the remaining rose petals. Enjoy!
~
~
The world of floral cocktails is full of possibilities. It allows you to explore and experiment, and it's a hobby that gives you a great excuse for drinking cocktails in the garden. So as the flowers come into bloom, I shall be in cocktail-making heaven.
Cheers!
~
Author: Seren Charrington Hollins 
Images: Brooke Lark/ Unsplash; Author's own
Editor: Khara-Jade Warren