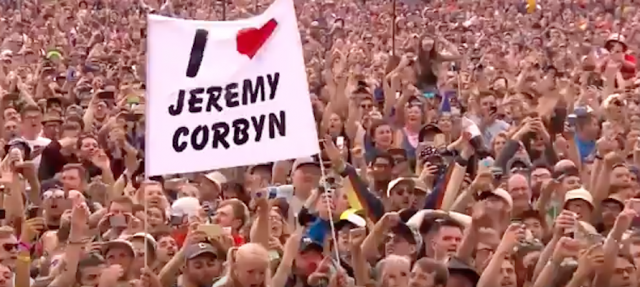 "Heads and hearts are connected." ~ Jeremy Corbyn
~
Yet, on Saturday, June 24th, a huge crowd, with a large majority of them wearing "Corbyn" T-shirts or carrying supportive flags, gave him a welcome fit for a rock star when he spoke at the five-day, world-famous Glastonbury Festival.
Before Corbyn took to the stage, revelers anticipated his appearance singing, "Ohh, Jeremy Corbyn" to the tune of Seven Nation Army by former Glastonbury headline act, The White Stripes, for approximately 20 minutes.
Corbyn, whose appearance was one of the most talked about of the festival weekend, spoke to tens of thousands of people who had gathered at the Pyramid Stage to hear him speak. The crowd that greeted him was equal to the size that some of the most famous headline acts have pulled in.
During his speech, Corbyn—who travelled to the music extravaganza by train and bus—made it clear that politics was about everyday life calling for "a world of human rights, peace, justice, and democracy all over the planet."
His message brings hope that a fairer, more harmonious world is a possibility for all—and this was made clear by the thunderous applause he received.
Before beginning his speech, Corbyn took a few moments to thank Glastonbury founder Michael Eavis, who runs the nonprofit festival and donates the proceeds to causes such as Greenpeace, Oxfam, and WaterAid. Corbyn explained how Eavis's festival gifts us with "the spirit of music, of love, of ideas, and of great messages."
Eavis also shared his thoughts on Corbyn, saying, "I think he has a fundamental sense of justice, of real political change, of being anti-war and anti-nuclear."
Talking to the cheering crowd, Corbyn made his opinion clear about what he thinks of the wall that U.S. President Donald Trump plans to build to separate Mexico and the U.S.
Corbyn stated, "If you can see that far, look at the wall—right over there—that surrounds this wonderful festival. There's a message for President Donald Trump. You know what it says? Build bridges, not walls." After this statement, the crowd erupted in deafening cheers once again.
Corbyn spent his time at the festival having his photograph taken with the large crowds of people eager to meet him, and also posting a picture on Twitter of him serving beers to jubilant festival attendees along with the phrase and hashtag, "Beers ‪#ForTheMany‪."
Corbyn's popularity inflated dramatically after he inspired, motivated, and energized young voters and they went out in record numbers to cast their votes for the U.K.'s general election on June 8th, 2017.
A survey conducted last week asked who would make the best Prime Minister and found Corbyn to be polling ahead of current Prime Minister Theresa May, with 35 percent of the votes compared to May's 34 percent. This is the first time since 2008 that a Labour leader has polled ahead of a leader of the Conservative Party.
Corbyn said he believed it was the spirit of hope that drove his campaign, which had caught the imagination of young voters. He described his concern for younger generations saying, "Young people sometimes get very afraid, they disproportionately suffer mental health stress…Young people often suffer quite a lot of things alone and deal with a lot of abuse on their own."
From the Pyramid Stage, Corbyn headed to the festival's Left Field Stage, where he gave another passionate speech in which he told festival goers, "A general election will come—I hope very soon…We're on it, we're ready for it, we will knock on doors that haven't seen investment for a very long time. We're ready for another election as soon as you are." The crowd erupted in agreement before Corbyn added, "Let's do it, above all, together."
Corbyn also declared his commitment to environmental issues during his speech explaining, "I'm proud to be here to support the peace movement here and the way that message gets across. I'm also very proud to be here for the environmental causes that go with it."
Adding, "We cannot go on destroying this planet through global warming, through pollution, through the destruction of habitat, through pollution of our seas and rivers. We have to live on this planet, there is only one planet. Not even Donald Trump believes there is another planet somewhere else."
In a later speech, Corbyn referred to America's withdrawal from the Paris climate agreement, stating he would "not be afraid to pick up the phone and say 'Donald, you're wrong.'"
Corbyn spoke of how he planned to relax during the festival, saying he would "listen to a bit of music, meet up with lots of friends who have been texting [him] to say they're here."
Throughout much of the Somerset event, "Jeremy Corbyn" chants could be loudly heard across the 900-acre site, including at the most unlikely of times. Fans started singing, "Ohh, Jeremy Corby" during a silent disco and thousands of fans broke into song interrupting Radiohead's headline set.
One of the most well-received parts of Corbyn's speech was when he recited a verse from "The Masque of Anarchy," by the poet Shelley:
"Rise like lions after slumber, in unvanquishable number, shake your chains to earth like dew, which in sleep had fallen on you—ye are many, they are few."
~
~
~
Author: Alex Myles
Image: YouTube
Editor: Leah Sugerman
Copy Editor: Khara-Jade Warren
Social Editor: Yoli Ramazzina