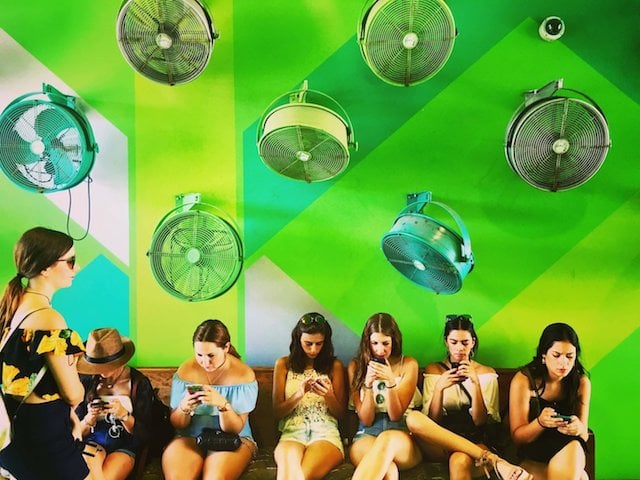 I have often entertained a fantasy of what love and companion searching might be like in the future.
Perhaps in 20 years or so what my future children will experience, if they're anything like me (good luck, kids), will be seeking companionship deeply and truly among a sea full of seemingly screen-preoccupied, out-of-tune-with-their-emotions, robot humans who fuel-fix via a glowing display where likes replace love, followers succeed friendships, and hashtags take the place of life-guiding principles.
I envision this a future where the screen plague is even more prominent, pervasive, and culturally normative than today—so much so that all my future, love-seeking children will have to do is have the courage to look up. And one day, somewhere, they'll find themselves shockingly locked eyes with another brave, peeking soul, and boom. Cue Drake's, "Now you're talking my language, now you're talking my language."
In a future where most have nurtured and catered their addiction to this liquid-crystal-display hole, it will be easy to seek out the minority—those choosing the alternative, interpersonal path; those seeking that deeply nourishing off-screen soul connection.
But alas, the LCD-addiction that consumes so much of my generation has not reached this peak yet. (Or has it?) I am living in a sea of screens, yes—but technology, while sprouting and advancing like invasive bamboo, is still a young adolescent figuring out its place in our world while we millennials search for our place in it.
Technology offers advantages we've never known before—I would be lying if I said I didn't value it, didn't depend on it daily for directions, use it to fulfill my blog-writing dreams, or to stay connected with my family across the country. Not to mention posting hilariously punny, four-part Snapchats of my cooking and the occasional try-hard video of me singing. (Hope you all enjoy those.)
But as far as dating goes—can't it just be this organic, beautiful thing where we meet and know from the instance of a great, intellectual, and passionate conversation that we are in alignment and want to taste all of life together? Not in like a forever way, per se, but in a way that there are so many amazing things to try and see and experience, and why shouldn't we be trying, seeing, and experiencing all that deliciousness with someone we're vibrating high beside?
Okay, maybe I'm romanticizing things again. Guilty. Also, maybe I'm just an old soul, not tech-savvy Taurus who sees inexplicable purpose in partnership and loyalty. Guilty, again. Arrest me, love police.
I'm also a little flighty, I don't like commitment right away, and am not a gal for the one-night fling. So how to navigate this dating and love-mating world for someone like me?
There exists a three-part rationale against my joining Tinder (or Bumble or something of the sort):
1. It's inorganic. Call me close-minded and stubborn—I've got it in my head that the person for me is also one of the last people not on Tinder and trying to meet someone the old-fashioned way too.
2. Signing up feels like committing or setting an intention to "find" someone. I'm leading a single life right now, full of all the self-loving I've missed out on, and I don't want to actively try to find a partner to fill some void of loneliness. If I'm meant to find someone, the two of us will find each other without trying too hard…right? And if not to find a romantic companion per se, but to find something a bit more carefree and less emotionally intimate—well, I'm just not the one fulfilled by pure physicality.
3. The information on these platforms can oftentimes be skewed. If I were to sign up, my online profile, with carefully chosen pictures of myself, would 100 percent say something like, "Lover of love, poems, and being naked in nature; looking for a spiritual, passionate, conversational, and romantic partner to explore life with." And while all true things, my profile would saying nothing about how some days I don't shave, wear makeup, or brush my hair, am cranky AF am going to want to be alone, will forget why/that I even like you, am not great at speaking my mind, stare into space a lot, and will forget much of what you say at first.
Yet here we are, in a day and age where we all know someone who has happily met their significant other on one of these online dating platforms. (We've all heard the horror stories, too, but let's swipe them aside for the moment.)
Technology is an inevitable part of our present culture and world—and the dating, meeting people, and courting process is undeniably evolving with its influence. This technology world makes it easier to meet people now more than ever, so long as you're participating in it.
So what is one tech-challenged, sapiosexual, deep-connection-yearning millennial to do? How do we connect with someone organically, in a world of people always staring down, working remotely from laptops, Uber-ing to destinations instead of taking public transport, and taking pictures in place of taking time to get to know someone?
I don't have the answer. Maybe it's time for me to get with the times and participate on a platform specifically for conscious dating, after all. Or maybe I just need to keep looking up.
But until that pair of eyes locks mine, I'll see you all on Snapchat, my blog, and Instagram.
Xo,
Single girl in a cell phone world.
~
~
~
~
Author: Olivia Morrissey
Image: Deveney Williams  
Editor: Taia Butler
Copy Editor: Yoli Ramazzina
Social Editor: Callie Rushton