I'll admit it: I laughed.
Weeks ago, Waylon Lewis posted a photo on Facebook. He wore a napkin on his head in front of an advertisement for the original Hulu series, "The Handmaid's Tale," based on Margaret Atwood's book of the same name. 
The series is up for 13 Emmy Nominations, including the prestigious awards, Outstanding Drama Series and Outstanding Lead Actress.
If you don't know of it, the woman in the ad looks like she is wearing an old, starched, white bonnet so wide that it resembles a horse's blinders. The similarity between the two images was uncanny. "He is hilarious," I chuckled out loud and continued to scroll through my Facebook feed.
Little did I know of the blacklash to come. Soon enough, I read a lengthy, heartfelt apology from Mr. Lewis for the image. It had obviously deeply offended some of his Facebook followers.
By wearing a napkin on his head, he had mocked the costume of the character. However, to some, he had also perpetuated rape culture, dismantled women's rights, and promoted a dystopian society of inexplicable laws and horrific punishments that entitles those deemed righteous.
Whoa, those are some heavy accusations. Curiosity piqued? Check out the book at your local library, if you can find it.
In 1985, Margaret Atwood's book quickly rose to great success and hit mandatory reading lists for colleges across the nation. Translated in over 40 languages and made into an opera, ballet, and a film in 1990, The Handmaid's Tale has been around the block a few times before Hulu (or Mr. Lewis' photo).
The book has been controversial since its conception.
Between 1990 and 1999, Atwood joined the famous ranks of other top 100 frequently challenged books at number 37. From 1999, it dropped to number 88. I wonder if it will soar to number one if this series wins an award or two?  
Will it also climb the bestseller's list?
"Censorship ends in logical completeness when nobody is allowed to read any books except the books that nobody reads." ~ George Bernard Shaw.
Who else has a seat on the 100 list of contested books ranked by the American Library Association?
Gone with the Wind, Margaret Mitchell, 1936.
Animal Farm, George Orwell, 1945.
Catcher in the Rye, J. D. Salinger, 1951.
Fahrenheit 451, Ray Bradbury, 1953.
The Lord of the Rings, J. R. R. Tolkien, 1954.
The Outsiders, S. E. Hinton, 1967.
Are You There God, It's Me, Margaret & Blubber, Judy Blume, 1970 & 1974.
Bridge to Terabithia, Katherine Paterson, 1977.
The Perks of Being a Wallflower, Stephen Chbosky, 1999.
A Light in the Attic, Shel Silverstein, 1981
The Color Purple, Alice Walker, 1982.
Cujo, Stephen King, 1983.
Fight Club, Chuck Palahniuk, 1996.
The Lovely Bones, Alice Sebold, 2008.
The Hunger Games, Suzanne Collins, 2008-2010.
Junie B. Jones, Barbara Park, 1992-2011.
Twilight, Stephenie Meyer, 2005-2008.
Notice any favorite books, movies, or TV series? Surprised by some?
Looking through the list, I saw so many titles from my elementary school days through to my college literature classes and many all-time favorites. I grew from each, being forced to think outside of the box and enter discussions with those whose experiences were different from mine. Rants, arguments, and peaceful conclusions gave each work a life beyond the one I knew.
Book titles from my favorite book club nights popped out at me too. Ones that brought conversations consisting of laughter and tears. We bonded over them, regardless of our differing views. Even titles of some of my favorite films were based on books in that list of 100. My jaw dropped. What if they had never been made into films because they were so controversial to some, they were banned?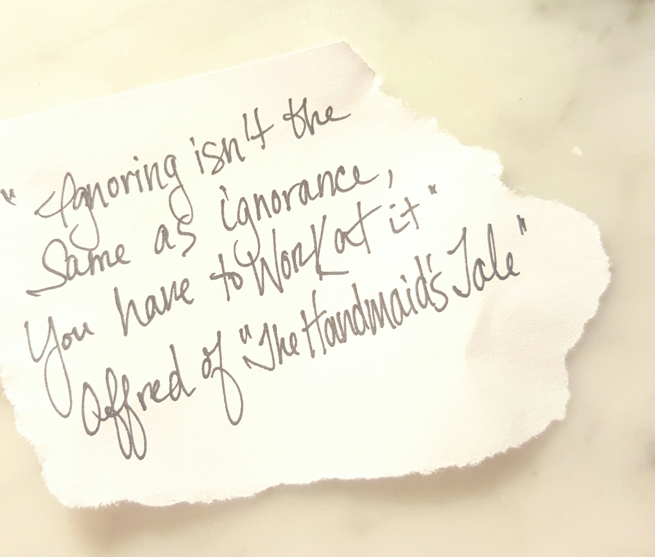 An exemplary work makes us think.
It challenges our normal, opens our eyes, invokes feelings, and creates conversation. To make this list means a book is highly controversial, which drives censorship—or creates something sensational.
The silly photo of Mr. Lewis was just that—fun and silly. Yet, I am not belly laughing now, as I see images of the nominated show everywhere and reflect. My eyes were reopened to the great sensitivity, as well as the controversy, of its relevance today.
Thank you, Waylon Lewis, for walking your talk and apologizing after inadvertently offending others. 
I, too, am sorry for not "seeing" it before now. But I am not sorry for the awareness the criticism created—I am grateful. If someone hadn't spoken up, we might still be giggling in ignorance.
"A book is a loaded gun in the house next door…Who knows who might be the target of the well-read man?" 

~ Ray Bradbury, Fahrenheit 451
"Therefore, having put away falsehood, let each one of you speak the truth with his neighbor, for we are members one of another." ~ Ephesians 4:25
If you'd like to hear 77-year-old Margaret Atwood's opinions of her words in today's world, read her own essay from the New York Times.
Have more to add to the conversation? We'd love to hear from you here.
Relephant read:
~
Author: Kate Fleming
Image: Waylon Lewis/Instagram; Author's Own
Editor: Catherine Monkman
Copy Editor: Callie Rushton
Social Editor: Khara-Jade Warren