This is a post written together with Pharmaca—an Elephant Partner. They're dedicated to offering you only the best natural products and personal, professional health advice, and we're honored to work with such a mindful outfit doing it right. ~ ed
Marketing is a clever and potentially dangerous thing.
It can convince us to buy things we don't really need or that can even be harmful. This is especially dangerous when it comes to "health" products which may be toxic to us as well as the planet.
But a lot of these everyday self-care products didn't just evolve randomly—they have grown out of a real need.
So how can we address those needs without poisoning ourselves, our children, and our environment? How can we trust that what we're being sold really is the best thing for us?
It starts with taking our questions to the experts when it comes to our health.
When you walk into a Pharmaca store—which feels more like a cozy, therapeutic space—you'll get to meet face to face with a range of licensed health professionals ready to share their holistic healthcare expertise and offer you the best, unbiased integrated healthcare advice.
Their founders were inspired by the European model of pharmacy, where natural and alternative options are offered alongside traditional pharmacy and health services, and grounded in the belief that our interaction with the environment can significantly impact our health.
In addition to traditional pharmacists, you may be helped by a naturopathic doctor, a licensed esthetician, an herbalist, an Ayurvedic practitioner or another expert. It's a totally holistic, one stop shop approach that keeps conscious consumers coming back.
You'll also find a treasure trove of the highest quality, most effective wellness products available online and in stores. On their beauty shelves, you'll find skin care and cosmetics from companies committed to using the best organic, clean, and safe ingredients.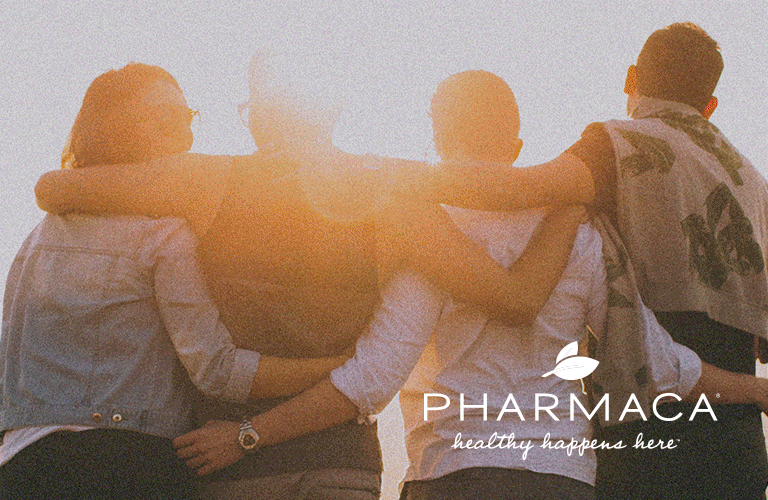 Pharmaca prides itself on offering skin care, body care and cosmetics filled with ingredients that are not only natural, but also seriously work. From organic essential oils to biodynamically farmed herbs, from fruit-derived antioxidants to nutrients from the sea, these ingredients are carefully selected for their ability to nurture and heal the skin, naturally.
Most of us strive to live as cleanly as possible, but sometimes it's tough to make good, educated choices.
With that in mind, we present the low down on:
Pharmaca's Super 7 Clean Living Swaps…
Klean Kanteen 1. The Insulated Classic 20oz @kleankanteen
1/7
The Insulated Classic 20oz is based on the classic stainless steel water bottle combined with Climate Lock™ double-wall vacuum insulation, keeping drinks hot for 20 hours and iced for 50 hours! Klean Coat™ powder coat finish is 4X more durable, chip-resistant and safe for people and planet.
Learn More
Let's dig in a little deeper, shall we? Here's what to ditch and why:
1. So-called soothing scented candles
Sound like a recipe for relaxation? Think again. You may as well be burning diesel fuel in your home.
Candles, if scented, can be just as bad for us as smoking. This is because the low cost of paraffin makes it the predominant wax used in the candle industry. Paraffin is basically the "bottom of the barrel" final byproduct in the petroleum refining chain…even after asphalt is extracted. The soot given off from the burning of paraffin candles is the same as that given off by burning diesel fuel. How delightful!
But, if you (like me), love the soothing scent of lavender (or whatever your fave smell is) around, Aura Cacia natural or essential oil-based products are a better way to go. Aura Cacia's highly trusted Single Essential Oils are globally-sourced quality tested for impurities so you can rest assured what you're getting is 100% pure and natural.
I'd much rather be breathing that in while I relax in a soothing foam bath (Psssst…they have some essential oil-based versions of this, too!) than inhaling petrol fumes laced with artificial fragrance.
2. Poisonous baby products
Raising tiny humans has become big business for companies selling us baby products we don't need and that are toxic chemical cocktails for our little bundles of joy. Long story short: you do not need most of what you're sold from the time you conceive to the time you tearfully wave goodbye as they head off to college.
Other than the real essentials (ya know, like stuff to catch the pee and the poop—reusable of course), there are a few essentials most mamas would agree they couldn't have lived without in those early days. Diaper balm is one of those things.
Earth Mama has a beautiful 100% Organic Diaper Balm that's as gentle as it is effective. What's more delicious than your baby's little bottom? It deserves natural protection and soothing. Chubby and dimpled? Yes. Red and irritated? No. Think extraordinarily soothing calendula, so your baby's bum can stay the way it's meant to be: chubby-soft and cheerful-cheeked! No petroleum, parabens, or artificial fragrances added.
And this is just one of Earth Mama's beautiful range of natural balms, including skin and scar balm (C-section warriors, take note!), perineal balm (because birthing a baby the old-fashioned way can do a number "down there"), and other clever and helpful nursing products like "Booby Tubes" and a yummy range of teas for nursing.
3. Sulphate-laced shampoos & facial cleansers
Most regular shampoos and facial cleanser are heavily laced with sulphates, or SLSes (those foamy nasties also found in toothpaste). They also happen to strip our skin and scalp of its natural ability to moisturize, produce oils, and generally act as skin should. Makes sense for a great facial cleanser, right? Uh…wrong!
The other mega downside of regular shampoo and most facial cleansers is a whole lot of plastic bottles in landfill and, eventually, our oceans. Recycling delays the process but eventually all plastic ends up in the same place. Enter Seed Phytonutrients, the revolutionary new beauty brand whose packaging is just about the most eco-friendly you can have in the beauty industry, with 60 percent less plastic than traditional bottles—and 100% compostable, yet shower-friendly Gentle Facial Cleanser, shampoo, and conditioner bottles.
Yep, you read that right, and it's worth saying again: 100% compostable, yet totally shower-friendly.
Seed is about as clean as clean beauty gets: their sulphate-free, paraben-free, vegan, plant-based, cruelty-free formulas set them apart, and their business practices put farmers first by paying for harvests ahead of time, whether a crop succeeds or fails. The little surprise they hide inside their bottles also supports the preservation of seed diversity. Once you've used all the product, pull them apart to discover a packet of heirloom seeds inside!
Does natural beauty even get much better than this?
4. Moisture-sucking moisturizer & carcinoma-inducing sunscreen
Most commercial moisturizers are packed with petroleum, glycerin, alcohol, and so much more (definitely not in a good way). They actually strip your skin of its natural ability to retain moisture. So the instant gratification of soft, smooth skin is just an illusion. And the longer we use these products, the more dependent our skin becomes on their charlatan cures.
On top of this, our poor skins are also having to put up with potentially cancer-causing sunscreens as well as the harmful properties of aerosol products (both for our lungs and for nano particles of zinc and titanium oxide we absorbed when we spray 'em liberally all over).
Of course sunscreens do help protect the skin from harmful free radical damage from the sun's UV radiation, but they also produce free radicals that can damage the skin from both the active and inactive ingredients. When they break down under the heat of the sun, these harmful free radicals can be trapped on the skin for hours.
So what we need are moisturizing products that'll feed, nourish, and protect our delicate and precious skin: it's our largest organ after all!
MyChelle Dermaceuticals are the perfect swap here—a pioneer in the natural skin care industry, their high-quality and effective products are also non-toxic and eco-friendly.
Their Perfect C PRO Serum is a professional-level, concentrated Vitamin C formula to effectively brighten the complexion and provide powerful antioxidant and antipollution benefits. It not only nourishes but also helps protect stressed skin for a more luminous complexion (especially good for mature or damaged skin).
And MyChelle's replenishing Solar Defense Sunscreens provide 100% mineral-based sun protection that melts into skin delivering UVA/UVB broad-spectrum protection without leaving behind a white cast or any greasy residue. They're rich in coconut oil and shea butter, so your skin instantly feels nourished and hydrated without GMO, gluten, parabens, petroleum, phthalates, sulphates, ureas, artificial fragrances, and artificial colors. They're also vegetarian and cruelty-free.
5. Toxic toothpaste
Oral hygiene is obviously a necessary and good thing, but swallowing carcinogenic ingredients isn't.
We might not think much about the ingredients in our toothpaste compared to the ingredients in our food or even other personal care products, but those pea-sized dollops on our toothbrushes twice a day do add up and many popular brands contain questionable ingredients we're far better off avoiding.
Things like sodium lauryl sulphate (SLS) and other surfactants (chemicals responsible for the foaminess of toothpaste), which not only interfere with the functioning of your taste buds, but are registered as an insecticide, may have a toxic effect on marine life, and have been linked to skin irritation. Then there's triclosan (an antibacterial chemical) which is linked to concerns over antibiotic resistance and endocrine disruption.
And that's without even getting into the fluoride debate.
It's much safer just to swap for a truly clean option, like Radius. Say hello to organic toothpaste that's so organic it actually carries the USDA logo—meaning their delicious flavors are quite literally good enough to eat.
If you take a peek at their ingredients label you won't see any trace of chemicals, pesticides, GMOs, glutens, fluoride, saccharin, SLS, SLES, carrageenan, parabens, detergents, or synthetics of any kind. Just clean, natural, and safe ingredients. It still offers that deep clean mouth-feel we all love, just without the toxic chemicals and additives.
Bonus: they also have a biodegradable silk floss made from all natural pure silk coated in candelilla wax (as well as a vegan option in mint and cranberry flavors) and their toothbrushes are the epitome of eco funkiness and functionality.
6. Brainwashed bottled water
This may in fact be the greatest marketing trick of all time. Bottled water is sold to us as the cleaner, healthier alternative to tap water, but in most cases it's dirtier than tap water, because it's less regulated. So, what's the solution? Get a reusable container of course: it'll keep your water cleaner, and won't end up polluting your body, or oceans.
But not all reusable containers are created equal. Klean Kanteen's range of Insulated Classic bottles not only keep water cold for 50 hours, but are four times more durable than most bottles (hence their lifetime Strong as Steel guarantee).
Some reusable bottles can be annoyingly leaky and pesky to clean, but Klean Kanteen's electropolished interior (which is made through a safe and non-toxic process) and rounded corners make it easy to clean, and its Loop Cap is leak proof. Of course, they're 100% BPA free, too.
Not only does Klean Kanteen offer a range of colorful and hardy water bottles, but they've got reusable to-go tumblers for your morning cuppa joe, and stainless steel straws (because what's the point of ditching plastic bottles if we're still gonna suck outta plastic?)
7. Animal-tested, chemical-laced, mass-produced makeup
If makeup is a part of your daily or even occasional routine, it's vital to think about what you're putting on your skin. Your pores absorb what you put on them, after all. Not to mention the practices of animal testing and mass production in the mainstream beauty industry.
Under current law, the FDA doesn't require cosmetics companies to conduct safety assessments on their products. Harmful ingredients can be easily masked under confusing or deceptive titles like "fragrance." Or they may be listed, but with nothing to inform us of their potentially harmful effects.
This includes nasties like phthalates (disruptive to the endocrine system: think developmental, reproductive, and even neurological damage), butylated compounds (skin allergies, organ, developmental, and reproductive toxicity), parabens (mimic estrogen and have been detected in human breast cancer tissue)…and the list goes on.
Vapour Organic Beauty have a whole list of clean swaps for your regular favorite makeup products, but their Soft Focus Foundation is a supreme highlight. Its liquid formula is totally natural, beautifully breathable, and designed to balance normal, sensitive and combination skin types, while giving that naturally soft, satin finish anyone who appreciates a good foundation will love.
Always organic, non-toxic, and cruelty-free, this foundation comes in a huge range of tones and actually adapts to your unique skin tone and complexion. They even set up quaint personal consultations to choose the perfect color for you.
For these and more rock star natural wellness and beauty products, head to one of Pharmaca's 28 stores in California, Colorado, Illinois, New Mexico, Oregon, and Washington. Or hop over to their online retail and educational space at pharmaca.com
Or try your hand at winning them all below. Yep, the whole shebang. Good luck!