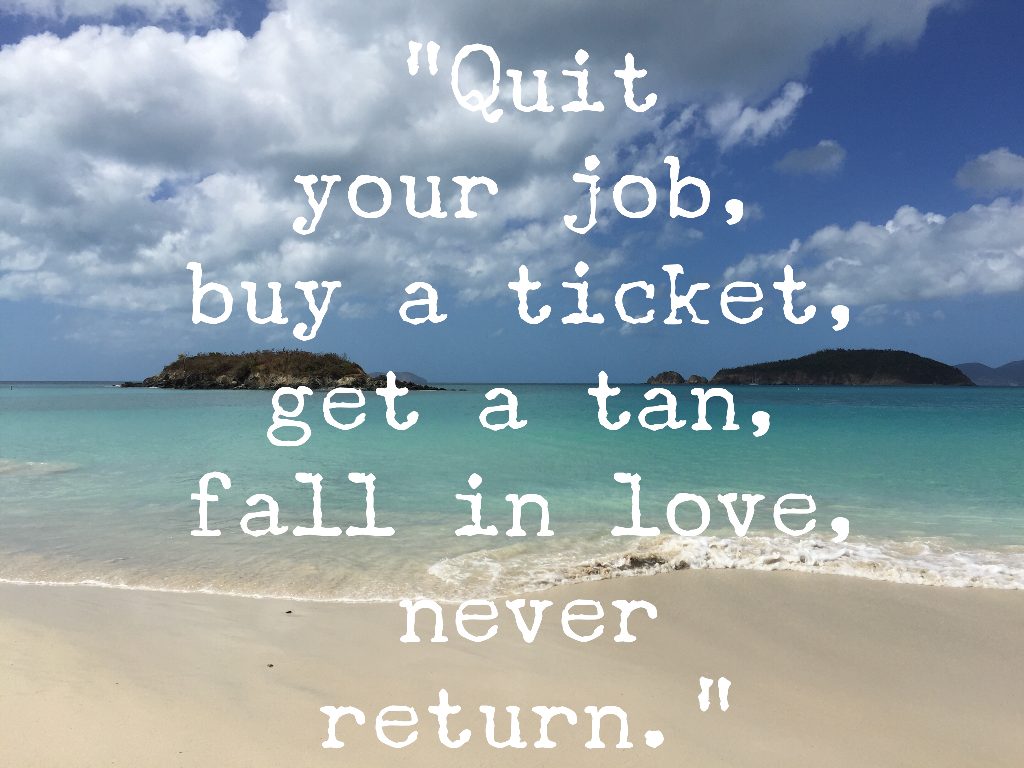 Read this next:
I want a life like this: It's Okay to want to Live a Slow & Quiet Life.
The year I turned 40 was a huge marker of change for me.
Right around the new year, I left my career in New York City to move back to my hometown, 100 miles away.
I got a new job, rented half a house, and applied to buy a small home through the town's lottery system.
I thought this was where the universe wanted me, as everything was going my way.
Until it wasn't.
First, the new job turned out to be a poor fit. Then, I lost my opportunity to buy a home. Finally, my seven-year-old dog was tragically hit by a car and died.
I struggled to make meaning out of these events. It was near impossible at the time.
Then, a friend invited me to visit her in the Caribbean. I desperately needed a getaway, so I went.
My two weeks in the warm tropical sun, swimming in the sapphire blue waters, with no one asking about my dog or my life was the escape I needed. I vowed to come back soon.
When I later told friends I was moving to the Caribbean instead of just visiting again, the chorus I heard most often was, "I wish I could do that!"
Well, friends, you can. Here's how I picked up and moved to a small island in the Caribbean. Follow these simple steps and you can too!
1. Quit your job.
If you can, quit with a little money in the bank. You will need it to rent a place, get around, and eat. In 2010, I moved to the Caribbean with $4,000. It was enough only because I was lent a car for a while and only had to pay for gas and repairs. Today, I'd probably need double that.
2. Lose the house.
If you rent, get out of your lease. If you own, good for you! Sell your house or rent it out year round. Ideally you would stay with someone for a few weeks before quitting your job, just to squirrel away a little cash.
3. Put your things in storage. 
Or somewhere for free. I wasted a lot of money keeping belongings in storage for so many years. So if you can, find somewhere to put them for free. I know folks who've stored their belongings with relatives or friends. Better yet, take the time to downsize. Sell, give away, and donate. It feels good to live with less!
4. Buy a one-way ticket.
Obvious, right? But it does cement the fact that you are moving, not visiting.
You should plan to arrive before "season," which is generally December to April. I arrived in the beginning of November, although earlier is better. You want to nab housing and employment before hordes of people come down for the winter looking for work.
5. When you arrive, be friendly but also low-key.
Greet everyone you pass or meet with "good day" as it's shown as a sign of respect. Look them in the eye and smile, even if they don't reciprocate.
It's best to get the lay of the land and the feel for your new community before bombarding people with requests to help you get a job or find a place to live.
For my first year on the island, people were wary of me. Many people come and go quickly, so folks learn not to get attached. I just stayed open and kept doing my thing, learning, and observing.
If you drink, don't be "that drunk new guy/gal." Like I said, keep it low-key.
6. Find a place to live and a vehicle if need be.
No one, I repeat, no one on an island will rent to you when you are still stateside. Money doesn't matter. You must be on-island to get a place to live. People like to meet you and get a feel for what your intentions are.
That being said, I had one friend who lived on-island and offered me a place to stay for a week. In that week, I met other people through her, and was offered a place to stay while talking to potential landlords. When I rented a one bedroom, it was for $1,000 a month, which was a total deal. Some places I looked at were total dumps for more money. I found a landlord who took pride in their properties. Nowadays, expect to pay double that or more as housing is more limited in the Caribbean since Hurricane Irma.
If you don't know a soul, look online for the cheapest place to stay for a few days. There was an inn that had tiny, almost dorm-style rooms for cheaper ($80) than the "boutique" hotels ($250). My island didn't have many hotel options, as it's less commercial. Nowadays we have Airbnb, but don't count on that for long term. I've seen an actual tent on a deck for $44 a night, and a private room in a house for $90 a night. The prices only go up from there.
Figure out the neighborhoods, transportation, and walking distances. Talk to locals casually and look for a local mail center that has rentals and cars posted on the wall. You'll need to hustle to get a good, safe place to live. The nice thing is, if you hang around chatting with locals, many will offer the name or number of someone who might be able to help, once they see that you're a responsible person serious about making a life there.
I decided to live on the less populated side of the island away from the busy "town" area. I knew I'd need to get a car quickly, as most things are not in walking distance. I tried the bus and hitching for a while, but it got old in the heat and frequent tropical rainstorms.
There are many "island cars" for sale. The trick is to find one that may be old, but runs well or has a good track record with being on the road rather than in the shop. You'll need a load of cash for this, so be prepared. When I was looking in 2010, it was $3,000 for something beat up and perhaps 20 years old, and around $7,000 for a 10-year-old car with air conditioning. Again, after the hurricane, many cars were lost so expect that prices will be higher.
If there's no way you can afford a car for a while, I recommend finding a place to live in the more populated "town" area. Many people walk, hitch, or take the bus if they need to go far, but arrange their housing and work within walking distance. This works well for younger folks, or people who like being in the nightlife scene and want to work in restaurants and bars.
7. Look for a job where you can meet people.
I worked part-time in the souvenir shop for a popular bar/restaurant. This led to some waitressing shifts, which led to meeting more people.
Everyone realized after a year or so that I was a year-round resident and thus treated me like a member of the community.
Eventually, I had a full-time job at the local veterinarian, as well as a part-time job for a property management company. The idea is to be willing to do what it takes to earn your way to a proper living. For some, it's bars, restaurants, or working on boats. For others it's a few small part-time jobs. Do what's right for you.
8. When you realize you're not on vacation, don't get freaked out and leave.
At some point, the pink cloud will go away and you'll find that you have to work six or seven days a week to make ends meet.
Or perhaps your apartment has noisy neighbors. Or your island car keeps breaking down on the hilly mountainside roads. Or roosters crow all night right outside your window.
Or the electricity goes out as soon as it gets dark out, or in the morning before you can make your coffee. Or the local grocery has been out of almond milk for a month.
Remember: this is island life. It's what you signed up for!
You also signed up for swimming in warm water after work in February. Perhaps you've been invited on a boat trip on your day off. Maybe you'll fall in love once or twice and have romantic nights on a sailboat.
Maybe you'll become a certified scuba diver, and marvel at how you can breathe underwater. Perhaps the most adorable island pup will find you and claim you as their own.
Maybe you'll participate in stand up paddleboard races, or do distance swims with sea turtles or dolphins.
Maybe you'll make a few close friends, and an entire island of acquaintances who know your name and will help you with any number of problems. Those friends will stop if they see your car broken down on the side of the road and offer you water, a ride, or a jump start.
I happily signed up for the full spectrum of island life. I took the pleasures and the hardships in stride.
My little island in the Caribbean took me in when I needed her most. I respectfully learned her ways and did my best to be a good ambassador and go with the flow.
I went from visiting tourist to active member at the heart of my island community.
That's how I know that if I can quit my life and move to the Caribbean at age 40, so can you.
Full disclosure: I lived on my island for seven years, until Hurricane Irma destroyed my home. I was on vacation in the states at the time, and had nothing to come back to. This is another reality of island in the Caribbean life. It's a risk. Yet, I wouldn't change one damn thing.
"But that is what islands are for; they are places where different destinies can meet and intersect in the full isolation of time." ~ Lawrence Durrell, Bitter Lemons of Cyprus
~
More you may enjoy:
How I Redefined Home by building my own Tiny House.
Mothers, Let your Daughters Grow Up to be Travellers.
Dear Exhausted Women: Stop Trying to Fix Everyone. Stop Carrying the Weight of the World.
~