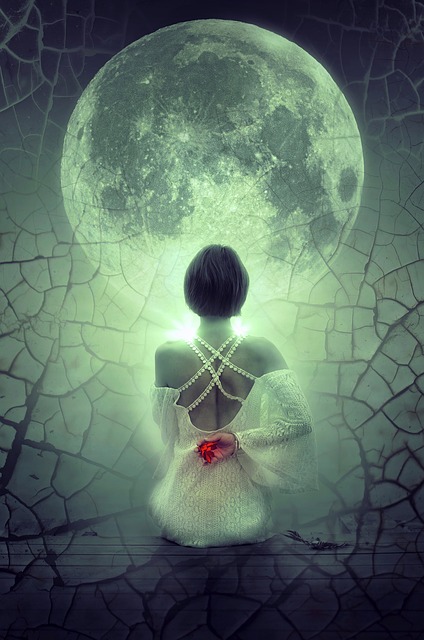 Whether it's science or magic, if it's of fun benefit, enjoy!" ~ ed
We all seek comfort, pleasure, good things, and somebody, in some form, to accompany us in this journey called life.
It's so easy to fall prey to all the "things" we can obtain in a lifetime. It's even easier to get lost chasing someone else's dream and living your life only to get the fantasy "perfect life" the majority have been conditioned to believe.
This full moon in Taurus on November 12, is helping us break the walls that divide us and separate us from our own true, authentic soul. 
If we are awake enough to see the divine play that is happening, we can also be present to the intuitive and magical forces that are showing us another way, a better path, and a better choice. One that can also better sustain us long-term and lead us to true happiness and fulfillment.
The question is, are we willing to choose ourselves, love ourselves, and give up or abandon everything and everyone that doesn't match the self-worth and the inner integrity that we desire?
Taurus is the ritzy, classy, stubborn sign of the zodiac. They crave pleasure; pleasure in all forms. They don't settle or let go of their stubborn ego ways and all the beliefs within their minds. They want what they want, often the best, and no one can talk them out of their decisions.
The sign of Taurus can also self-sabotage by settling for what seems okay, and then clinging to deep mental and emotional attachments that inhibit them from truly growing and evolving within themselves.
The deepest lesson everyone has to learn in life is how to be themselves, how to overcome insecurities, and grow beyond the emotional muck and conditioning we were taught. Yet, for Taurus, it's vital to understand what brings them passion, true fulfillment, and security, in order to understand who and what to align with, so they don't end up abandoning themselves for pleasure and temporary fantasies.
Believe me, as a Taurus rising, I totally understand the need to chase material things, appear glam, and also hold on to all those people and things that really don't matter in the bigger vision of life.
This full moon will be felt emotionally and deeply. Within us all there is an inner fire, a flame that is lighting us up to new opportunities and helping us realize that the truest and best potential is actually within us. Only we can tap into the magic, power, and authenticity to fully embody what the Taurus archetype teaches us.
By owning your worth, choosing yourself, saying yes to you, speaking your truth, and helping yourself live with a heart wide-open—you can begin to emotionally resonate and deeply connect with the core of who you are.
Everyone has their own soul path and it's a unique journey toward individuation. However, without being grounded in ourselves, self-aware, and true to the deepest part of ourselves, we cannot fully know who we are and live in radically pure and conscious states.
This full moon is bringing depth. It's helping us see beyond the veil, so we can tap into the infinite potential of possibilities and take our own blinders off and overcome our subconscious projections to see clearly what's real, what's fake, and what is all a fantasy of our own mind.
Nothing will be totally clear until Neptune, the planet of illusion and fantasy, goes direct November 28, 2019.
Believe me, waking up to reality and seeing things as they are, rather than how we think they need to be is not easy. Overcoming our insecurities and the need to wear a mask and chase fantasies is by no means easy. Thinking your life is just about getting the fairy-tale ending will result in codependency and a life that is only a temporary dream.
Taurus is pleasure, and because this full moon is during Scorpio season, it's an invitation to open our hearts by connecting to the depth of how we feel, who we are, and our own life-long goals, dreams, and desires. 
We must let go of patterns, heal the past, and see what life has been trying to teach us. Our mind will carry all sorts of stories, and our human nature is to blame people and live out our unconscious, emotionally suppressed wounds from childhood. We often do this in order to receive the pleasure and fantasy we dream of. Ironically now, humanity is being challenged to wake up to a better and brighter reality—one that reflects our own dramas and shows us what we hold within us including all the self-hatred, anger, and abandonment issues that we carry.
While we can carry on, live our life ignoring what reality is showing, what people are reflecting, and denying our own emotions, and while reacting to those who show their emotions, Taurus teaches us that it is the depth of passion and soul that ultimately connect us to our heart. Until we can emotionally connect, express our true nature, communicate, and get out of the insecure and mental blocks that in prison us, we will never be truly free.
That longing we all carry in our hearts, in our minds, and in the fantasy playing in our heads, will continue to be a fictitious fantasy.
While we all want love, someone to hold, someone to have, someone to spend forever with, this moon helps us magically align to love in new ways.
To balance ourselves and make sense of the craziness that Mercury Retrograde, the end of the year, and this full moon brings, we must find space to relax, reflect on the year, and consider what is keeping us from our true heart's desire. Only then can we break the patterns, apologize to those we have hurt, move on, forgive, and tap into our own core to live individually well and totally independent while being ourselves and being unafraid of who that is.
The Taurus archetype is Earth, and it bears its wisdom through life, hard work, dedication, bearing the fruits of its labor with its own security. While this moon occurs in the magical 11th month, and before a radical paradigm shift of 2020, it is the time to let go, be the witness, and see where you're trying too hard, not loving and enjoying life, and forcing stuff that isn't meant to be.
All those rigid ideas that we've been taught about how to live will traumatize us and keep us from love. When we fall out of the mind, and merge with the emotional depth, our truth, and our inner true nature, we can see life in a new lens and be fearless in pursuing our depth, passion, pleasure, and being a free and loving human being.
Stay woke in this time. Stay gentle and calm. Take the criticisms and see the lessons. Don't deny your opportunity to communicate and speak up about what you need to say. Unload your burdens consciously. There is healing in words, and magic helps us grow when we are willing to muster courage to express ourselves in truthful ways and learn to live more present, kind, loving, and full of pleasure, without pain, and enjoying the good things in life while creating total satisfaction in the moment, with whatever life is serving us.
We always have a choice. Right now, it's necessary to choose ourselves. 
Cut the cords that are in the past, leave the memories behind with appreciations, and whatever comes up, have gratitude for what it taught you. See where your own stubborn mindset and beliefs sabotage you and keep you stressed, isolated, and unhappy. Be daring to chase your fantasy, not by finding the perfect person, but by being yourself, becoming altruistic, staying honest, supporting yourself, and seeking pleasure by connecting to the depth of your heart, soul, and passion.
Be proud of who you've become. Trust the process. Continue to honor your worth, and know that your own fulfillment and satisfaction comes by becoming stable emotionally, mentally, physically, and lovingly within yourself.
Don't be afraid to let go, and come home. The heart can always become open.
For it is the heart that fulfills every dream we've ever had, every desire, and ruins the fantasies in our mind, in order to help us learn who we are, and allow us to grow to who we need to become, showing us the path we need to individually take to live more lovingly within and without.