Check out Elephant's Continually-updating Coronavirus Diary. ~ Waylon
~`
My dog Peaches is an amazing being. But aren't they all!
She touches my life, each day, in so many ways.
From little fun things to deep healing. Begging for treats and licking my nose. And meeting me in a place where words aren't needed.
If Peaches were to use words, here is what I believe she would say about coping with the pandemic we're in. I am sure she speaks for all denizens of dogdom.
Peaches' five suggestions for coping with stress during a pandemic are:
1. It's okay to go on more walks than usual. "All that walking makes us perkier and happier because of those wonderful endorphins."
2. We can get close on the couch and cuddle while watching TV or reading. "Because we always feel safer when we can touch one another and be connected, right?"
3. Hey, don't forget my treats as you reach into that potato chip bag! "Because sometimes humans just munch on snacks when they're bored and anxious, but dogs eat when they're hungry, yes!"
4. When you're depressed and sad, remember I will be too. We can be sad together. "And that's okay. I can see when you're sad. I see it in how you move, talk, and look at me, and that makes me sad too. But I'll always be there by your side."
5. If it looks like I sleep more than usual, it's probably because I'm actually meditating! "You didn't know dogs meditate, did you? Well, yes, of course, we do. We want to be wiser, more secure, and more loving, just like you do!"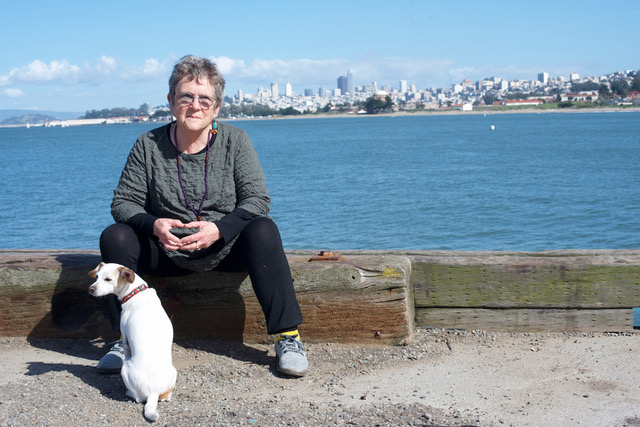 "You and I will survive this thing and thrive, if we just walk, cuddle, eat, feel our feelings, and meditate." ~ Peaches the dog, to her beloved human.