This article is written in partnership with Alpine Provisions—they're dedicated to producing affordable, sustainable, organic, plastic-free body care products. We're honored to work with them. ~ ed.
~
If this virus teaches us anything, it's that our daily actions matter.
It's forced us to acknowledge that even our smallest choices have reverberating impacts around the world.
And we can go back to "normal," or we can reevaluate and change our habits for the good of our health, our local communities, our global community, and the planet.
One of the most destructive things we do as humans is consume and throw away. Consume and throw away. Consume and throw away.
One obvious solution to this problem is to consume less—and it's a step we need to take if we want to combat our gradual destruction of the earth.
But we can't stop consuming everything. So, we also have to take steps to change what we consume and how we consume it.
One of the worst aspects of our consumption is plastic.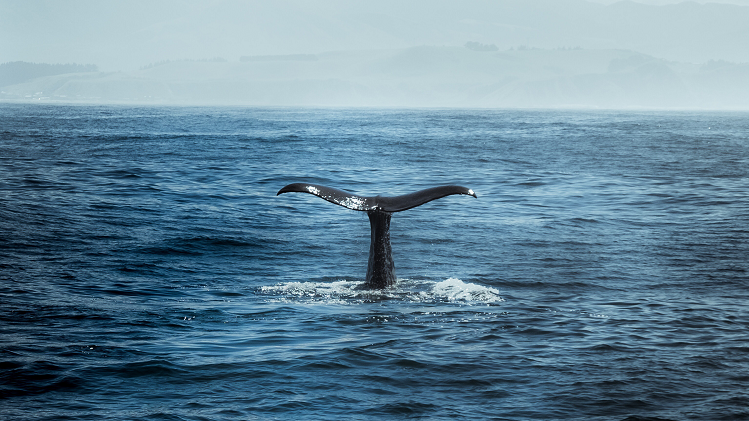 Plastics are undeniably terrible for the planet, and yet we use them for so many things—many of which don't actually need to be made of or contained in plastic.
One man who is passionate about changing our relationship to plastic is Joshua Scott Onysko. He's the founder of Alpine Provisions, a Boulder, Colorado-based company offering organic castile soaps, shampoos and conditioners, deodorants, hand sanitizers, and lip balm.
Joshua has always been committed to offering affordable, sustainable, organic products. But he has also decided that he wants to do more.
Most big companies don't seem to care much about investing in transitioning to alternatives to plastic. And for small companies who do want to make the transition, the cost of doing so can be prohibitive. Which is exactly the problem that Joshua ran into when he decided he wanted to change all of his products from plastic to aluminum and paper packaging.
So, he started a Kickstarter.
Joshua's Kickstarter is called "Alpine Provisions: Life After Plastic." And, in conjunction with the Kickstarter, he has launched the #LifeAfterPlastic hashtag and campaign. The goal here isn't just to enable Alpine Provisions to make the switch—but to empower and build momentum for this movement as a whole. Because the fact is, plastics will remain a toxic, never-decomposing pollutant of our environment unless we take action and do something about it.
Why support #LifeAfterPlastic?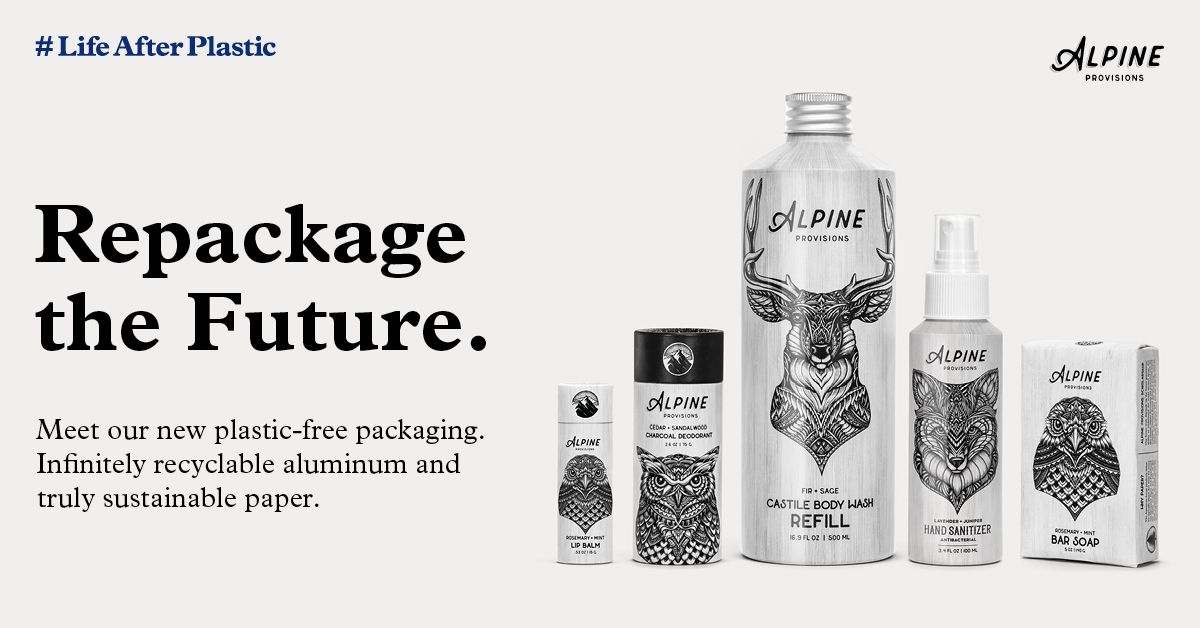 The body care and beauty industry has a massive impact on the environment. Massive.
According to CommercialWaste,
"The beauty industry creates 120 billion units of packaging every year.
The packaging is the number one contributor to plastic production in the world and offender for plastic waste pollution. In 2015, research found that packaging accounted for 146 million tonnes of plastic every year."
It's essential that this industry makes the effort to change how they produce and package their products. Moving away from plastic and toward materials like aluminum and paper can make a huge difference. As Joshua Onysko says, "We chose aluminum because 84% of the aluminum ever created is still being used today and it can be infinitely recycled and paperboard can be composted or recycled."
There is clearly every reason to switch to plastic-free packaging—but the expense of this can be tricky. Which is where we come in.
How the kickstarter works:
You pledge a certain amount of money, and then, once Joshua has the non-plastic packaging up and running, you're sent the products that are included in the price of your pledge. Pledges range from just $12 up to $10,000, with lots of options in between.
One of the coolest—and most popular—pledges is "Lather it Forward:"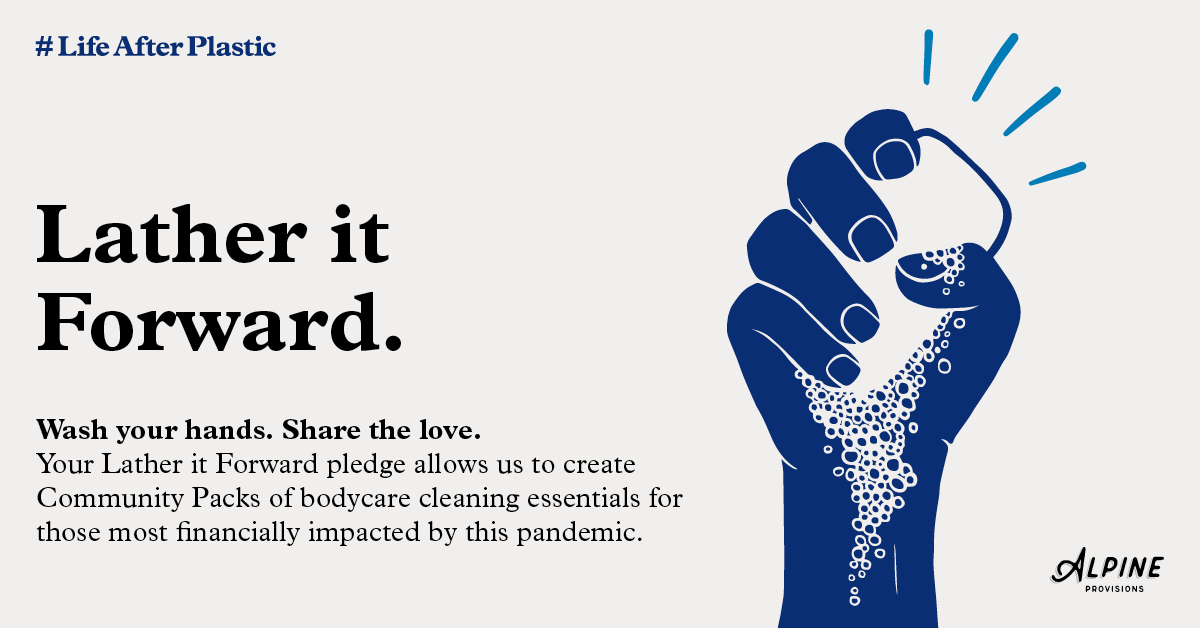 This option allows folks to support Alpine Provisions, #LifeAfterPlastic, the environment, themselves, and those in need during this pandemic—all at once. The "Lather it Forward" packs come in all different price ranges, so that you can contribute no matter what your pledge level. (Fun fact: Elephant Journal backed a "Lather it Forward" pack.)
Every dollar counts. Every voice counts.
It's easy to get pessimistic about the state of the world. It's easy to decide we can't make a difference, that our puny actions don't have an impact.
But the fact of the matter is, change happens with people. Change happens with individuals. Change happens when we make those puny (not-so-puny) choices every day to bike instead of drive, to eat a veggie burger instead of a hamburger, to support a company with aluminum packaging over a company with plastic packaging.
We can vote with our dollars by choosing plastic-free companies—and even by helping these companies become plastic-free.
Everybody reading this has the ability to make this Life After Plastic campaign go viral, whether you have one dollar or ten thousand dollars—every dollar, every voice counts.
#LifeAfterPlastic goes far beyond one company (though we do highly recommend supporting Alpine Provisions). This is about a movement, about accepting responsibility for what happens next in the history books.
The Coronavirus has taught us that we are not alone in this world. It has taught us that we should give a damn. It has taught us that our puny actions are, in fact, massive.
Now…
What are you going to do about it?
Waylon talks with Joshua Onysko, founder of Alpine Provisions.