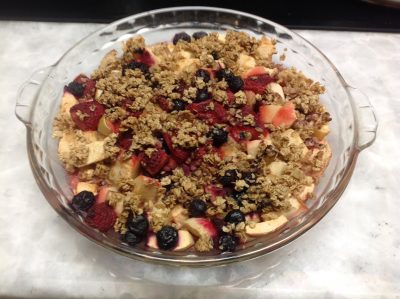 Recently, I was standing in my kitchen wearing pink polka-dotted pajama bottoms and a seafoam green T-shirt, wondering how I might comfort my child.
She is sleeping much more during this Covid-19 virus pandemic; perhaps she's drawing in for protection.
The word "cobbler" popped to mind. I knew how much my girl loved tender, baked fruit fillings.
As my eyes roamed over our countertops, they lit up when I saw a small bottle of cognac. It was a Christmas gift from my mother-in-law and it is the only liquor we have in our home.
I knew if I added it to my cobbler filling the alcohol content would evaporate but it would leave its aromatic flavour, and create a comfort equal to reading the story, The Velveteen Rabbit. 
After I was done baking, I handed a plateful of freshly baked cobbler to my daughter. Her eyes glowed when she took her first bite. Her whole face smiled.
We talked a bit about her day and her favourite childhood books as she ate.
It occurred to me that more than any food we give to our kids, time devoted to them matters the most. It is the real sweetness of life—especially now when routines are so upside down.
Ingredients
10 small McIntosh apples, peeled and cored
1 cup frozen mixed berries
1/2 to 3/4 cup oat flakes (either quick or regular rolled oats)
Enough olive oil to moisten oat flakes into small clumps
1 tsp vanilla extract
3/4 tsp cinnamon (or to taste)
1 tbsp cognac or your favourite alcoholic drink (a liqueur, port wine, or lager would probably be best)
Assembly
1) Slice apples into bite-size pieces. Place in a large mixing bowl.
2) Fill bowl 3/4 full of water.
3) Add cognac or your substitute. Marinate for 10 or 15 minutes, depending on how flavourful you'd like your apple filling.
4) Place apple chunks into a glass nine-inch piedish, straining out the water solution. The alcohol content will bake off but the flavour of the cognac will remain.
5) Sprinkle frozen mixed berries evenly on top of the apple chunks.
6) In a separate small bowl, mix the oat flakes, olive oil, vanilla extract, and cinnamon until it forms small clumps.
7) Sprinkle oat clusters on top of the fruit in the pie plate.
8) Bake at 375°F for 45 minutes. Let it cool after removing from oven.
9) If desired, top with vegan ice cream or soy-yogurt.
Enjoy!
May your favorite childhood story come to mind as you savour this dessert. And may you have spare time to spend with your children.
~