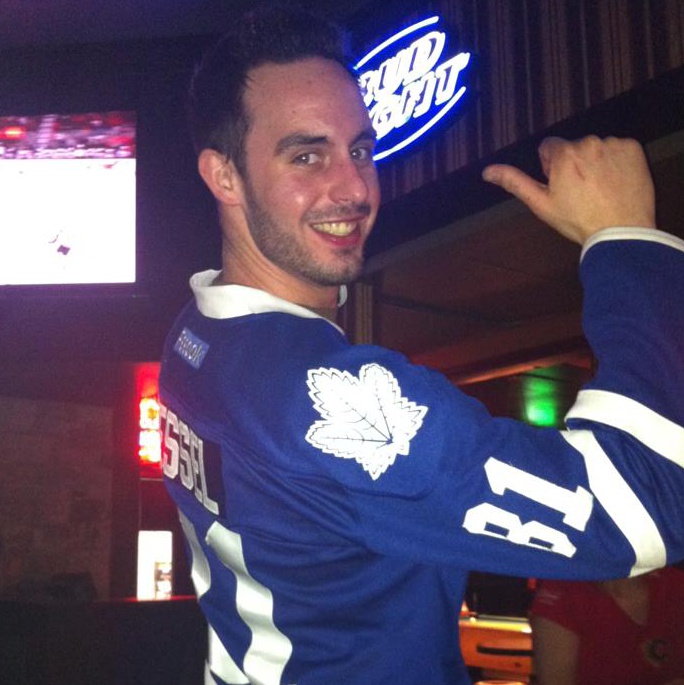 Five years ago, my brother committed suicide.
While every February 22nd has been hard since he passed away, five years seemed like a benchmark, a time to re-evaluate what is and was.
I lost a bit of my identity after it happened. Even to this day the generic questions of: "So, do you have any siblings?" or "Tell me about your family" catch me up. On occasion I lie, say I'm an only child—if only to save myself from the sad looks and uncomfortable silence that comes when they don't know what to say.
The truth of the matter is that for 29 years, I had a brother. I was a sister. I came from a family of four.
For the past five years, I've belonged to a family of three, and I am a sister to no one.
It's taken a minute to get comfortable in this new skin, this new way of defining and describing myself, it's also taken this long to truly understand and process the kind of grief that comes from a suicide.
Grief is a strange and many faceted monster.
Grief from suicide fills its own entire category.
Don't get me wrong, the passing of any loved one will always be difficult; suicide-related grief is just different. On top of the sadness and loss, there are feelings of guilt, anger, bewilderment, confusion, alienation, shame, and more guilt. It took me a long time to find some semblance of closure. There was no note, so everything was left shrouded in mystery and unanswered questions. Any theory or reasoning we could come up with was purely supposition.
Five years later, I still have to deal with and process the pangs of grief I get randomly hit with, which has led me to reflect on how it has shaped the person I am today.
Looking back, if there was one thing I wished I had during the aftermath, it would be honesty and true connection with someone who had been in my shoes. I knew there were a handful of support groups and other resources I could take advantage of, however, I never felt comfortable participating in something like that. It wasn't a platform that resonated with me.
Unfortunately, all my closest friends and family had never experienced a loved one committing suicide and they were at a loss as to what they could do or say. They were amazing, supportive, and compassionate, but unless they had experienced it firsthand, they just didn't get it. I was getting sad looks, generic and stereotypical clichés of: "time heals all wounds" and "you're strong, you'll get through this."
With all the "take it one day at a time's," I was starting to feel like I was at an AA meeting!
Looking back, more than anything, I wish someone would have been willing to be real with me, be honest.
I wish someone would have said something like:
Your life is going to suck, for a long time. You are going to be in pain, for a long time. It's going to be difficult to take a deep breath, for a long time. The mundane banalities of life are going to seem monumental. Being out in public will feel like a chore. So be gracious with yourself.
But, one day, you will wake up and take a deep breath without it catching. You will be able to smile without your face feeling so stiff, and you will find yourself laughing again in pure joy. When those moments come, you will realize your world is starting to turn again, slowly perhaps, but turning all the same. You'll inch forward in life, building yourself up block by block, and life will start to reach a new equilibrium. But don't be fooled, grief is still lurking in the shadows. You might be walking down the street and see someone who resembles your loved one and be winded by the shock, or something may remind you of them out of the blue and you'll be paralyzed, and the moment will pass as quickly as it came on.
Something along those lines. I wish I had raw honesty to help guide me through.
In addition to honesty, the other element of the grieving process I wish I was warned about that no one seems to talk about, is the grieving of oneself.
I heard things like: "you'll be back to yourself in time" and "eventually things will be normal again." Unfortunately, this was untrue. I needed to accept a harsh reality: I was never going to be the same person I was. Having gone through this experience, I was fundamentally and innately changed. I needed to be willing to grieve the person I was, and be open and accepting of the person I was becoming.
I remember who I was, and I am still getting to know the person I am now.
It's been five years, and I still see my brother in passing people, five years and I still feel empty space, which is now filled with just his memory. Five years of learning how to live without this person in my life.
I have grown so much in this time; learned about strengths, weaknesses, and capabilities I never knew I had. My brother's life and now his death will be forever with me and they have become a part of my story. I'd be lying if I said I hadn't been scarred by his suicide, but it is a well-healed scar I carry lightly.
There is no right or wrong way to grieve a suicide, whatever one feels and how they deal with it are all valid. Everyone is entitled to process in whatever way seems right for them.
While mental health and suicide are becoming more widely accepted topics of conversation, I don't hear much about the aftermath for the loved ones of a suicide victim. For all who are still mired in the trenches of grief, know you are not alone in how you feel, and know there is no need to feel embarrassed or ashamed.
I am writing this to be brave, open and honest about my experience, and because I no longer feel the need to sugar coat things to make it more comfortable for other people.
If reaching out to an organization or support group isn't a comfortable option, my hope for those who are experiencing this kind of loss, is for you to remember you are not alone, and there is a whole community of survivors of suicide silently holding you up.
~
If so inspired: Sincerely, the Sister Left Behind by Suicide.