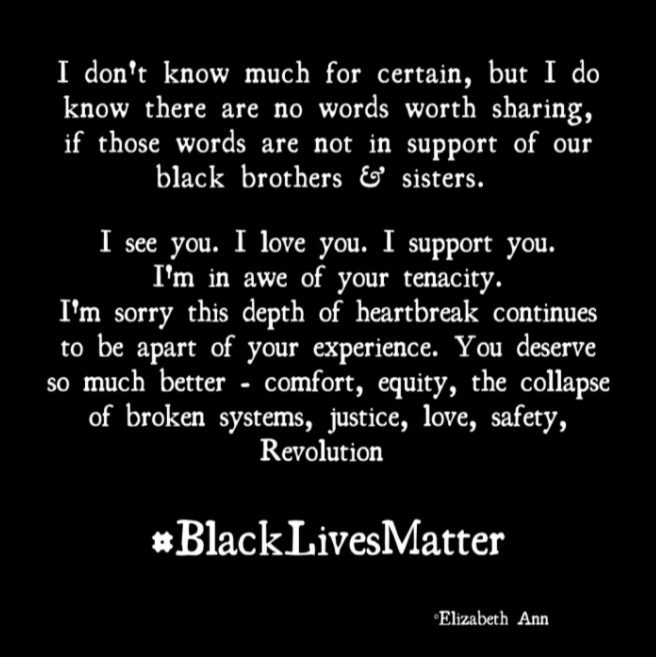 A worthwhile read: Minneapolis Mirror: Being the Change we wish to See.
Because you care, I would also recommend: An Open Apology to All African Americans.
I ache with grief and confusion for the senseless acts of racism we've watched, read, and felt.
I'm deeply saddened while reading accounts of violence over the last few days. I can barely read it without becoming swallowed by a wave of grief. I can't imagine living it.
Violence is not the answer, but it is a response to trauma.
Something has been simmering in me for the last days—a slow burn to a boil. What is my voice?
I've read a few posts ranting about the looting and rioting. I don't agree with a lot of it—personal accounts of onlookers ripe with judgment.
I don't agree with looting. I understand why rioting is necessary. I don't agree with lives lost in the fire.
But then, I also don't agree with systemic oppression or discrimination against diverse populations. I don't agree with disregarding human life. I don't agree with calloused, cold, hate.
I don't agree with letting fear make our decisions. I don't agree with knees on necks. I don't agree with names called, and judgments made—if we're not there, in the body of the people, on the frontlines of this war, we have no right to make judgments.
We are looking in from the outside. We don't know the heart, the facts, how it feels, the hurt carried, and the hurt felt. Nor do we know the exhaustion caused by the brutal fight for dignity in a society that treats you like less, gives you little, and keeps you down.
Judgments made about anyone on the frontlines—whether they are blessed with peaceful police, or their police turn off the charm the moment the cameras are off to gas them, beat them, drive over them, or shoot them—are ignorant and misguided.
Jesus was a revolutionary and that's what we need. We need a revolution.
We need to push for the collapse of systems not serving our entire planet's family. Those are our brothers and sisters out there. George, Ahmaud, Breonna, Sandra, Trayvon, and Walter. The list of victims to senseless racism goes on. And on. And on. We need to band together to restore power imbalances.
As white people, we need to look inward in stark vulnerability and assess if and why this makes us uncomfortable—why we are afraid. And then we need to treat it all with love and grace and do the work.
We must do the deep internal work, the self-awareness work, the compassion work, the forgiveness work, the burning of all that is harmful work, the societal understanding work, and the oppression work. We need to show up for our brothers and sisters in fierce love, empathy, and advocacy.
I know the ruthless battle of challenging oppression, intimately. I've been doing so my entire adult life. But, as a white woman in Canada, I am blessed with an abundance of privilege. I know this.
What has been simmering within me is a desire to solve my uselessness. A desperate desire to do something worthwhile—to contribute meaningfully, not to be another voice lost in the hustle. I have been struggling with the how, what, and when to give the support and advocacy I so deeply want to give.
This both is and isn't my battle.
I want to contribute in a way that is respectful, thoughtful, and powerful. I want my words and actions to come from and radiate love. I am a writer, poet, and a social worker. There is a unique power that comes from the marriage of those three.
I want to use it for good, for challenging systemic oppression, for challenging racism, for bringing balance to power differentials, for justice, for love, for safety, and for revolution.
So I'm lending my voice and my words to art as activism. Please, if you know of valuable opportunities for me to raise awareness, soften hearts, and share love, point me in that direction.
I want to do the work.
For justice.
For advocacy.
For love.
For safety.
For revolution.