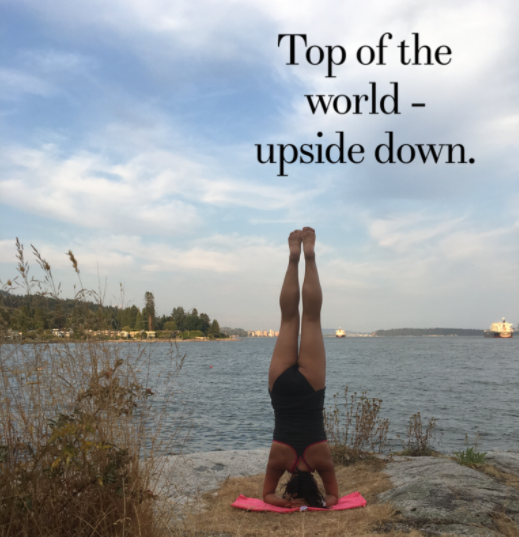 My friend taught me how to do a yoga headstand.
It's the most self-empowering pose I've learned this summer. Maybe it's because of the blood rushing to my brain, or the strength of my core suspended midair or my toes pointing up toward the sky.
Self-empowerment is taking control of your own life, setting goals, and making positive choices that can create a meaningful impact in some way.
I'm learning to understand my strengths and weaknesses. I discovered that through my commitment to exercise, I've reclaimed my self-confidence and inner shine.
Whenever I doubt my own capabilities or struggle with anxiety, I know now that if I push myself and try hard every day—through exercise—I'll improve my physical and mental health, and lifestyle.
I believe in myself and this enables me to help others.
I didn't have the courage or core strength to attempt that headstand last year, but when a summer day arrived this year and I asked my friend to teach me how to do one, I had built up the core power, confidence, and guts to try.
Whenever I do a headstand, a sense of power and confidence overwhelms me—I'm on top of the world, upside down. Wow!
For the past 20 months, I've challenged myself to achieve my fitness goals such as exercising daily, running mountain races, trying new activities, and creating and leading a free online fitness group in order to encourage others to better their health.
Our online fitness team checks in daily with our progress and workouts, in order to keep each other accountable and we encourage each other with positive words. It's fun, supportive, honest, and engaging. In between push-ups, yoga, and plank challenges, we chat about great places to hike, cycle, and paddle-board.
Members are at different fitness levels, but each person takes control of which individual challenges they're striving to achieve for the month. We're grateful for being part of the team and inspire one another through our fitness activities, goals, and achievements.
Our key philosophy is to keep trying—and to incorporate exercise into our lives—every day.
Encouraging others to persevere can be just as self-empowering as mastering a headstand, because it might be those words that inspire them to keep going.
Making a positive difference in a person's life can give someone hope, brighten their day, and could take someone one step closer toward achieving their goals, whatever that may be.
Encouraging others to persevere empowers them.
It might even empower them to get upside down.
~