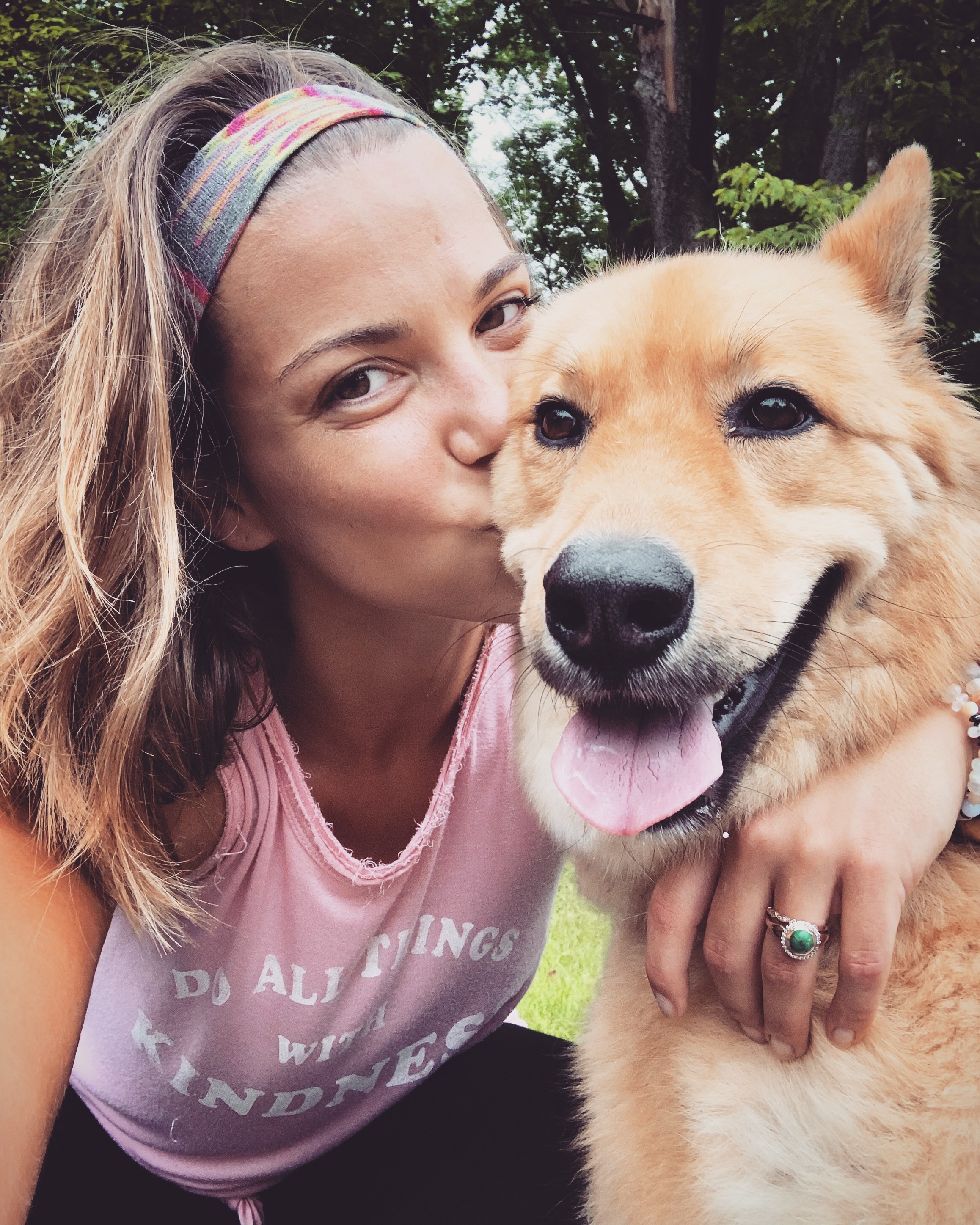 The term puppy love is often used to refer to the shared infatuation between two young and innocent souls.
Puppy love earned its name to match the level of affection that puppies freely and eagerly share with humans. Therefore, I am unsure why long-term committed relationships are not referred to as dog love—the highest form of love. I have never seen a love more true and deep than the love that comes from our four-legged companions. 
If you've ever loved a pet, you can easily identify the joys, headaches, and heartaches that come with the territory—the endless cycle of brushing and vacuuming. The one-sided "chew this, not this" conversations. Stopping attempts at counter surfing. Playing fetch, fetch, and more fetch. Apologizing for their nose sniffing a newcomer's groin. And my personal favorite—the pure joy of an overexcited tail that greets you as you talk in the door.
Kona was my first dog. I grew up with family dogs and even convinced my parents to get me a cat or two throughout the years, but Kona was my first fur baby.
As an animal lover and advocate, I frequented animal shelters and often urged my ex that it was time to become dog parents. So the day we walked into a shelter and our eyes locked with hers, there was no denying we would be stopping to buy doggie essentials on our way home.
Not only was Kona my first dog, but she was also my sidekick. We did almost everything together that you could bring a dog to do—I admittedly snuck her into many places she was not supposed to be, too. For the last six years, she was my companion for almost every walk or run I went on, my sidekick for daily errands, snuggle buddy for movies, and served as my personal Roomba while meal-prepping. Kona even knew how to cozy up on the barstool next to me while I enjoyed a beer.
Everyone said Kona was part-human, and I think my free-spirited nature makes me part-dog, so we met somewhere in the middle—which included both peeing outside and howling at the moon—and stayed there together.
She truly was my best friend. In fact, my ex and I would morbidly joke that when Kona died, I would likely need to be sedated for a few days, or maybe even weeks. I did not know the reality of losing her would come long before her life would end. 
When my ex and I split, she was the big question mark. We had adopted her together and raised her together. By the time the divorce was in its final stages, I had made peace with the fact that my ex and I were not going to be together—but Kona and me—that is another story. He might not have been my soulmate, but I thought she certainly was. Ultimately, she stayed with his family as it was the most familiar and stable. I can admit at that time my life was anything but familiar and stable to anyone, including myself.
It has been almost a year since Kona and I haven't lived together. It has been almost a year since I first felt like I was walking around with half of my heart, and that ache has yet to lessen. I now wake up to the sound of my phone instead of the morning melody of nails gently walking across the hardwood floor on the first excursion to the water bowl. I am unsure what to do with my hands when I am walking because there is no leash to hold. And I haven't had to lint roll my legging in months—which I actually miss. 
The process of losing Kona has brought grief to my doorstep. Hell, grief is in my house with its feet up on the table, surfing the channels, and asking for a bowl of popcorn. 
To be honest, I'm not sure I ever really grieved before. Undoubtedly, I've lost many things and people in my life. But I've attempted to bypass the healing process by pretending to be okay, finding things to replace what was lost, numbing, or avoiding altogether. 
In fact, most of my life was spent half numb. I feared if I experienced too much joy, my heart would break open, and if I fully leaned into the pain, it might cause me to implode.

But with Kona, I let myself feel it all. Our relationship taught me how to love in big ways, small ways, and always—and now she's teaching me how to grieve. I was not afraid to love Kona, I fell in love with everything about her and she did the same with me. She didn't care what I looked like or how I showed up; she just cared that I showed up and that we were together. This. Is. Love. 
I both smile and cry when I find one of her hairs stuck to a sweater. My heart swells when I revisit videos of her romping through fields. And I cannot help but laugh now when I find the photos of her face swollen shut from the summer she discovered what a fun game it is to eat bees.
In our time together, Kona taught me that the purest forms of love are unconditional, sometimes muddy, and leave you feeling complete.
In the decision to leave her, Kona taught me another form of love—selflessness. That sometimes you love someone so much you recognize what you want might not actually be what is best for them.
And now she is teaching me the most honest form of pain—raw and unfiltered grief. 
I am allowing myself to feel it. I am allowing myself to accept what is while feeling the ache for what was. I am allowing myself to experience the depth of this loss because to do so is to honor the depth of our love.
Whether you have a pet or have lost a pet, I hope you allow yourself to feel it all. 
The love, the loss, and everything that comes in the days in between. 
I will always love you, Kona—this love will extend long after we share the same bed and long after one of us leaves this Earth. 
I am still howling and peeing under the moon, babygirl. I know you are too.  
~