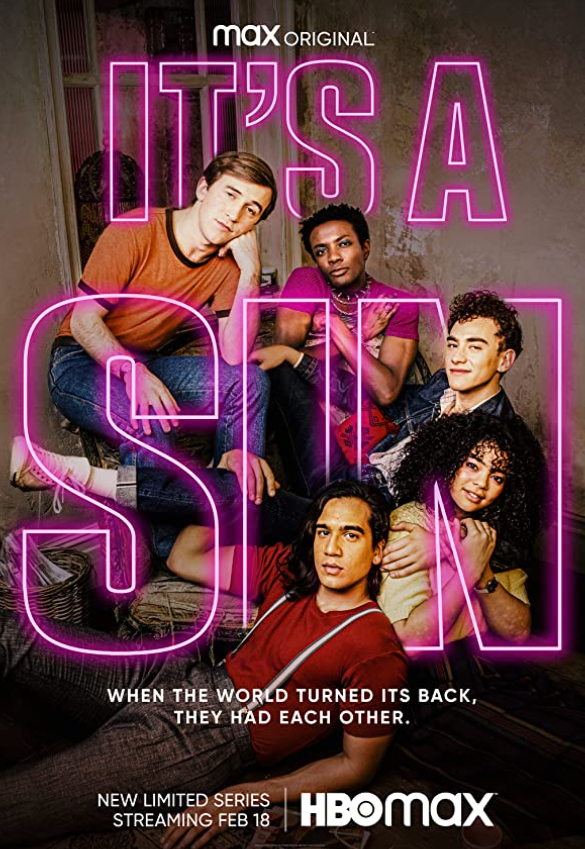 As I got to the end of the final scene in the final episode of "It's a Sin," I wept, ugly, heart-wrenching, painful tears.
I was impacted in a way I hadn't been before. I wept for all the loved ones lost, the years of polarization and fear, for a group of people singled out, for the ignorance, for the innocence, for all that we didn't know, and out of relief that those dark days were over.
It's an education I didn't know I needed, a history I had somehow bypassed, and a story that needed telling.
"It's a Sin" is a five-part television show, aired recently in the United Kingdom. Set in 1981 and concluding in 1991, it documents the lives of a group of friends in their early 20s leaving home and coming together in London. It's a story about friendship, love, acceptance, and how HIV/AIDs changed their lives forever over this dark decade.
Whilst this story is harrowing and devastating, in equal measure, it is also one of hope and enduring friendship and love—it is a story of finding your place in the world and your people. It is one that will move you to your core and leave you with your thoughts for many days and weeks after. There is no moralization or demonization in the show; it's not delivered with an "actions have consequences" rhetoric. It's human and multilayered—the stories and characters are relatable. You imagine they could be your brother, your relative, your friend. It's a story that will resonate, empower, and teach us all something.
In the U.K., it has been the most binge-watched show in the broadcasting channel's history, and rightly so. The cast are mesmerizing: "Years and Years" front man Olly Alexander and his fellow castmates will take you on a journey you will never forget. I am not working on commission here, but just give them all the awards now. It's game over—drop the f*cking mic.
I am trying hard to not drop any spoilers, so I will not take you through the show's storylines in much more detail, but it's a show that must be watched, talked about, and understood.
Apart from a few high-profile celebrity cases, the famous Princess Diana moments, watching "Philadelphia," and an early memory of a terrifying advert on TV that had AIDS etched onto a tombstone, I was completely unaware and unaffected by this disease. My education since has been a mixture of historical shock and devastation, yet thankfully, underpinned by a gratitude and immense relief for science, medical advancements, and how far we have come.
In a recent article posted in The Times, Lord Fowler (who was the Speaker of the House of Lords and was the secretary of state for health and social security from 1981-1987) said this:
"It would be good to say that, faced with this crisis, everyone came together to combat it, but that was not the case. There was deep prejudice against gay people despite the change of law a decade before which decriminalized homosexuality. The opposition was most offensively expressed by the then chief constable of Manchester who accused homosexuals, drug users, and prostitutes of 'swirling in a cesspit of their own making.'"
The show takes this horrific prejudice head on; it unravels the layers of societal ignorance that folded itself around the mid-80s and early 90s, and while it doesn't make it any better, it does shine a light on how far we have come.
While there is still stigma, it is no longer excused by a lack of information. We have made significant strides in our treatment of HIV since the 90s and we are armed with more information than ever. Social stigmas—such as believing that only certain groups of people can get HIV and making moral judgments about people who take steps to prevent HIV transmission—are archaic and steeped in misinformation and ignorance. I believe that this show will set a precedent for my generation and those after me to get better informed, understand the facts, and learn from the past.
The medical scenes in the show, for me, drew real parallels to what is happening in our hospitals' COVID-19 wards today. You can't help but associate the two, with the all-too-familiar scenes of medics in full PPE, isolation wards, the huge demand on the health service, and the vast medical unknowns. While I can't relate to the 80s directly, I can draw some experience from that which we face now.
What we do know is this: HIV, if detected and treated early enough, is no longer a death sentence. Instead, it is a treatable and controllable disease with a positive prognosis for a long and healthy life.
Key facts from the World Health Organization: 
>> "HIV continues to be a major global public health issue, having claimed almost 33 million lives so far. However, with increasing access to effective HIV prevention, diagnosis, treatment, and care, including for opportunistic infections, HIV infection has become a manageable chronic health condition, enabling people living with HIV to lead long and healthy lives."
>> "There were an estimated 38.0 million people living with HIV at the end of 2019."
>> "As a result of concerted international efforts to respond to HIV, coverage of services has been steadily increasing. In 2019, 68% of adults and 53% of children living with HIV globally were receiving lifelong antiretroviral therapy (ART)."
>> "A great majority (85%) of pregnant and breastfeeding women living with HIV also received ART, which not only protects their health, but also ensures prevention of HIV transmission to their newborns."
>> "At the end of 2019, an estimated 81% of people living with HIV knew their status. 67% were receiving antiretroviral therapy (ART) and 59% had achieved suppression of the HIV virus with no risk of infecting others."
This week in the U.K., it is National HIV Testing Week. The show has successfully reignited a collective effort to raise awareness of HIV, and in the U.K., since its airing, has caused a huge response by encouraging record numbers of people to be tested.
The HIV Commission is an independent process supported by Terrence Higgins Trust, National AIDS Trust, and Elton John AIDS Foundation, to find ambitious and achievable ways to end new HIV transmissions and HIV-attributed deaths in England by 2030.
In the U.K., there are an estimated 5,900 undiagnosed cases of HIV currently. The HIV Commission has recently published its full report on how it aims to end U.K. HIV transmissions by 2030; however it's a goal that is not on track—the only way to achieve this is by increasing testing. The message from the HIV Commission is "test, test, test."
The commission state in their executive summary:
"Opportunities to identify undiagnosed HIV are limited because of current testing practices and the fragmentation of the system. This must change—quickly. In 2019, an estimated 5,900 people in England were living with undiagnosed HIV. As the number of undiagnosed HIV infections fall, the number of tests it takes to find an infection will continue to rise. As a result, the drive to normalise HIV testing must continue throughout the decade."
While the outcome for the characters in "It's a Sin" were not what they would be now, it is a show that is awakening a conversation that still needs to be had. It is a show that shines a spotlight on an important topic. It's a show that helps break stigmas and raise awareness.
So, take a watch and see for yourself. It would be a real sin not to!