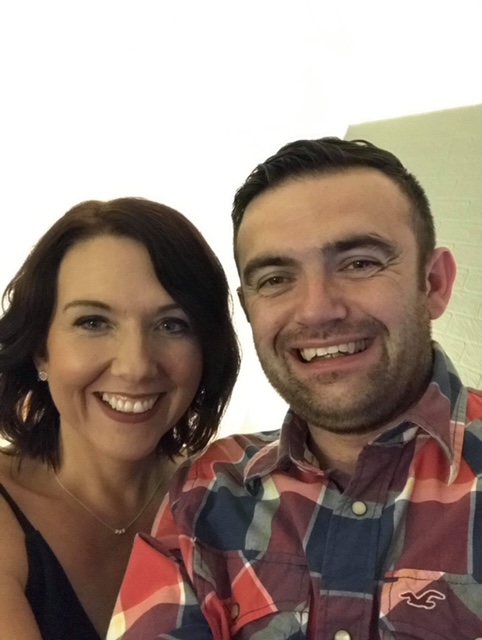 Long-Distance Lockdown Love: A 12-Step Survival Guide.
I am English. Furthermore, I am stereotypically English.
I am blessed to live in the beautiful Cotswolds, an area renowned and celebrated for its rolling, usually sheep-scattered fields, and its quaint "chocolate-box" cottages, complete with rustic thatched roofs, ornate wooden doors, and often intrinsically designed country gardens.
My partner is Scottish. In contrast, he lives in the bustle of city life in beautiful Glasgow, often called the "peoples' capital" of Scotland. He is typically Scottish with patriotism running through his veins, proud of his roots, his birth home, and the shared passion of his people. Glasgow is an amazing city. Colourful and honest in its existence—every bit as strong and as charismatic as its high-profile, historical, and well-weathered buildings, dramatically framed against its skyline.
Where I am funny with my English quirks—my cream teas, my welly-wearing country walks, my BBC sharp' accent, and in comparison, my rather absurd and often ridiculously childish sense of humour. My partner is Scottish in every way, the rolling rrrrrr's in his dialect, his love for pulling on his sturdy, muddy walking boots while walking alongside the stunning, fairy-tale-like lochs, nestled snuggly amongst the rugged domain.
Our worlds are a million miles apart—metaphorically.
Some 330 miles apart—physically.
Anyone who has experienced physical separation in a relationship will know that this often brings challenges with it. We have managed a two-year, often slightly crazy up and down/occasionally on and off existence across the border.
A six (sometimes nine) hour drive up and down the relentless M6, rewarded only by the heavenly and somewhat "majestical sweetener" of the Lake District, as England slowly transitions into the distance.
The lakeside mountains seem almost water-color painted against the sky, consistently providing an incredible stage-like setting for the apparent loud singing of my soul as I draw closer to seeing my partner. It truly is a magical moment—every single time.
In reverse, the return journey, it is these very same mountains that offer me comfort and assurance in their rock-solid, almost timeless presence during a time of sorrow—following a reluctant goodbye.
Our relationship has been as challenging, as it has been beautiful. A relationship of contrast in just about every way—directly reflecting our opposing settings. I will be honest here—I have managed this dynamic at times, better than others.
This has been a new relational world for me, commanding patience for someone who is not naturally inclined to have any!
We have sometimes gone weeks, even months on rare occasion, when for so many different reasons, we have been unable to meet physically. During these times we have connected as best we can—phone, Zoom, message, and yes, even letter. Each one of these vehicles for connection often exhausted beyond any normal standard.
We find, in removing a more ordinary presence, a more ordinary sense of physical availability, that in some ways we have intensified the methods of connection still available to us—i.e., our remaining senses.
Perhaps rather like someone who loses their sight or who loses some aspect of their mobility, for example—our other senses have grown more acute, they have compensated, become more attuned, more honoured, and certainly, more appreciated.
There has been so much lesson in our connection and the heart-bursting appreciation always comes when we are finally rewarded with the ability to share the same space.
While perhaps romantic in concept, it has been a more challenging dynamic, and sometimes, I must admit here I have struggled. I have a couple of times this year thrown in the towel, with the massive protest of "it's too difficult" or "we need to let this go."
I have, however, now learned that our separation can never last that long, in the scale of things. For after these times, we have realized that some things are quite simply not meant to be let go. Some things continue to be worth the fight.
For each reunion has bought new strength, new resolution, and a new level of commitment. In a world focused on seeking the more instantaneous, the more "controllable," this dynamic has tested our conviction in many, many ways. It has also tested our resilience.
Now, add to this a global pandemic, and it's fair to say things have moved to a new level of challenge entirely. As I write this, it is illegal for me to see my Scottish partner. Something I never believed possible, with us living on the same land.
Despite us sharing this relatively small island, the border between Scotland and England suddenly seems like it installed a rather large "metaphorical moat"—or at least, a 20-foot wall, with jagged barbed wire, keen to warn us off at every angle.
Now, my point here is not to discuss whether you consider this action right or wrong.
My point here is to reach out to the couples, families, loved ones currently divided.
The purpose of this writing is to acknowledge the love waiting patiently, likely feeling the sadness of separation.
This is my survival guide, a gift of love from me to you to handle these times, to not only survive but to perhaps even flourish.
Here is what I learned so far:
1. Connection must continue.
To breathe and maintain life in any relationship, regardless of context and even in ordinary terms, connection and communication are key.
If you cannot see each other physically, explore new and alternative ways. Head for the phone, write a letter, message, Zoom—quite simply, whatever you need to do.
And do it regularly.
Communicate like you never communicated before. Be honest. Be open. Be raw. Be vulnerable. Hold each other. Balance each other. When one feels vulnerable, deflated, the other lifts their game.
And vice versa.
2. Challenge your perspective.
Overzealous absorption into the detail can suffocate, both emotionally and spiritually.
Overthinking can lead to self-sabotage.
Lift above, look down.
Understand the bigger picture, always.
3. Acknowledge the timeline.
Nothing is permanent.
Good times, bad times—they all have a shelf life.
Celebrate the good. Acknowledge the bad. Take the lessons.
Become growth-focused.
Consider what you can do with this time to grow, to learn, to become the strongest version of yourself.
4. Help others.
Fulfillment comes through service.
Connect, connect, connect.
Be loving and compassionate always, to loved ones, family, even strangers.
Never has connection been more important than now.
5. Do not disconnect. 
There is a big difference between being comfortable with your own solitude and isolation.
Isolation is unhealthy. Isolation leading to loneliness, even more so.
Work hard to stay engaged.
To consider things compassionately, openly, without judgment.
6. Challenge your belief system like it has never been challenged.
Question all—question everything.
What do your heart and your intuition tell you?
Do not allow your mind and your fears to play havoc on your well-being.
Quite simply, if your heart and intuition share with you a different story to your thoughts—stop.
Listen.
Listen like your existence depends on it—because in many ways, it does.
Trust yourself more than you ever have.
7. Step away from fear.
Love versus fear. A personal favourite.
Fear fragments. Fear isolates. Fear denies. Fear is ego. Fear is pride. Fear is restrictive. Fear suffocates the very air needed by life, to breathe.
Love like you have never loved before.
Yourself.
And others.
Unconditionally.
8. Get honest. Allow vulnerability, like never before. 
Share where you are at. Be honest.
Step into your "courage" shoes, even if they feel strange and new.
Wear them often—watch them soften. In fact, watch you soften.
Do not think hard equates to courage.
Courage is being soft when your environment is hard.
Get real. Get authentic. Sit with it.
For however long you need to.
9. Have faith.
Pray.
Talk to the Universe. Whisper. Shout.
It does not matter—for you are heard.
Believe like you never believed before.
Sit quietly and watch the universe reply in her own beautiful, subtle, and exquisite way.
10. Do not wait to be rescued.
No one is coming.
The lesson here is learning that you—yes, you—are your own rescuer.
You have the power to manage this.
To become who you were always intended to be.
Own it.
11. Know that only love is real.
And love does not have borders, walls, or obstacles.
Love moves easily and fluidly over mountains, around lakes, even up motorways.
Love travels any way it can. And when it acknowledges its power. It's unstoppable. It cannot be squashed.
And while ego can be impatient. Even sometimes, intolerant.
Love will always wait, where it is pure. Where it is unconditional.
The kind of love that quite simply will not extinguish because, in truth, it has no motive or desire to do so.
It simply celebrates its existence in whatever form it chooses to take.
12. And for the fellow long distancers out there—I urge you to remember.
Redefine your understanding of home.
Home is bigger in concept than your geographical location.
Home is where your heart finds home.
Home is where there is love.
You've got this.
We've got this.
~