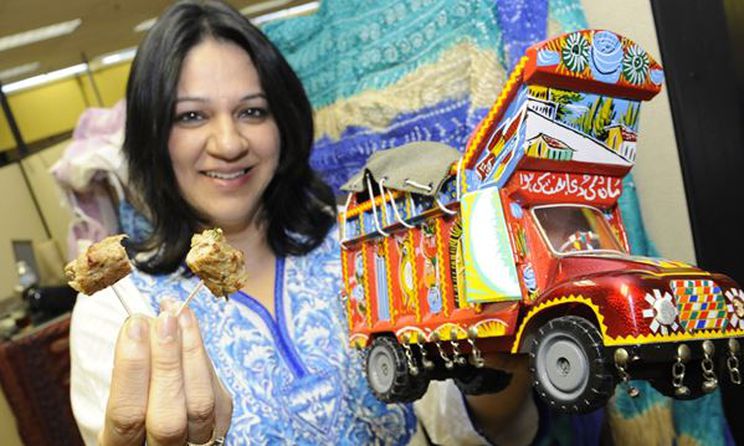 "Where are you from?"
I've lost track of the number of times I have been asked that question, which seems to be a fairly straightforward question, and yet I find the answer really isn't all that simple.
The entirety of my cultural identity cannot be encapsulated by just one sentence: "I am from Pakistan," though I believe that is the answer most people want to hear. If I say I'm from Germany, technically that is my nationality, or that I'm from Canada, where I have been resident for the last nine years, I get a strange look of dissatisfaction and then further probing, "Yes, but where are you originally from?"
It's almost as if they have a definitive preconceived notion of what an average Pakistani woman should look and act like, and they are displeased when I don't conform.
Interactions such as these always get me thinking, why is it that this "us" versus "them," ingroup and outgroup culture has to sort us into neat little clearly-labelled boxes distinct from each other? And why is it that these boxes cannot overlap? Also, how can a multitude of people be compartmentalised so completely on the basis of a broad stereotype?
While at university, I met and became friends with some wonderful people who encountered the same problem: they were a mixed bunch from Nigeria, Ethiopia, Ghana, and a lovely girl from Eritrea. And yet they were frequently packaged together and seen as "African," which many erroneously visualised as a country and not a continent of 54 distinct countries!
Why do we let society dictate how we are supposed to be?
More often than not, it is the negative stereotypes that are harped upon, thanks to media coverage, creating a specific image of a certain people and making us buy into it:
>> The famine-stricken Africans undergoing political and economic turmoil, facing one catastrophe after another.
>> Similarly, the mention of Pakistan conjures up the erroneous one-dimensional stereotype of radical extremism, a nation full of conservatively dressed Muslims, living in traffic-choked cities, and eating spicy food.
Having lived abroad for nearly 30 years of my life, I feel like I have grown and adopted bits and pieces of every culture I have called home. As a travelling nomad, I was born in Pakistan, but also spent part of my formative years in the United States, New York City to be exact. Post-marriage, Germany, the Netherlands, and Canada are all places I have called home over the course of the last three decades.
When people meet me for the first time, I can sense them trying to put me in that proverbial box.
The fact that I speak fluent German and have, in fact, adopted many of the mannerisms from a long stint of nearly two decades of living in Bavaria, Southern Germany, confuses them even further. This is something many South Asian friends commented on when I first moved to Canada. The Germans, in addition to being meticulous and methodical, are extremely punctual, which after the casual happy-go-lucky attitude in Pakistan, was a bit of a culture shock when I initially moved there with my husband in the early 90s.
In our culture, meeting up socially with friends and family was part of a more or less daily routine—with many arriving later than planned, "fashionably late" at dinner parties and weddings, or turning up unannounced at your doorstep. It was a completely different way of life in Germany, where meetups were always arranged well in advance and if a child's birthday party invite said from 3-5 p.m. you could tune your clocks according to when the kids were dropped off and picked up…chances are the first guest arrived at 2:59 p.m. and the last one left latest by 3:05 p.m. Their respect for time was something I continued to marvel at and admire for years to come! In fact, it became second nature for me as well. With the result that South Asian friends here in Canada started inviting me at least half an hour later than the other guests because they knew my arrival would be according to German standards of punctuality!
Four years in the Netherlands added another layer to my personality—of biking everywhere, by the canals, ponds, and windmills. To this day, my eyes light up when I see "Gouda kaas," poffertjes (Dutch mini pancakes), or tulips anywhere! Last year I went to see the immersive exhibit of Van Gogh here in Toronto and I viewed it with a sense of ownership; it was almost like a homecoming.
And now, having lived in Canada for nearly a decade, I feel myself tearing up when I listen to my kids singing "Oh, Canada." A Tim Hortons drive-thru and poutine feature regularly as part of our weekly routine.
All this, by way of explanation as to why "I am from Pakistan" seems to be an inadequate answer. One can be from Pakistan, or from any particular country for that matter, and it can mean so many different things.
There is no one-size-fits-all. It is our personal lived experiences that make our stories unique. We change and grow as we meander through life, shaped by our own journey. Everyone has their own distinct story and should be allowed to be who they are, true to their own selves, independent of all societal expectations of how they are meant to be. A fear of what others will think, or of losing someone if we act (or don't act) a certain way shouldn't make us want to fit in with the world's idea of how we should be.
Pakistan is a large part of the puzzle forming my cultural identity, but I cannot deny the German, Dutch, and Canadian pieces, which, though smaller, are still very much part of the puzzle.
So, my request, the next time you meet someone from a different background, try not to be patronising, placing them in a stereotypical box because stereotypes emphasize how we are different from one another, rather than focusing on the similarities. Perhaps a better question to ask could simply be "What's your story?"
In the words of Chimamanda Ngozi Adichie:
"The single story creates stereotypes. And the problem with stereotypes is not that they are untrue, but that they are incomplete."
~