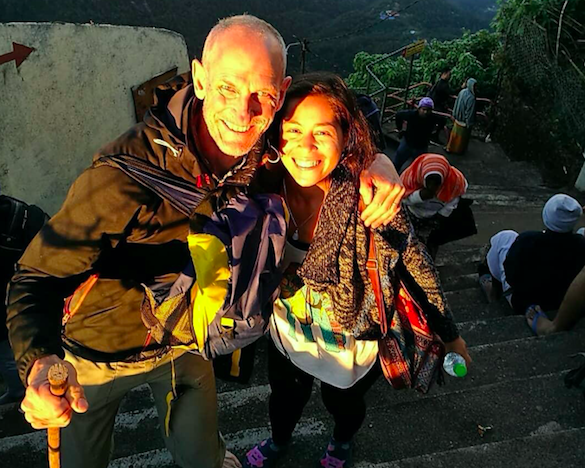 "Modern culture is suffering an epidemic of alienation, yet so many of us feel alone in our unbelonging, as if everyone else was inside of the thing that we alone are outside of." ~ Toko-pa Turner, Belonging: Remembering Ourselves Home.
~
I existed my whole life as a nomad. I never felt I had strong foundations, roots, or a sense of belonging to any place.
In social occasions, I would often dread the question people would ask me out of courtesy and their attempt to make small talks, "Where are you from?"
I would find myself taking a long, deep inhale, while pausing, to contemplate the complexity of their loaded question, which to any outsider, seems so simple.
I grew up in a humble family of immigrants.
My father, a Syrian whose own father had moved to Kuwait during the mid-50s, seeking political asylum from the grip of dictatorship, was born and raised in Kuwait. And my mother, an elder among her siblings and an ambitious hardworking nurse, had moved to the Middle East from the Philippines during the late-70s.
Both of them held tightly onto every immigrant's dream of finding hope, redemption, and new beginnings from the shackles of poverty, discrimination, and the lack of opportunity that plague under-developing and tyrannical countries.
I never felt obligated to belong to their hometowns. We never even spent a single summer in their countries.
To them, Kuwait was the home they chose to lay the building blocks and to cement the foundations of their new life.
But like every immigrant's story, their ambitious dreams didn't come without consequences.
As they approach their mid-life, they both face the challenges of being expelled from the very country where they had worked hard, raised a family, and lived for more than half of their lives.
I also lived my life as an immigrant and was constantly reminded that I will always be an outsider—that nothing I could ever say, do, or be would give me the privilege of living in a country, without being haunted by the same horrors my parents find themselves facing at the end of their retirement.
In many countries in the Middle East, the right to citizenship or to permanent residence remains a challenge. Concepts such as maternal family lineage or birthright citizenship are rarely recognized.
So, I spent the majority of my adult life—eight years to be exact—bound to jobs that, somewhat, kept my right to "belong" to a place in check.
Like my parents, I was perpetually haunted by the thought that I might end up, one day, losing my job, and, eventually, be forced to leave the country where I was born and grew up.
From a young age, I always recognized that Kuwait was never home, never will be—albeit the country I had lived in for more than 30 years. It was also the first place where I built friendships, fell in love and had my heart broken for the first time, pinpointed my favorite coffee shops, and memorized the names of their local TV and music celebrities.
But, how do you ever build a sense of belonging to or love a place that never failed to remind you, not once, that you're an outsider, and will always be? How do you integrate into a place that doesn't welcome you or give you a reason to stay?
So, since I had no other reference for what home is, I gave myself the self-proclaimed title of a nomad.
I often used to feel a profound and pulsating sense of unworthiness, disconnection, isolation, being less than, and deep shame for being born the way I was—neither entirely Eastern nor Western, or feeling like I could ever belong anywhere.
Being in a place that didn't celebrate ethnic diversity, but looked down on people who are different with contempt didn't help either.
It takes enormous capacity, both mentally and energetically, to muster the strength to challenge the ugly face of racism. To believe that you are a human being, worthy of respect, love, empathy, and belonging, when everything else keeps telling you otherwise.
It isn't enough to believe that we are worthy when our external environment keeps challenging our internal beliefs and triggers our past wounds.
I have read tons of books on racism, belonging, and how to restore our self-worth. But it all wasn't enough.
During my mid-20s, I found myself traveling from country to country, in search of not a home, but a sensation of what a potential home could be and feel like. I backpacked through East Asia, South India, and parts of the Middle East and met people from all around the world. Some were also wanderers in search of something; in search of a greater meaning of belonging.
I have met people who shared my feelings of unbelonging, disconnection, and intense isolation, albeit for different reasons than the ones I hold.
Some say that home is where the heart is. But how do we ever know what the heart wants when we live in a culture that is plagued by hatred, racism, and scapegoating of minorities and people who are different?
How do we define where we belong when we're so disconnected from each other, based on illusionary and outdated beliefs of the superiority of race that still determines much of the policies we make today?
How can we move forward when we act like we don't care about each other, let alone about our environment that is slowly decaying?
In her book, Belonging: Remembering Ourselves Home, Toko-pa Turner suggests that "There is really only one way to restore a world that is dying and in disrepair: to make beauty where ugliness has set in."
Every spiritual practice I have learned pleaded for the equality of the human race. The idea that every human being on this planet is worthy of respect, dignity, and to live a decent life with their basic needs—shelter, food, and a source of income—covered.
So, what if instead of propagating policies that divide us even further, we embraced our belonging to our shared experiences, in addition to our desire to live a decent life? These include unshakable truths, such as our cycle of birth, life, and death, the emotions we all feel, our craving to give love and to be loved by another human being, our need to survive, and our fears of the things we cannot control or understand.
What if instead of succumbing to our deep isolation, we worked to redefine our sense of belonging, not only based on culture, race, or geographical location, but by our belonging to the Earth, first and foremost?
What if we became instigators of inclusion for the outsiders, the rejects, and the minorities by showing them that there is a way for them to belong, to integrate, and to contribute, even when they might not feel it at first?
Unfortunately, in today's modern world, these ideas seem like a utopian dream. If anything, it feels that dystopia is where we're heading.
But whenever I am consumed by the crippling feelings of hopelessness, helplessness, and depression—the same emotions I have held for years when I couldn't escape my own environment, I remember these powerful words by Margaret Mead:
"Never doubt that a small group of thoughtful, committed citizens can change the world; indeed, it's the only thing that ever has."
We all have the right to belong—it is an intrinsic human desire.
But the time has come to shed aside our outdated ideas of belonging, and to redefine what it truly means to belong to the human race.