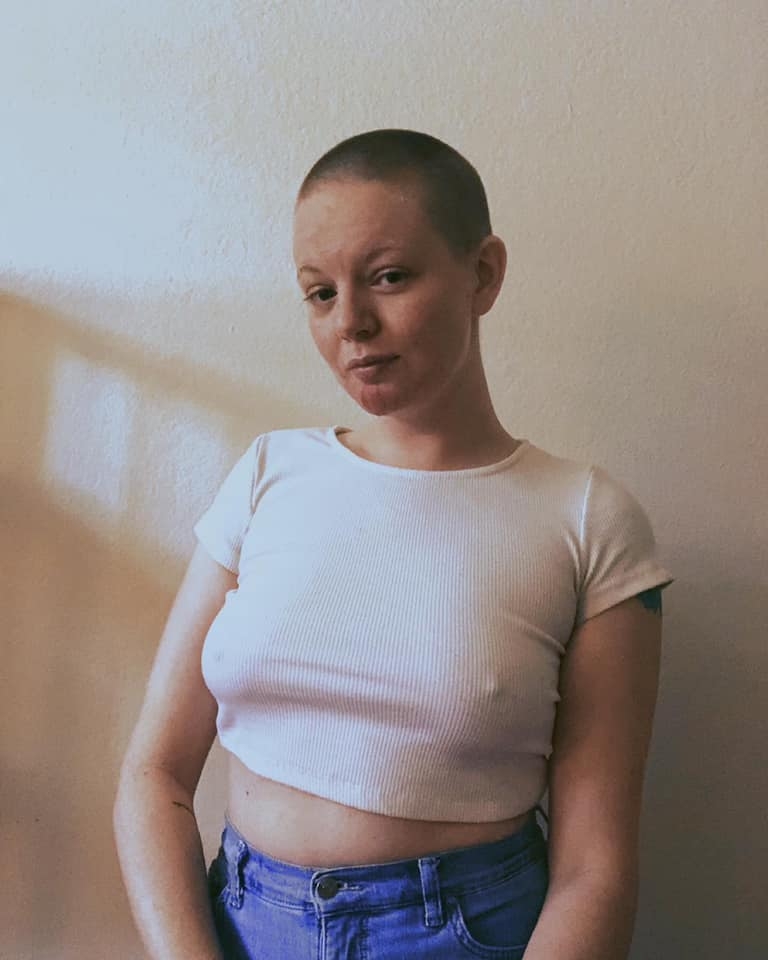 Suddenly, this subtle urge I've had over the last few years was so strong in my body that I could no longer bear it.
It was ten o'clock on a Saturday night, and I was just starting to feel somewhat normal after my latest and most severe mental breakdown.
I needed to shave my head, and I needed to do it now.
I was eight years old when I first started to feel self-conscious about the way I looked. I remember it vividly, looking in the mirror and wishing I wasn't so long, so lanky, so awkward. The fluff on my belly was prominent and no longer well-hidden beneath my t-shirts, and my legs were so thin that I was often teased for having chicken limbs. I wished my skin had a different color and that I didn't get rosy so quickly. I wished my strawberry hair wasn't so frizzy, and my blue eyes were darker.
I wished I was everything I wasn't.
This longing for another body only became more intense as I got older. The first moment I could, I started wearing makeup, straightening my hair and dying it every color other than my own. I changed the way I looked so dramatically that I didn't even look like myself, and everything became a mask: the makeup, the hair dye, the clothes, the attitude.
It was a way for me to escape all that I had deemed as ugly and unworthy from a very young age. It was a way to hide what I believed was so hideous, all that was often reflected back to me with teasing from my peers and uncomfortable comments from men.
This relationship with my body and the way I viewed myself followed me into adulthood in the most subtle and dramatic of ways.
I no longer wear the masks and cover my body like I once did, and now, I truly see my body as a miracle rather than a monster. However, I still have such a difficult relationship with what my idea of "beauty" and real femininity is (however it is defined) and the ways this measured my worth as a human being.
The urge first started when I did an undercut on the side of my head three years ago.
I realize now that I subconsciously did this—as an act of rebellion—after having the long luscious strawberry locks that I had learned to embrace, and was constantly told how pretty and beautiful it was.
I had taken such a dramatic shift from covering everything I could with makeup and adornments to the total opposite side of embracing my "natural" beauty, embracing the wavy strawberry hair, baby blue eyes, and fair peach skin. I stopped shaving my legs and pits and started wearing whatever I wanted (or so I thought). I slowly started to live my life on my own terms rather than what societal standards had told me.
But I still felt governed by how I looked and how I showed up physically in the world, and I still subconsciously was trying to be a certain person who didn't feel good or natural to me.
I stopped wearing makeup while I was living on an island in Indonesia in 2019.
It was the most radical and potent shift I had taken with regard to my physical appearance and relationship with my body. I no longer was covering my very flawed and sensitive skin that constantly has pimples, rosacea, and deeply embedded scars. I was showing up as my completely authentic self, and it was incredibly uncomfortable and, at the same time, so freeing.
I haven't worn makeup religiously ever since.
The idea that my beauty and physical appearance measured my worth has been so deeply ingrained into my body since I was a child. It was only in my late 20s that I started to see how detrimental this really was to my well-being.
I consider myself a feminine and wild-hearted human, but what I was recognizing as "feminine" did not fit in line with what much of the societal conditions we have around femininity was/is.
I did not resonate with the perfectly manicured, crossing-her-legs-while-sitting, porcelain-like idea of the feminine; the woman who dots her i's, crosses her t's, and brushes her hair one hundred strokes per day, the woman who wears dresses down to her knees, and politely walks into rooms with her head down.
I was not, and never would be, that woman.
I resonated with the raw, vulnerable, wild-hearted, deeply feeling, profoundly potent femininity.
The woman who wears short sundresses with hairy legs, dances under the moonlight, and uses curse words in every other sentence.
The woman who sings loudly and unapologetically.
The woman who is as bright and transformative as the moon and all the stars, as deep and mysterious as the ocean and all its creatures, as creative and wild as the imaginative being within all of us.
The woman who is felt as soon as she walks into the room.
The ferocious feminine, the transformative feminine, the dark and radiant feminine.
I loved to feel beautiful, but my actual idea of beauty was so different from what I had learned since childhood.
I used to think this was wrong, that I was wrong, and in order to be accepted in the world, I had to follow the standards that had been put before me. I had to wear the pretty dresses. I had to pull myself "together." I had to cover my flawed skin. I had to have long beautiful hair.
Until I cracked.
I cracked under the pressure of all those worldly standards that have weighed me down since I first felt the male gaze subtly and yet wickedly governing my existence. Since I started to see every woman in my young life feel this incessant need to abide by these standards in every sense of the word. Since I was a child, a child who should have been playing and enjoying the imaginative beauty of being a little girl in a big wide world, but hopelessly felt stuck comparing herself to every other person within it.
I cracked and it was the best thing that could have ever happened.
My greatest fear was that I would shave my head and all I would see was that little, ugly duckling that I knew so well, looking back at me.
Instead, I shaved my head and saw…me.
I saw me looking back at me, the naked, wildly beautiful, feminine, vulnerable, raw, and uncensored version of me.
Liberation. Liberation came knocking on my door on that late Saturday evening, and my body would not let me sleep until I followed through.
I followed through, and it was the greatest thing that I have ever done.
Welcome radically authentic me. I am overjoyed to finally see you here.