The first time I met Charlie, a tri-colored King Charles Cavalier Spaniel, he jumped right up into my lap.
"He's choosing you," the dog breeder said.
I had to agree. There was something special about the way he looked at me that day. I knew he was mine (or I was his, more accurately).
A year later, I saw a picture of another King Charles Cavalier Spaniel puppy for sale, this time ruby colored. He was sitting in a carved pumpkin, and he looked so damned adorable. Sammy seemed to choose us too, not the other way around.
For over a decade, these two "boys," as we always called them, brought joy, laughter, support, and loyalty into our family.
It wasn't until they were nearing middle age that we learned this particular breed of dog is susceptible to mitrial valve disease. In fact, it is the number one cause of death for this breed. This meant listening closely for the dreaded heart murmur that would indicate the disease was beginning to progress.
Once the murmurs were detected, we counted their breaths, shortened their walks, and followed other easy suggestions. Then, as time went on we added medications and took regular diagnostics (X-rays and cardiograms) to alleviate their symptoms and watch the progression of the disease. We had so many medications by the end, we had to use a pill organizer. The most important thing we learned from our vet was that this is not a disease we should allow to progress naturally. Intervention is the right thing to do.
Giving the dogs medications to alleviate pain and take them for X-rays were easy decisions. As far as knowing when "enough was enough"? Well, that was harder.
We wanted to make sure that we didn't overlook signs of distress, or tell ourselves that they were doing better than they actually were. We wanted to know what our dogs wanted in their final days and hours. We wanted to know when they were ready to leave—even if that timeline scared us.
My vet couldn't help with these things. She reminded me in every appointment that the final decision of when "enough was enough" would be mine and that she would support me in that decision.
So, to help with the "when is enough, enough" question, we brought in an animal communicator.
An animal communicator is like a psychic for pets. The ones I've worked with have needed nothing more than a recent picture emailed to them to be able to communicate with my pets' minds, hearts, and souls to learn more about their situation and gain their perspective.
They've worked with me over the phone while I asked questions and received information in real-time. They've also emailed me the results after a conversation they've had in "private" with my pets. For me, the proof has always been in the pudding—there are things these professionals pick up on, such as unique personality quirks or habits, that made me realize this is real.
Why might someone want to hire an animal communicator? As much as we might all think we know our pets so well—and we do, to an extent—it is still easy to misinterpret their cues and messages. Maybe because we're too close, and probably because we're too attached. It's a helpful service to tap when the end is near, but beyond that as well. For example, if pets are having a difficult time adjusting to a new home, or are experiencing "behavior problems," animal communication can provide even the most basic of suggestions that can potentially change their lives forever.
Case in point: the first time we ever used animal communication was about five years ago, with a rescue cat from the streets. She was an older cat, her history unknown, and she was quite anxious. We named her Fibi and gave her a home.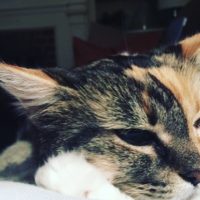 However, even though she was warming up to us petting her after a few months, she still would not come down from upstairs. We started to wonder if she would just be an "upstairs cat." But before we let that be her reality, I contacted our animal communicator.
We learned two things:
That our protective dogs had not really welcomed Fibi into the home, and still maintained the rule of the lower level.
That there was nowhere for her to sit downstairs, and she wasn't comfortable sitting on our furniture.
After this, the animal communicator "spoke" with our dogs and encouraged them to make some space for her in the family. She then suggested I pick up a cat perch or two for her to call her own, something I never would've considered as none of my previous cats ever used the cat perches I purchased.
But that afternoon, I purchased a cat perch and placed it in our front window. (And I, too, had a stern talk with the dogs about letting her into the family, as the communicator suggested.) Then, we waited.
Later that evening, as we were all hanging out in the living room—dogs too—Fibi came down the stairs, looked at us all in turn, and then hopped up on her new perch. The dogs never moved or barked at her. From there, everything changed. How much longer might she have remained an "upstairs cat"? How could I have read the dynamics between her and the dogs on my own?
I'm not telling this story to turn any doubters. But, if it's a service that might be helpful, why not use it? If it gives your pet a bit more peace knowing they're being heard, isn't that enough? And if it also gives us humans peace of mind, who cares if science can't 100 percent prove it?
When it was time to let Fibi go due to cancer, I consulted with our animal communicator. And, as our boys' heart conditions worsened, I knew I would use this service yet again to guide us through how and when to let them go.
Unfortunately, the end came fast for Sammy. One day, he couldn't breathe fully. It was Mother's Day 2020, and the vet was closed, so I had to bring him to the emergency clinic.
"Sammy is the healthiest dog here today," the doctor said when she called me with her analysis. We've got him in a room with oxygen, but he's actually doing quite well. I don't see why you won't have him for several more months."
"Yeah," I told her. "He's putting on a show for you. I guarantee."
I spoke with our animal communicator, and I was right. We had to put him down only five days later as his breath rate inched toward 50/minute. We utilized a euthanasia service that came to our home while an animal communicator was on stand-by to help him cross to the other side.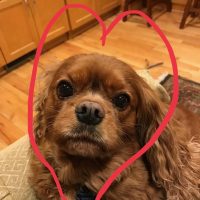 But Charlie lived for almost another year and a half. We lost him on July 31st of this year. A few weeks before, I had asked our animal communicator about his last requests. He said Charlie wanted to try toast (we'd just had toast that morning, and we rarely do). He said his body really hurt and that next time, even though this body was beautiful, he would choose something different. He said he was ready, only if and when I was ready.
Then, she told me that Sammy was waiting for Charlie on the other side, and he was so excited he couldn't sit still. That reminded me of Sammy as a puppy, because he was always too excited to put his butt all the way down on the floor when he sat for a treat.
That sealed my decision for me.
So, when our vet suggested yet one more pain medication that I could rotate in for his evening pain, I said, "I think that's it. Enough is enough."
She gave me a hug as I walked Charlie out of the clinic one last time.
When we put Charlie down—in our back yard, right where we put Sammy down—we didn't need a communicator to help him cross; Sammy came and got him. I hope they found Fibi over there, too, and she's sitting happily on some fancy cat perch.
We have one more cat still living with us. She's only three, and we got her from the humane society. Her name is Lizzy. Our animal communicator talked to her only once so far, informing her about Charlie's last request that she start taking over more of the protective duties around the house, and over me, now that he's gone.
Though she had been splitting her time sleeping with me and sleeping with Charlie during his last months, she is now firmly devoted to sleeping right by my side every night—just as Charlie asked her to do.
~