Other than the fact that I am totally in love with squash (otherwise called "koosa"), I love coming up with different ways to prepare and eat it.
Raw, baked, fried with delicious dip sauces, cooked with tomato sauce, and so on. You get the idea.
I'm not gonna lie. I was tempted to say that I came up with this delicious recipe, but it's typically my mom's—my go-to chef for delicious foods. And you know what's the best part?
You can prepare it from leftover Tabbouleh. I'll share my mom's special Tabbouleh recipe another time. For now, let's enjoy the mouth-watering stuffed squash recipe we all have to try at some point.
Ingredients:
Stuffing: 1 cup of cooked rice, 2 cups of chopped parsley, 1/2 cup of chopped mint leaves, 1/2 chopped onion, 2 tomatoes (chopped into small cubes).
(Or in this case, you could use the leftover Tabbouleh and add rice to it.)
Sauce of the stuffing: 1.5 lemons (for squeezing and using the juice), salt, pepper, and olive oil.
Other: 1.5 kg of small squashes (obviously), 2 tbsp tomato paste, and water.
Recipe:
1. Rinse the rice, then add 2 cups of water to the 1 cup of rice.
2. Boil the water and add a pinch of salt. Cook until the water is absorbed.
3. Add the parsley, mint leaves, chopped onions, and tomatoes to the rice.
4. Mix well.
5. Mix the lemon juice, pinch of salt, pinch of pepper, and one tbsp of olive oil in a small cup.
6. Add the stuffing sauce to the mix of rice and vegetables.
7. Core the squash (the night before if you want).
8. Stuff the squash with the stuffing.
9. Place the squashes in a large pot.
10. Add tomato paste, then cover the squashes with water.
11. Put the pot in the oven and use medium heat.
12. Check with a fork if the squash is ready to eat (the fork should drown in the squash since the latter should be soft).
Bon appétit!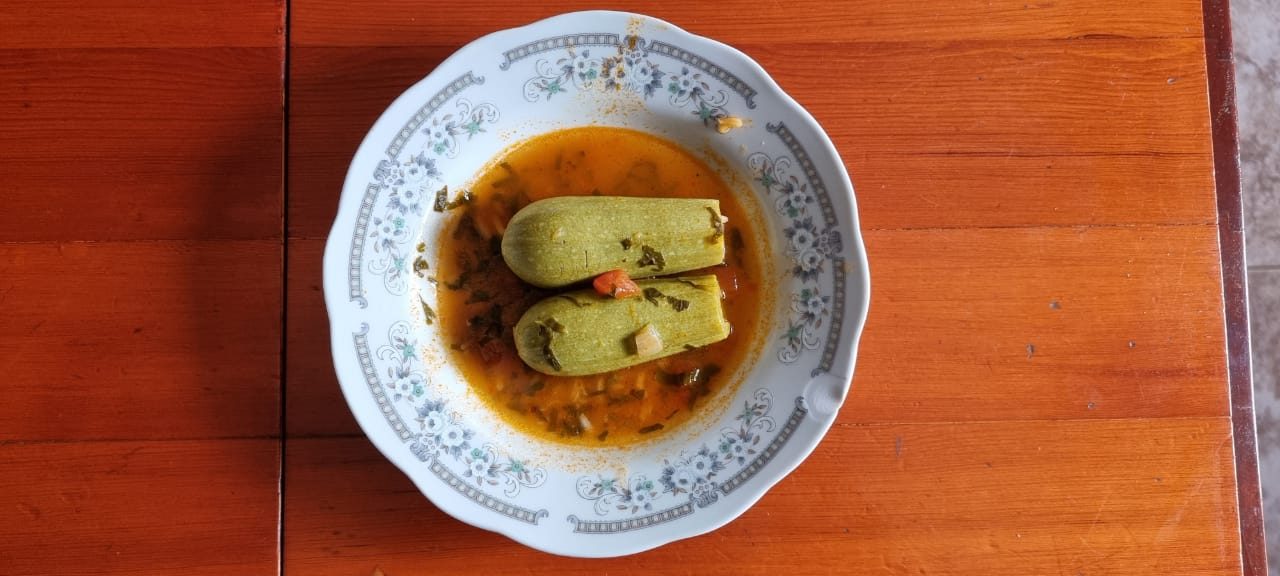 ~