Filled with equal parts overwhelm, curiosity, and fear, we answered the intuitive pull to leave our once beloved home in exchange for a city and state we'd never so much as visited.
Only knowing it had to be better than our current reality, haunted by the sudden passing of our seven-year-old son, six months earlier.
The mountains our family of three once made adventurous memories hiking, camping, and picnicking had become a constant repulsing barrage of what was. And would never be again.
Forest bathing amongst giant hemlocks, long walks on coastal beaches, and a little less sunshine was the appropriate upgrade to encourage healing and sustainable movement forward. Uprooting our hanging-on-by-a-thread life in Colorado, my husband and I haphazardly cobbled together a plan to relocate our grieving hearts to Portland, Oregon.
"We depend on nature not only for our physical survival. We also need nature to show us the way home, the way out of the prison of our own minds." ~ Eckhart Tolle
This new version of Mother Nature has become our consistent teacher, friend, and source of solace; whilst keeping our son and the best years of our life close to our hearts in a less brutal way. With our deep gratitude and appreciation for the outdoors amplified, witnessing acts of self-righteous abuse, inconsiderate disrespect, and reckless negligence summons a visceral rage in sticking up for our loyal, generous companion.
Discussing my passion-fueled outrage with a mentor, she echoed my anger and referenced a common phrase in Germany (when someone goes through life without considering the consequences of their actions): to behave like the ax in the forest.
Blown away by the accuracy, with some light Googling, I was reminded of a story in my familiar children's book of Aesop's Fables.
The Trees and the Axe
"A Woodman went into the forest and begged of the Trees the favour of a handle for his Axe. The principal Trees at once agreed to so modest a request, and unhesitatingly gave him a young ash sapling, out of which he fashioned the handle he desired. No sooner had he done so than he set to work to fell the noblest Trees in the wood. When they saw the use to which he was putting their gift, they cried, "Alas! alas! We are undone, but we are ourselves to blame. The little we gave has cost us all: had we not sacrificed the rights of the ash, we might ourselves have stood for ages."
The lesson: be wary of harming oneself through misplaced generosity.
Over the past week, I've had a front seat witnessing audacious micro-level games of "f*ck around and find out" with nature.
I've struggled with how to share, as these instances of blatant disregard for nature (to me) seem obviously morally wrong. On the other hand, my idealist side tends to over-generously give people the benefit of the doubt prior to jumping to conclusions—maybe they simply didn't know and need to be educated on what's absolutely not okay when it comes to spending time in the great outdoors.
Please do not harass wildlife.
Our neighborhood in Northwest Portland borders Forest Park, a 5,200-acre urban forest with over 70 miles of hiking trails, and is home to ​​more than 112 birds and 62 mammal species. A few steps out our door, down the HOA-enforced, meticulously cared for culdesac street, there's a trailhead that winds toward and eventually meets up with Forest Park.
My husband, Ryan, retirement-aged Golden Retriever-Chow-Eskimo pup, Albert, and I have walked this trail every day since moving here. Strolling below the canopy of moss-covered maples and towering evergreen pines, with the crushed shale path below our feet, evokes the feeling of home more than our sparsely decorated townhome.
We've been lucky to share our wooded walk with a young barred owl who has recently fledged from her nest—technically, an adult, but still a bit of a baby in our eyes. The connection has been deep, as she appears to be sitting and waiting for us on a low branch, halfway between sleeping and indulging in a little game of hide and seek. Her eyes, dark brown and full of a depth of wisdom, meet ours and we watch each other for a few minutes at a respectful distance.
Seeing an owl during the day is uncommon to begin with, so we've treasured these frequent friendly interactions.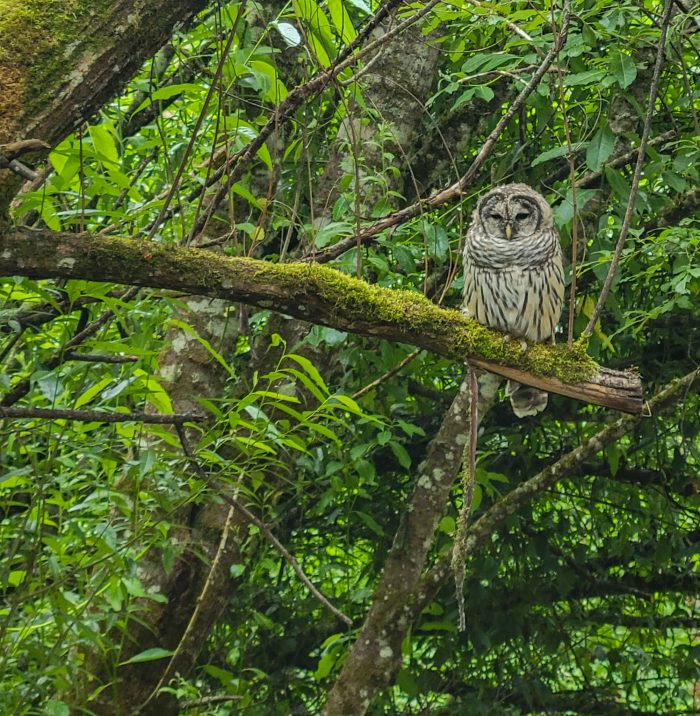 On a solo walk last week, Ryan ran into a larger man, likely in his 60s, standing in the middle of the trail with his head tossed back intensely peering into the upper canopy.
"Are you looking for the owl?! I've been seeing him over here almost every day!" my husband exclaimed toward the man, assumed to be a fellow friend in nature.
"Yeah, I've been throwing rocks at it," the man responded, in an annoyed, monotone voice.
Now seeing our feathered friend, precariously flying from one thin upper branch to another, Ryan defensively responded, "why?"
Bringing his eyes down from the tree tops to meet Ryan's, in a sneering glare, "I'm a fan of the underdog and the owl doesn't need to be here hunting songbirds."
Assessing the situation, not wanting to get in an altercation with someone who has zero qualms over hurling stones and abusing wildlife in the middle of the forest, Ryan and Albert made their way back home. Angry, frustrated, and feeling helpless in not being able to directly help his friend.
Per the advice given from our local Audubon Society Chapter on this man's behavior being inappropriate and illegal, we reached out to our local branch of Fish and Wildlife to report the incident. In addition to working with our HOA to place a sign referencing the illegality of wild animal harassment, potentially punishable by local or federal law.
Please do not leave fires unattended, especially during wildfire season.
According to the U.S. Forest Service Research Archive, nearly 85 percent of wildland fires in the United States are caused by humans. In my recent years living in Colorado, experiencing summer days with a low-hanging smoky haze and raining ash—replacing the usual bright blue skies and puffy white clouds—I've often wondered who was foolish enough to be responsible for these catastrophic events, resulting in hundreds of thousands of acres burnt each year.
Last weekend, we met two potential would-be negligent culprits, likely had we not noticed their half-hour-old campfire left unattended in the woods along Lake Crescent in Olympic National Park.
Ryan and I were enjoying a sunrise kayak followed by lakeside Americanos made on our mini propane camp stove in a day-use picnic area, briefly chatting with the two young women from Georgia who were (illegally) car-camping next to us. No sooner than it took for them to start their fire and take documentation for their Instagram or TikTok, their Toyota 4-Runner rental pulled out of the woods and back onto Highway 101.
Here we were, on a dry, windy August morning, dousing a brand new, unattended campfire with gallons of water from the lake—in the middle of an old-growth pine forest.
Please do not disturb the vibrant ecosystems in tide pools.
With our entire lives spent in the Upper Midwest and Colorado, playing by the ocean has brought out childlike giddiness. Strolling beaches at low tide allows for a unique experience of viewing sea life—anemones, urchins, barnacles, and adorable sea stars—up close in their habitat. In awestruck amazement, we've enjoyed hours at a time appreciating these ecosystems full of life, always snapping a few photos of the prettiest sea stars with waves of the Pacific Ocean crashing in the background.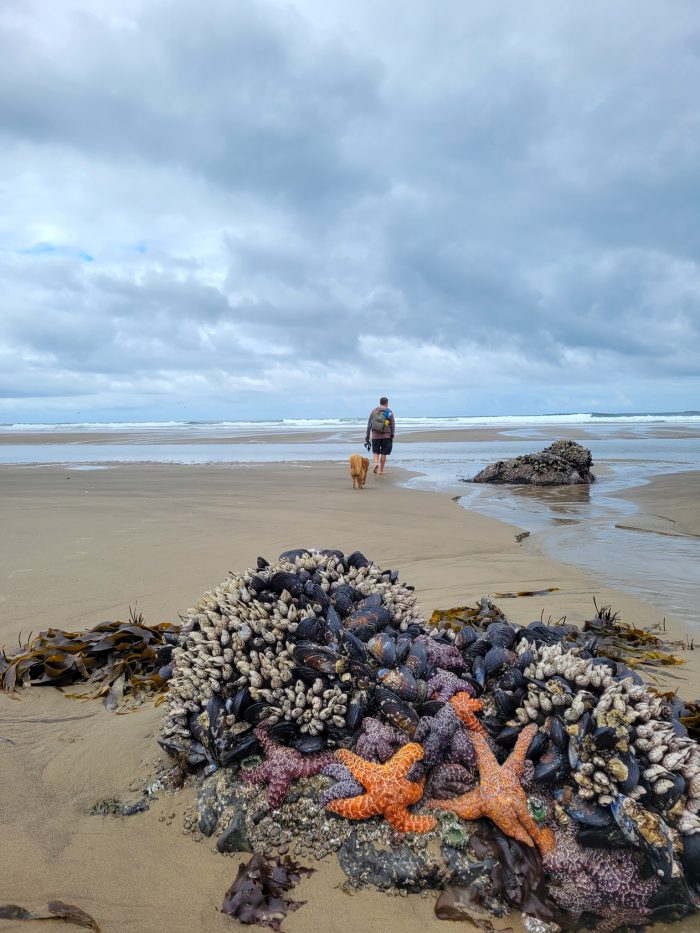 Already blown away by the natural beauty of Olympic National Park, we couldn't wait to check out the tide pools. After a short hike through a temperate rainforest, we arrived at the expansive beach at low tide with large rock formations.
Instead of peaceful amazement, we left the beach with pits in our stomachs over the mass of tourists attempting to pry off barnacles and sea stars as personal souvenirs—many accompanied by children doing the same. Our rage of concern was thoughtfully shared with the ranger on duty, who seemed casually annoyed by her duty to inform during a busy summer tourism day.
Please do not carve into living trees.
Strolling back through the fern-lined forest trail toward the parking lot, feeling depleted and discreetly discussing "what in the f*ck is wrong with people?!" a sight rubbed salt in the wound of my already broken heart.
A freshly carved giant heart in a towering pine, likely just under a century old. She was weathered and missing most of her branches below 30 feet, covered in technicolor symbiotically-living green moss, standing as a beacon and the largest tree along the trail.
A fellow tourist had recently maimed her by knifing a deep giant cutout of a heart, going significantly past the outer layer of bark, exposing her insides. She looked as though she was crying from the wound. If trees feel pain, the distress was palpable of experiencing a disruption of the cells below her bark, responsible for transporting water, sugar, and other nutrients throughout.
While someone thought this would be cute, it could potentially cause death by starvation of this magnificent tree or leave her susceptible to disease—possibly even damaging the entire rooted network below the forest floor.
Placing my hand on the healthy bark of this tree with feelings of despair and anger for humanity triggered my need to share these experiences, in hopes to educate and inspire others.
Learning to abide by the seven Leave No Trace principles is the best way to be a friend in the forest, rather than an ax.
I'd love to continue discussing how we can care for our shared wild spaces in the comments below!
~
Please consider Boosting our authors' articles in their first week to help them win Elephant's Ecosystem so they can get paid and write more.