This article is written in partnership with Vella—they're dedicated to putting science in service of great sex, and closing the orgasm gap between men and women. We're honored to work with them. ~ ed.
The need for menopause-specific sexual aids has never been greater.
With just over 28 percent of the globe's current population of women about to be in one phase of menopause or another by 2025, one could argue that menopausal sex products should be just about as abundant on the shelves as condoms and standard lubricants.
But with fewer than one in five ob/gyns receiving formal training in menopause medicine, and some American residency programs not having any formal curriculum centering women's pre- and post-menopausal health (1), that leaves a soon-to-be one billion women in menopause (2) quite possibly feeling like virtual mysteries within their own bodies.
And if our menopause isn't well understood, we can rest assured that our menopausal sexuality isn't likely to be, either.
It's true that sex might not be at the top of our minds while experiencing hot flashes, insomnia, or the mood swings that could just about decapitate the loved ones that get in the way of our invisible wrecking ball of menopausal emotions.
But sexual wellness is an essential part of our health and is intricately tied to our overall wellness. So, if we're not taking care of that aspect of our lives, that's a big problem.
Sexual self-care and pleasurable play are practices that Vella Bioscience, a women's wellness company that puts science in service or great sex, takes seriously.
In addition to their already immensely successful Pleasure Serum (which has been found to be effective in 90 percent of women aged 18 to 75), they've developed their Women's Intimate Elixir to help ensure that women in their menopausal prime continue to experience the leg-quivering peak of pleasure.
Because, let's be honest: when we first start to experience "the shift," the action in the bedroom might tend to be put on a bit of a (meno)pause.
Alright, so, your vulva's been on a little vacation.
But ladies, that vacation is about to turn from what might seem like retirement into something that feels a bit more like a honeymoon.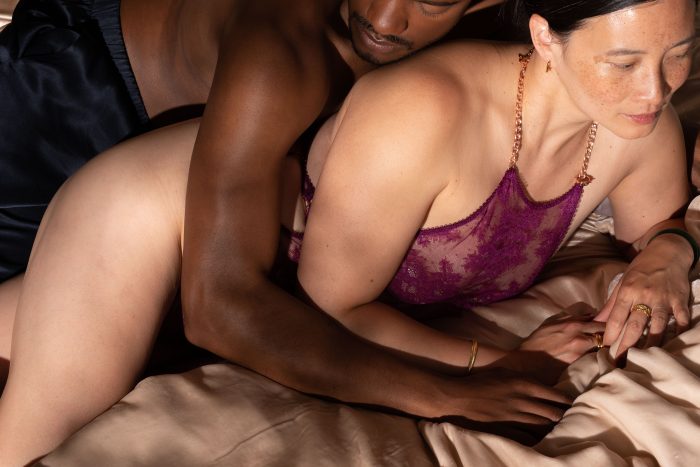 Take the most common vaginal symptoms of menopause like lack of libido, vaginal dryness, pain during intercourse, and new and unfamiliar vaginal odors and we might assume that menopause is sure to doom us women to a virtually sexless seniority, right?
We might fear that our symptoms will make it harder to get in the mood, or enjoy the act when we're in it. We might even know, from personal experience, that it sure as hell does.
Well, that might be true for some, or there might be ebbs and flows in our desire for sex—every woman is her own, unique petunia, after all. But low libido and sexual satisfaction most certainly do not have to be the rule when it comes to sex in our menopausal years.
"Vella's mission is to bring science in service of sexual empowerment. We strive to deliver efficacious products to continuously narrow the pleasure gap and eliminate any discomfort or pain that may come in the way of leading a sexually fulfilling life. As we see it, sexual wellbeing is an integral frontier of self-care. " ~ Bulbul Hooda, Brand Creator & Chief Marketing officer, Vella Bioscience, Inc.
Summon your sexual senior-ita with these two serums:
As your body's estrogen decreases, your vaginal tissue and lubrication are affected in all those "lovely" ways we named before, which can make sex anywhere from uncomfortable to miserable.
Vella's water-based Women's Intimacy Elixir is liquid gold lubricant for vaginas. It's made specifically for peri menopause, menopause, and post menopause with hyaluronic acid—yes, as in the stuff you put on your face.
On your face, hyaluronic acid helps to maintain skin flexibility and heal wounds faster and with less scarring. It does the same thing for your vulva. In a way, you could say that using Vella's Intimacy Elixir is a bit like you're taking your vulva to the spa for a "facial" and (if you choose to use internal or external stimulation) a massage. And it's important to treat our menopausal vaginas with a little TLC.
In our menopause years, the combination of reduced flexibility in our vaginal tissue and less natural lubrication means we're more prone to micro tearing during intercourse, and Lord knows we could use something to help with that both for purposes of pleasure and physical health.
Paired with Vella's Pleasure Serum, which works deep beyond the skin and relaxes your vaginal and clitoral smooth muscle tissue to allow for more frequent, intense, and satisfying orgasms, the combination of arousal and lubrication creates the perfect environment for us to open up to gloriously heightened sensitivity and fully experience the joy and pleasure involved in climax again.
The duo improves comfort during sex and play to make sure you're always sliding into ecstasy instead of slipping into soreness.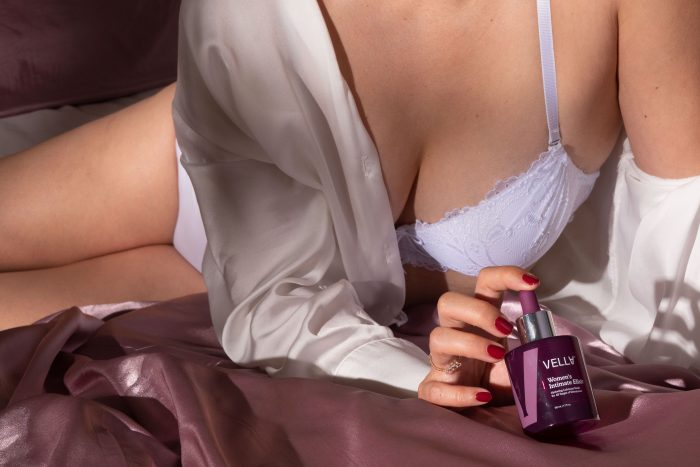 Here are some more specific tips for rekindling your romance with your vulva:
A recipe for the single lady's solo play date
Over 60 percent of divorces are filed by women in their menopausal years (5), which means that there are a lot of menopausal women out there who might want to, shall we say, touch in with themselves.
But when it's possibly been a while since you've been solo, it might take a little time to reacquaint yourself—especially when your lady below the belt has changed just as much as you have throughout the years.
(Yes, we know that married women masturbate, but it's another thing to take care of your own sexual needs 100% of the time if you're not already getting it on with new people, are we right?)
In that case, here's a little recipe for success that'll leave you wanting more you-time:
1. Take yourself out on a solo date night:
Get into the fun stuff
First things first—charge your vibes for later (if you use them).
Book a class you've been looking to take for a while, whether a new type of yoga or art or cooking class. Take yourself shopping and create a new look for yourself. Treat your body like royalty and get a massage or mani-pedi, your brows waxed—whatever. You can even go jam with yourself at a concert, or feed yourself bonbons (now called Dibs) at a movie all alone.
The point is to take yourself out and hang. Connect with you in a new and exciting way or a relaxing and intimate one.
2. Get into the really, really fun stuff
So, your date went well. You're feelin' good and energized, and you've decided you're ready to take it to the next level with you.
Set the mood with candles and music and whatever else would turn you on if anyone else did it for you. You could even book yourself a swanky hotel room to really set the mood and the fantasy vibe.
Apply Vella's Pleasure Serum 15 to 25 minutes before solo sex to help yourself come more easily and intensely. Dance with yourself or begin playing with your hair, your lips, your nipples and skin. Work your way down, slowly touching all of you. Allow yourself to linger on places that spark your pleasure.
About 20 minutes in, take your time and relax as you get more intimate with yourself. Apply Vella's Women's Intimate Elixir for some additional lubrication before taking play to a deeper level.
Add sex toys—both Vella's Pleasure Serum and Women's Intimate Elixir are toy and condom safe to give you the power of choice.
My mom, who helped me grow to be the sexually confident woman I am today, had a total abdominal hysterectomy (TAB) when she was in her late 30s, which sent her into instant menopause.
We've had some pretty damn open conversations about all things sex for as long as I can remember, so you bet that the sexual changes she went through during her sudden bout with menopause were on the conversational menu. She was the first person I thought of when I heard about Vella's Intimate Elixir.
Here's what she had to say after she tried it solo:
"I sure wish I'd had this product after my hysterectomy. When I first received the serum, I rubbed a little between my fingers to test out the lubrication factor. At first, I thought it dissipated pretty quickly, and it definitely felt like a water-based serum, so I was not expecting the great results I got when it counted. It was enough lubrication to prevent tearing and discomfort, but not too much that it eliminated the natural friction that adds to pleasure that so many other lubricants mask." ~ Lisa K. 
A page from Vella's partnered playbook
A third of American partnerships are plagued with sexual dissatisfaction (3) when they don't necessarily have to be.
Here's how you can keep the spark alive—and fan it to a flame:
1. Flirt.
According to world-renowned mental health researcher and relationship therapist, Dr. John Gottman, "Everything positive you do in your relationship is foreplay." And when we flirt with our loved ones it reminds us that they're engaged and interested, and that we are desired. Find a few moments to flirt and get things going.
2. Make out a little.
Okay, so you've got the bundle of kindling set with flirtation, and you're ready to ignite it. When they arrive home from whatever they're doing, greet them with a nice, long, deep and passionate kiss. Move it to the couch or up against the wall—your choice. This should create those first little sparks that send your flirty kindling up into a smoke.
3. Get out of your usual sexual routine.
Really go above and beyond here. This is where things are set aflame. Instead of heading to your go-to place the moment things get pulsing, set a less common scene to enjoy. Pause and pour some wine. Light the room up with candlelight. Apply Vella's Pleasure Serum and let it slowly work its magic as you enjoy some sultry tunes and give each other a back rub turned sensual massage.
Take things slow at first, communicating your needs and wants and what feels good (and not so good) to your partner. Your changing body may need a little more TLC than you might be comfortable requesting at first. But rest assured you deserve 100 percent of the accommodation.
4. Take things up a notch.
You've got the new setting and now it's time to step away from other things tried-and-true. Try a new sex position or a new sex location. If the bedroom is your usual, try the kitchen, or maybe even the great outdoors. Try to experience or elicit a lesser-experienced of the 5 types of orgasms as you experiment with moves and motions less common in your "usual" sex practices. Apply Vella's Women's Intimate Elixir to glide into the fun of experimentation and sexual play.
When I sent some to my step-mom, I was so happy to discover that she had yet another rave review:
"I received this elixir as a gift from Vella. My step-daughter asked if I wanted to try it, and I was all over it. My husband and I really enjoyed using it. I love the texture, and it's non-irritating. This will be a game changer in our relationship. I would recommend this to my friends. Thank you again." ~ Carolyn J.
So, there you have it: in a world where the mystery of menopause is treated more like a horror story, menopause just might deserve to be rebranded as an explicit adventure novel, because…
There's a pleasurable plot twist to the menopausal narrative we might be familiar with hearing:
The Sexless Senior, as it turns out, is merely a trope.
Studies have found that women's sexual satisfaction actually increases for many women as the years go by, even despite the inconvenience of some of menopause's vaginal symptoms. A whopping 74 percent of sexually active women report sexual satisfaction after age 50 (4).
But that doesn't mean it's all hunky-dory for everyone or that there aren't struggles that deeply affect us at one stage or another throughout our menopausal journey.
We can see the far-reaching effects of an unfulfilling menopausal sex life in the woman who falls into tears in a combination of sorrow and shame that her sexual desire has all but seemingly disappeared from her life.
We can see it in the pain of the woman experiencing disconnection between she and her partner as sexual intimacy trickles from a steady flow into dusty drawers (both the toy-storing and silky panty type).
And most certainly, we can see it in the woman who fully owned her sexuality and indulged in sexual wellness as an almost spiritual self-care practice as she grapples with her identity as a less sexual being.
Where the heck did that desire go? we may wonder. Where's that "girl" we used to know so—umm—deeply?
"She" didn't go anywhere. She's still around, and you can touch in with her any time.
Sexual pleasure can be even more fulfilling in our later years, so long as we understand and are open to our bodies' communications and are able and willing to communicate those needs to a partner (if we choose to have one). We just need some extra tools.
Vella's Pleasure Serum can help with inciting and heightening arousal when it's hard to find despite our desire to do so. Their Women's Intimate Elixir can create a healthy and happy glide into genital glee when we're ready to delight in our newfound desire for intimate play.
Our sexual fulfillment really can be found in our own two hands—and the bio science bottled up by Vella.
~
No need to Press (meno)Pause on Pleasure with these:
1. Intimacy in an Elixir
1/3
This water-based lubricant is liquid gold for vaginas. It's made specifically for peri menopause, menopause, and post menopause with hyaluronic acid to supplement the body's natural wetness and improve comfort during sex and play.
Use code EJ20 for 20% OFF >>
~
Resources:
1. https://www.hopkinsmedicine.org/news/media/releases/what_do_obgyns_in_training_learn_about_menopause_not_nearly_enough_new_study_suggests
2. https://www.nytimes.com/2021/04/29/well/perimenopause-women.html
3. https://nypost.com/2017/09/22/more-than-a-third-of-americans-in-relationships-are-sexually-unsatisfied/
4. https://ihpi.umich.edu/news/poll-shows-impact-menopause-and-other-health-issues-older-womens-sex-lives
5. https://www.aarp.org/research/topics/life/info-2014/divorce.html