get elephant's newsletter

Every day riding the Tour de F**k You!
Honkhonkhonkringring: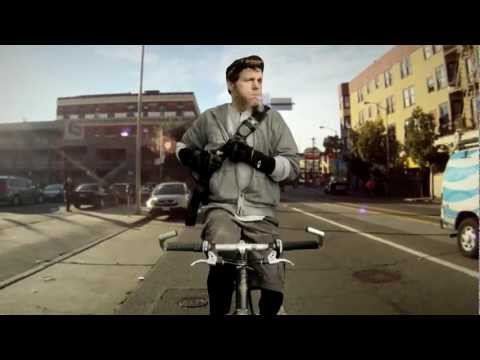 Motherfucking Bike by Sons of Science.
Share the road and watch out for cyclists – especially these ones.
Thanks for sharing, and while you're at it, why not support indie music and get the track at http://sonsofscience.bandcamp.com

..and here are the lyrics, since some of you have asked:

Motherfucking Bike — Sons of Science

I rise in the morning, and greet the day
pull out the bike and I'm on my way
The transportation shows I care
Every turn of the pedal – cleans the air
Greener than green, I'm saving the planet
just like my friends Daryl, Sean, Toby and Janet
no greenhouse gas, a tiny carbon footprint up your ass
I'm on a motherfucking bike

Sharing my aggression is what that I do
Every day I'm riding the 'Tour de Fuck You'
Banging on hoods and kicking in fenders
a right-of-way-aholic on a permanent bender
Running red lights at the fat intersection
Cutout seat protects my erection
You like the bird, in my hand?
Take two from a motherfucking track stand on my bike
I'm on a motherfucking bike
I'm on a motherfucking bike

Skinny-ass pants, the 'stache is fat
the canvas kicks, the ear-flap hat
Got no gears so you best not dis me
yeah bitch, it's a motherfuckin fixie
Middle of the street is where you're gonna find me
a shitload of traffic backed up behind me
Critical Mass is a Facebook "like"
I'm on a motherfucking bike
I'm on a motherfucking bike
(horn and bell solo)

©2012 Sons of Science – all rights (and lefts) reserved
facebook.com/thesonsofscience
trending on elephant
The New Dating Rules & Why I Refuse to Play by Them.
Young Yoga Teachers: We are Missing Something Important.
A Letter to my Partner about my Depression.
From Divorce to New Relationship: 4 Lessons I Learned about Love.
Mindful Sex & Meditation.
A Male Perspective on what Breakups Teach Us.
How to Offend Authentic People.
How Group Sex can be a Tool for Personal & Spiritual Growth. {Adult}
Slipping Out of Love. {Mesmerizing Dance Video}