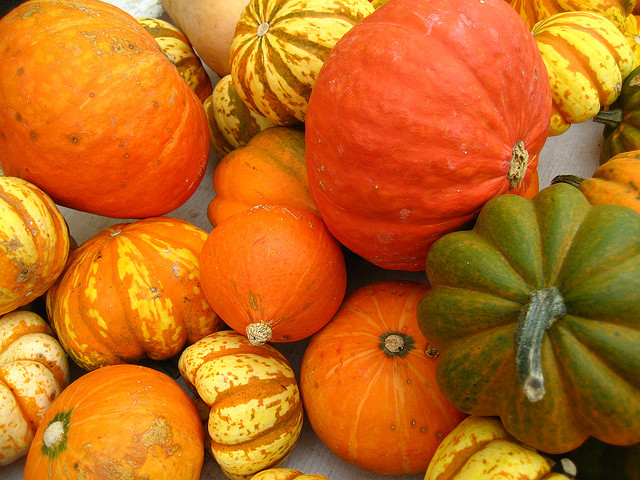 Squash is often the kind of ingredient it can take a novice cook years to work up to.
It's pretty intimidating, sitting there on the back shelf of the produce aisle, encased in its impenetrable looking shell, ungainly, uncommunicative, one might even say, a bit odd.
It's such a shame, too, because squash is seriously awesome.
It takes to any spice profile, it likes to be in soups or stews, make sauces rich and thick, you can roast it, broil it or mash it. You can buy it and keep it hanging around indefinitely on the kitchen counter for months!
You can even use it as an element of home decor while it awaits cooking. I have squashes sitting all over the place at my house (granted I'm a tad eccentric, but still).
Here are three very easy, delicious and satisfying ways to work through your squash phobia.
Baked Acorn Squash with Pears and Walnuts
Serves two as a main dish
Acorn squash are named such because they resemble giant acorns. They are the size of a 12 to 16 inch softball, and are a deep serious green which fades to bright orange. Don't worry about picking the right one. With very few exceptions, they are all good.
Take your biggest kitchen knife and split this bad boy down the center lengthwise. Remove seeds. Place face down in a baking dish with one inch of water in the bottom. Bake at 350 for 45 minutes, or until the squash becomes slightly soft when you press your thumb into the skin.
When done cooking, remove from pan and flip over, placing in a high sided, microwave safe bowl. Stuff the squash with the following, using half the stuffing in each;
1 pear, peeled, seeded and cubed (an apple is great too)
2 tbl chopped walnuts (or pecans)
2 tsp Earth Balance buttery spread or olive oil
1 tsp nutmeg
sea salt and fresh cracked pepper
2 tbl maple syrup
Place stuffed squash in microwave and heat for two to three minutes. Garnish with fresh sage leaves. Devour.
Spicy Roasted Butternut Squash
Serves four to six depending on how big your squash is.
Butternut squash are the big, clumsy looking guys that look like overgrown bowling pins with flesh colored skin. As with acorns, select any–it's hard to find a bad one.
Peel squash with a vegetable peeler. This is the hardest part of prep. Be patient. It will sweat as you peel it making it slippery. Persevere. If you really hate this part, you can buy pre-peeled and cubed bags of butternut squash in many stores now– Trader Joe's often carries it.
Slice off the top and bottom of the squash, stand it upright and then slice down the middle lengthwise. Remove seeds and cut into approximately 1 inch cubes.
Set cubes on a baking sheet and add;
1 tbl olive oil (More if squash is huge. Each cube must be coated.)
1 tbl smoked paprika
2 tsp rep pepper chili flakes
sea salt and fresh crack pepper to taste
juice of 1/2 a lemon
Mix everything except lemon around with your hands until each piece is spiced and oiled. Bake in a 350 degree oven for 30 minutes, or until squash is soft and brown. Flip once halfway through cooking. Squeeze on lemon when done and drizzle with maple syrup if desired before serving.
This recipe tastes great mixed with brown rice and whole roasted hazelnuts.
Spaghetti Squash with Cilantro and Serrano Chilies
Serves two as a main dish and four as a side
Perhaps my favorite squash, spaghetti squash is the large, oval innocent looking dude with sunshiny yellow skin. Look for one that is smooth and without brown spots.
Unlike the other squashes, sometimes you'll get a lame one, meaning it will be a little mushy after cooking. I have still not figured out how to prevent that (if you know how, please tell me!) But, even if it does come out mushy, it can still be eaten and taste fine, the texture just won't be as pleasing. This only happens with about one in every 50 squash I pick, so it's not a huge issue.
Split the squash down the middle lengthwise and remove seeds. Like the acorn, place face down in a baking pan in an inch of water. Bake for 45 minutes in a 300 degree oven or until skin is slightly soft to the touch, or slightly browned. Remove and let cool for 15 minutes. Scrape out flesh with a fork and put into a large bowl. Season with 1 t/l olive oil, sea salt and fresh cracked pepper to taste.
For topping you will need;
2 Serrano chillies or jalapeño peppers
1 cup loosely packed fresh chopped cilantro
Drizzle of Sriracha chili sauce of desired
While squash is cooking, slice two Serrano chillies (leave seeds in for more spice, remove for less) in 1 tsp olive oil until soft, 3-5 minutes
Mix chillies and cilantro well into bowl of warm squash, and drizzle with chili sauce. Add cubed tofu or roasted cashews if desired to make it an entree.
Love elephant and want to go steady?
Editor: Renée Picard
Photo: Randomduck at Flickr