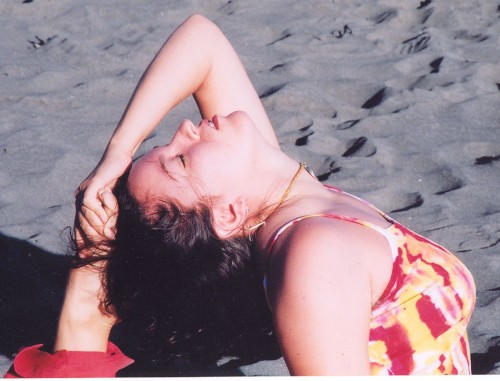 "En lugar de preocuparte innecesariamente por el futuro, aprovecha este momento para usar toda tu capacidad. Recuerda, el presente es el hijo del pasado y padre del futuro." ~ K. Sri Dhammananda
Hace un año, la primera vez que conocí a mi cuñado, él me preguntó acerca de la yoga.
En el momento, no pude responder muy bien, tal vez porque la yoga es una práctica tan integral en mi vida cotidiana.
Sin embargo, despues de 12 meses de pensar, ahora estoy lista con mi respuesta en español.
Bueno, hay muchas razones para practicar yoga. Entonces, aquí están 15 por hoy:
Hago yoga porque es el amor de mi vida.

Hago yoga porque encontré un librito de yoga cuando tenía 12 años y me encantó desde esa edad.

Hago yoga porque es mi religion elegida.

Hago yoga para relajarme.

Hago yoga para mantener y mejorar mi flexibilidad, fuerza y equilibrio.

Hago yoga porque es una práctica espiritual con la que puedo conectarme con Dios y el universo y el momento presente a traves de la respiración.

Hago yoga porque es necesario para mi salud mental. (Me ha ayudado sobrevivir depresión, ansiedad y mania.)

Hago yoga para curar mis chakras y balancear mis energías.

Hago yoga para aceptar a todos mis sentimientos—los 'buenos' y los dificiles por igual.

Hago yoga para ser una persona más tranquila, amigable y paciente.

Hago yoga para cultivar gratitud, compasión, amor y bondad.

Hago yoga para soltar tensión de mi cuerpo—especialmente mis hombros, mi cuello y mis caderas.

Hago yoga para aprender acerca de mi mismo.

Hago yoga para ser más consciente de los demás y nuestro medio ambiente.
La verdad es que yo no hago la yoga; la yoga me hace a mi.
Namaste.
Love elephant and want to go steady?
Editor: Catherine Monkman
Photo: courtesy Michelle Margaret Fajkus