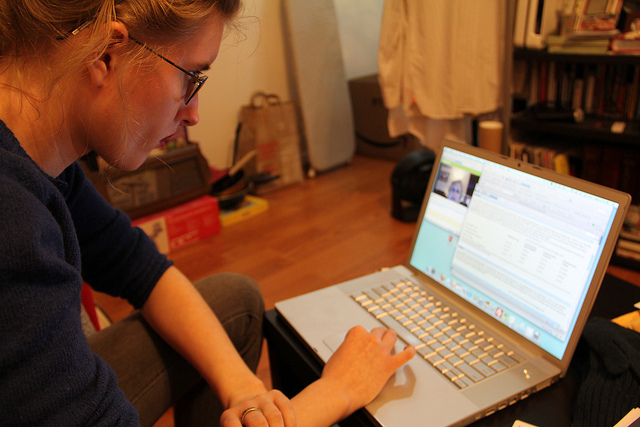 *Disclaimer: Elephant Journal articles represent the personal opinion, view or experience of the authors, and can not reflect Elephant Journal as a whole. Disagree with an Op-Ed or opinion? We're happy to share your experience here.
~
Dear Elephants,
Welcome to this week's Ask Me Anything, elephant journal's weekly advice column—where no question is out of bounds!
To submit questions for next week, email me at erica.leibrandt @gmail.com or private message me on Facebook. I look forward to hearing from you!
Dear Erica,
I am a happily  married mother of 3.
I recently—in the last year—became friends with a man online, I'm not even sure how. It just seemed that suddenly we were friends. We share a lot of the same interests; environmentalism, hiking, cooking etc. For a long time he was "just" another online friend, but then things seemed to get more intense.
We began messaging each other a lot, almost daily, and I found myself looking forward to these messages. I was always very clear about my marriage, and no compromising things were said, but there still was an underlying tone. It's hard to put my finger on.
When I was younger, I made a lot of really bad decisions and it has taken me a long time to develop trust in myself. Now I feel like I'm on shaky ground and I don't like it. On the other hand, I haven't done anything wrong and I enjoy being friends with this person (who, incidentally, I've never met and never will.)
Is this what people mean when they talk about "emotional affairs"? Can men and women even be friends or am I just being naive?
I need help clarifying this issue and would love any insight you may have.
~ Wife
Dear Wife,
I don't know if this qualifies as an "emotional affair" but you're certainly feeling guilty and that's a big red flag.
In these situations I try and put myself in the place of the person I'm worried will have a problem with my behavior, in this case, your husband.
Ask yourself, how would he feel if he read the messages you and this online friend are sending each other. Would you be comfortable being totally transparent about them? And also, how would you feel if your husband had a similar relationship?
Only you can answer this.
If you can honestly say you'd have no problem sharing the content of your communications with your spouse, and that you would be fine with your spouse maintaining the same sort of online relationship, then you're on solid ground. If that's not the case (and I suspect it isn't), then you're not.
You need to get very clear about your priorities. You say trustworthiness is important to you, so behave like a trustworthy person by staying away from dangerous grey areas. Would it really be worth sacrificing your integrity and possibly hurting your husband to continue this friendship?
As to whether or not men and women can be friends—-absolutely—but only when everyone is on the same page.
If you wouldn't feel okay about inviting someone to dinner with you and your partner—even a virtual someone—then you should take a pass on the friendship altogether.
Dear Erica,
I love yoga. 

It's my favorite thing in life (other than my personal relationships).
I think about teaching, but am worried I will get burnt out or lose my personal practice and salvation.
It seems like everyone ends up hating their jobs, so why should this be different?
Thanks,
~ JS
Dear JS,
You don't mention if you've taken yoga teacher training yet, but if you haven't, that would be the place to start.
Many people take teacher trainings, not in order to teach, but to deepen their practice. Some, like me, end up teaching despite their lack of intention to do so. Others never teach but are forever changed by the process of delving into yogic philosophy.
There really is no downside and I found it to be one of the very best things I have ever done for myself.
If you have already taken training, or after you do so, there is no need to quit your day job and rush into full time teaching. You probably wouldn't be able to pull it off even if you wanted to. Developing a roster of classes is challenging and can take years and years.
The good news is, this makes it easy to dip your toe into the water. Start by teaching one class and see how it goes. If you love it, slowly add classes until you find the right balance. If you start getting burned out or feel your practice is becoming compromised, which can most certainly happen, be honest about it and back off.
Your teaching, just like your practice itself, requires constant self reflection and re-evaluation.
I am reminded of a saying that was knocked around quite a bit in my family growing up; "Nothing ventured, nothing gained."
Take a chance and follow your dreams, but don't get attached to the outcome. Dreams can, and sometimes should change, and if you stay flexible and aware (which is your specialty as a yogi!), you'll find your true north.
Love elephant and want to go steady?
Editor: Catherine Monkman
Photo: Matthew Hurst/Flickr, Wikimedia