Ubud, with its rice fields, temples and yoga schools, has a magnetic pull on people.
The town sees countless repeat visitors and travellers who come with the intention of staying for one week and end up living here for their entire six months sabbatical. I am in Ubud for the seventh time in less than five years and it is not like I live around the corner.
Ubud just draws people in.
The name of the town is derived from the Balinese word for medicine (Ubad) . The town was originally known as a source of medicinal herbs and plants. Although the Eat Pray Love crowd and the bus loads of Chinese tourists have spoiled much of its original character, there is still a deeply spiritual feeling hanging in the air.
Of course Ubud will not have the same effect on everyone, but as soon as I get here, I don't feel like leaving nor travelling around Bali. Not that I want to stay here forever. I do have a lover and some kind of a job to go home to and in the end, the need for change is stronger than my desire to stay. For the duration of my vacation however, I just like to be here, in Ubud.
Mostly I stick to a routine that is limited to a morning Ashtanga practice with two of the best teachers I know, many hours of writing and contemplation at "home," a meal with (often newly made) friends and occasional "activities" such as a led-meditation session, a Yin yoga class, a massage or a drive to the beach. I don't do much else and I savour the time that I can be alone.
My below top tips of things to do in Ubud are written from that perspective. Those who want to know about things to see and do, better get a travel guide. My insights are meant to help along those planning an (extended) mindful and budget stay in Ubud.
1. Accommodation. First and foremost, I would advise all to move out of their resort or hotel and into a homestay. Especially for those with less financial means, a homestay is the best choice. Homestays are guestrooms—with a private bathroom and sometimes a kitchen—on family compounds. Homestays are the best way to learn about local life and traditions. There will be roosters, chickens, dogs, cats, cockroaches, spiders, beetles, ants, dragonflies and geckos all over the place. There will be peace and quiet as well as the daily hustle and bustle of grandpa sweeping the path, uncle washing the scooter and mother and daughter performing the offering rituals. There will be delicious, real, home-cooked Balinese food which may be shared with those showing interest.
(Preparing Lawar for Kuningan celebration at Amaluku Homestay.)
The further from town, the cheaper the prices, not only for the room, but also in the surrounding shops and markets. No low quality souvenir crap, no tourists, no touters, ah… and no English. But that's okay, it's easy enough to learn a few essentials in Bahasa Indonesia.
2. Transport. When residing out of town in a cheap homestay, transport can be an issue. Real mindful visitors can rent a bicycle, as the distances in and around Ubud are totally doable. Bicycles are cheap, no driving license is needed and conquering the hilly landscape will provide for some extra cardio and muscular training. For the more lazy people or those who need to cover longer distances—like me, in both cases—renting a scooter is the next best alternative. Rates can be negotiated for longer rental periods and petrol is cheap, but one must be aware that all motorised vehicles contribute to the pollution of what once was a pure and serene rice field environment. I love riding my scooter, especially my 30 minute morning ride to the yoga shala. But next time, I will look for a place closer to the shala in order to save some precious fresh air.
3. Toilet paper. Stop using it. Seriously. It clogs toilets, goes into the sewage and ends up in the sea where all the cool surfer dudes are lining up. So instead of using paper, wash. In the more "modern" places, there will be a bum shower. Alternatively, there will be a bucket filled with water and a scoop or just a bottle. Hold the shower, scoop or bottle with the right hand, wash with the left. The whole of Asia and most of the Middle East does it like that. If you insist on drying up with toilet paper, at least throw it in the bin instead of the toilet. At home I have a bum towel, but I sometimes just wash and then pull up my pants. It's only water and in this tropical climate, it dries up in five seconds. Self-evidently, washing the hands afterwards is a must. Still, refrain from using the left hand when handing something to someone, as that is traditionally considered unclean. Once you have gotten used to washing, I guarantee you will feel awfully unhygienic when you go back to simply wiping.
4. Glass or bamboo straw. Drinking fresh juices and young coconuts is everybody's favourite pastime in Ubud. Let's say one for breakfast, one for lunch and one for dinner. That makes three plastic straws per day, 21 in a week, over 80 straws when staying in Ubud for a month. The surfer dudes can tell you all about that too. So buying a re-usable, environmentally friendly straw is a small thing that can have a large impact. Glass or bamboo straws, including cleaning brush and holder, are available all around town.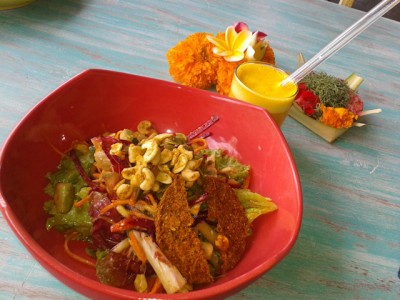 (My healthy lunch and turmeric drink with my own glass straw)
5. Meeting people. Yesterday I went to my first Pecha Kucha Night. I had never heard of it, but it is a huge thing around the world. I think it is a great way of getting to know the local and expat community and hear about all sorts of random interesting topics, without having to listen to endless boring speeches. In Ubud, the Pecha Kucha Night speakers range from creative artists, to committed environmentalist, local entrepreneurs and travellers. Yesterday, I heard about sunken treasure hunting in Tonga, a mobile app developed to cash on trash in Bali, urban farming in Canada and more. Inspiring, entertaining and connecting.
For some more personal travel tips, feel free to contact me on Facebook.
Happy travels!
Relephant:
Author: Yaisa Nio
Editor: Catherine Monkman

Photo: Author's Own