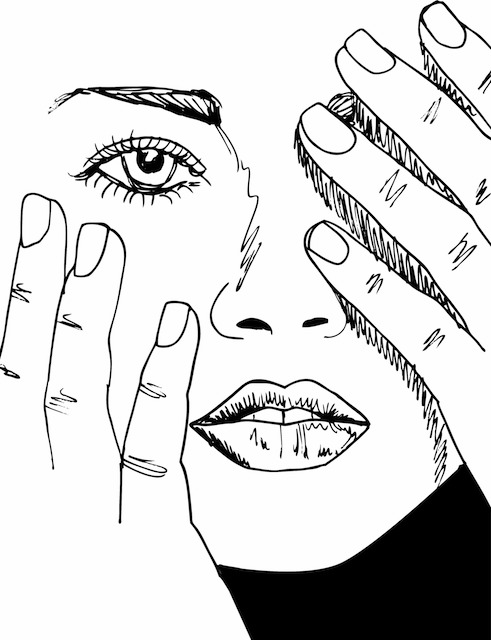 Warning: Adult language ahead.
I was so f*cked up when I was young, I had to see a psychiatrist before I'd even had my first kiss.
I cried, in that office, from beginning to end. Sometimes, I'd even start crying in the waiting room.
In that office, I felt I was with someone who could deal with how much I was suffering. Before this, nobody else could stand to hear all that—I'm not so sure that I could even stand myself.
What I did not know then, which I know now, is that I was getting to know my subconscious. I was going to realize many things, that I thought and felt, but hadn't noticed before—like how pissed off I was. Or that I thought I was worthless.
Stuff that hadn't quite formed itself into words yet.
I never stopped getting to know my subconscious, though landing in my unseen thoughts and feelings still surprises me every time.
Like when I realized that the love I thought I always wanted, unnerved me. Or the success I thought I always wanted, puts me in a no-man's land where I no longer recognized myself. Or the time I realized that exercising felt exactly like the state of panic, when I ran from a murderous bully, until I thought my lungs would burst—and how I never wanted my lungs to feel like that again.
As soon as we notice these things, and speak them, they aren't subconscious any more.
When thoughts and feelings aren't subconscious, and we're aware of them, we can decide what to do with them. I'm not nine anymore. I do not have to be afraid of getting out of breath.
Not surprisingly, I became a psychoanalyst. And truly, there is nothing I love more than seeing my patients land on their subconscious thoughts. It is like a light turning on, replete with clarity, relief, being able to see things—resulting in knowing where we are going.
So, here are my tips on how to get to know your subconscious, but first, I have a little quiz for you here, to help you determine if you are eligible for getting to know your subconscious: (Just answer "yes" or "no").
1. Does something in your life make you uneasy?  Like sex, work or wanting someone?
2. Are you having trouble making a decision? Like whether or not to stay, go, give something away or keep it?
3. Are you wondering why the hell the same sh*t keeps happening to you?
4. Have you reached the conclusion that the reason something hasn't worked out in the past is because you're lazy, weak, stupid or some other derogatory term that would insult your grandmother's vision of you as a beautiful person?
5. Do you get out of control?
If you answered "yes" to any of those questions, you're eligible to get to know your subconscious! You are also eligible if you're simply interested in getting to know your subconscious. That desire is your subconscious trying to call you for a date.
Tips for getting to know your subconscious.
1.Stop throwing your emotions away.
Stop wasting your thoughts and feelings with attitude adjustments! Don't force gratitude, forgiveness or positivity. The very emotions you most want to throw away, are the ones most likely to lead you to some unseen thought or feeling.
Seriously, let yourself talk, write or think on your unwanted thoughts.
2. Have faith.
Have faith that when you have a mystery about something—a "why"—you can keep groping in the darkest regions of your mind—until you land on what will clear things up.
When you land on a subconscious thought, change happens naturally and effortlessly. You will discover forgiveness and gratitude without forcing it.
3. Seek to be heard, not adjusted.
This is America.
We always want to work more, try harder. Cut it out—when it comes to getting to know your subconscious, trying harder to be better ain't gonna get you there!
Be where you are. For once, being exactly where you are, is going to get you to all of the places that you want to be—free to love, free to work, free to decide your path.
4. Express yourself.
Express yourself to a person who can stand what you feel. Or, to a book you write in. Or, on a yoga mat. Or, solo journey away from where you are now.
5. Keep asking "why."
Seek and ye shall find.
Getting to know your subconscious is no more mysterious than going on any adventuresome journey—you're never sure what you will find.
All you have to do is decide to go.
~ 
Relephant read:
Author: Dr. Claudia Luiz
Apprentice Editor: Kim Haas/ Editor: Ashleigh Hitchcock