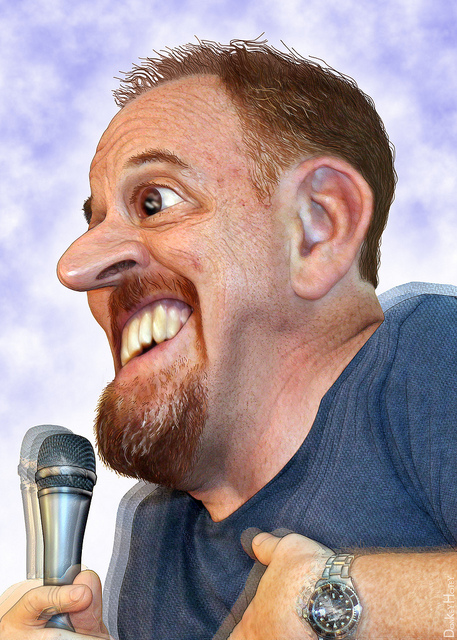 Louis C.K. has responded to the allegations by confirming that they are true and that he does not forgive himself for what he's done. In the response Louis C.K. said that he rationalized his behavior by always asking permission before whipping it out, but now realizes that wasn't enough. "I have spent my long and lucky career talking and saying anything I want. I will now step back and take a long time to listen."
~
Netflix has responded as well:
~
Based on Louis CK's behavior, we are not making his second stand up special.

— Netflix US (@netflix) November 10, 2017
~
And another one bites the dust…
Superstar comedian and actor Louis C.K. has become the latest in a string of revelations about powerful men abusing their power in sexually dysfunctional ways, according to a story by The New York Times today.
Five women have come forward so far, and, if the past is any indication, there will be more.
Louis C.K.'s upcoming movie release has already been canceled, as well as a talk show appearance, according to The Times article. The comic made $52 million last year according to Forbes.
The allegations against Louis C.K. all seem to surround reports of him masturbating in front of women. In one instance, after inviting two female comedians to his hotel room, he immediately took off all of his clothes and started masturbating.
"We were paralyzed," Dana Min Goodman said afterward. She alleges that he ejaculated on his stomach, at which point they left the room.
I was told to delete a tweet I wrote about Louis CK abusing women before I applied to a high-profile comedy job because the people conducting the hiring process might not like it. These women who have spoken up are brave, and we owe them so much.https://t.co/yECc41l1Uz

— Nicole Silverberg (@nsilverberg) November 9, 2017
Louis C.K. often jokes about masturbation in his standup routines, and once, after being introduced as a "masturbation aficionado," debated a anti-masturbation Christian on Fox News.
Following the recent reports of Kevin Spacey and Harvey Weinstein having similar encounters with many men and women, we're left thinking: who's next?
Like Spacey, Louis C.K. is revered around the world, and both were highly respected in their crafts. While many found the tapes of Donald Trump describing his criminal behavior (and the 16 women who have gone public with their allegations of harassment) less surprising, it now seems that anyone in the public sphere could be the next one to have their secrets come to light.
This epidemic seems largely about power and a feeling of being able to get away with anything. This dynamic is common in domestic violence cases, but now we're being shown that it happens serially, publicly, and to a shocking degree by more and more people.
But, there also is a deeper root than just a feeling of being able to get away with anything. Psychologically healthy people don't behave in this way, even if they could. It seems like there is a combination of learned sexually deviant behavior coupled with a caustic and distorted view of oneself and others.
People who have a healthy sense of self and a sense of equality and compassion for others would not treat another person this way. Not only do we have to start having open discussions about how we view sex, ourselves, and others, we must start identifying people who need help, and working to make them whole again.
~
~
Relephant:
~
~
Author: Travis May
Image: Flickr/DonkeyHotey
Copy Editor: Callie Rushton