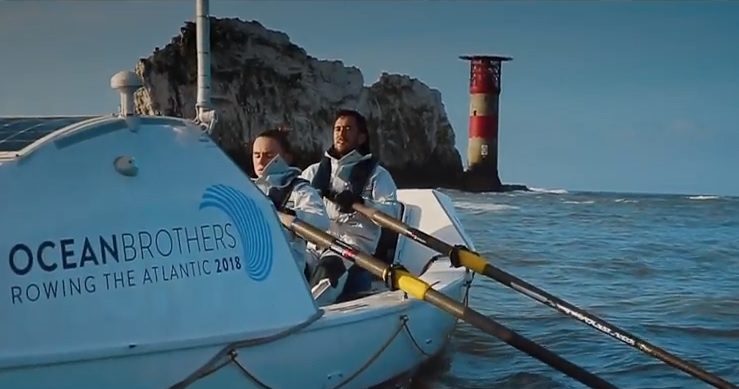 A bold voyage—for a cause.
Brothers Jude Massey and Greg Bailey are at sea—literally. They're in the midst of an incredible physical and mental challenge—a challenge for a beautiful cause.
The two young men, the "Ocean Brothers," set out on a record-breaking 3,000 mile voyage on January 18th. And—if they succeed—they will be the first ever to row the Atlantic Ocean surviving only on a plant-based diet.
Jude, aged 18, and his partner are dedicated vegans, while his brother Greg, aged 26 (a part-time Accident and Emergency doctor), was vegetarian up until this trip and is hoping to make the full transition to veganism in his daily life after the challenge is over.
Rowing for approximately 25 miles per day burns up around 10,000 calories.
So, they must consume 6,000 calories to ensure their bodies are replenished and nourished with essential nutrients, minerals, and vitamins. They have packed 300 kilograms of freeze-dried food, which consists of 100 percent natural ingredients and only require coconut oil, a butter alternative, and boiling water via a gas powered Jet Boil when sea conditions permit.
High calorie snacks include: beans, legumes, dried fruit, mixed nuts, shortbread, dairy-free chocolate, raisins, vegan bars and Vitamin B12 supplements. A water maker powered by solar panels converts sea water to vital fresh drinking water, which is also essential to rehydrate their frozen meals. The meals are tasty options with a choice of porcini mushroom risotto, chilli, orzo bolognese, spicy Thai noodles, daal, and rice with spinach, penne arrabbiata, and bean casserole.
A big part of Jude's motivation for the challenge was to encourage people to think alternatively about the misconceptions surrounding endurance sport and diet, explaining:
"Doing this row on a vegan diet is a way to prove to people that you can do extreme challenges and get all the nutrients you need through a plant-based diet."
The trip from Gran Canaria to Barbados by rowing boat is also set to break world records, as Jude would be the youngest person to complete it. In fact, he will be the youngest person to cross any ocean by rowing boat—not just the Atlantic.
Aside from raising awareness for veganism, Jude's father's cancer battle propels him to push himself. As the teenager describes, "I have so much motivation in me to try and make a difference to the world, and help people know the dangerous effects the sun can have on our bodies. The number one way to prevent skin cancer is to protect yourself from the sun." The Ocean Brothers hope to ameliorate the suffering skin cancer causes thousands of families after witnessing the heartache and devastation first hand.
The British half-brothers are also motivated to carry out this challenge in honour of their father and step-father, Peter Massey, after he passed away in August, 2015, at 63 years old, following a 16-year battle with skin cancer. Peter was a passionate fisherman who had an affinity with the sea, and once travelled from London to India over the course of a year.
Peter's family describe him as a man of unwavering strength, who lived life to the full—finding joy in the simple pleasures of life—and someone who, despite many years and long hours of treatment, never let his morale sink for long. The brothers' aim is to raise £100,000 for the British Skin Foundation, which funds research into finding a cure.
Jude and Greg's journey, from the Canaries to the Caribbean, in which they expect to endure major hurricanes and sail past 30-foot waves, is being carried out entirely unsupported. If there is an emergency—medical, electrical failure, large marine life, or the boat capsizing—it could take up to a week for sea crews to reach them. If conditions become too hazardous, they will use a para-anther (a submersible parachute), which stabilizes the boat while the brothers seek safety and protection from the elements in a watertight cabin at the rear.
To address fears of these shark-infested waters, the brothers use mindfulness, meditation, and hypnosis—they believe that 80 percent of the journey's challenge will be mental.
The brothers, rowing 24 hours a day and alternating in two-hour shifts, do not solely rely on technology to navigate across the ocean—they also look to the stars, planets, and sun for celestial guidance.
The duo, who have been keeping contact through satellite phone, are in high spirits as they approach the halfway mark of their estimated 5 to 11 week journey. Only 317 crews have previously successfully crossed the Atlantic Ocean, with 153 being unsuccessful, and 6 crew members dying on the journey.
Greg explained that his step-father Peter was the motivation behind this extreme mission: "He always said one of his greatest dreams was to sail the Atlantic. We're carrying on that dream."
To keep track of this inspiring and potentially record breaking trans-Atlantic journey and find out more, please click here.
~
Author: Alex Myles
Image: YouTube
Editor: Waylon Lewis
Copy Editor: Catherine Monkman