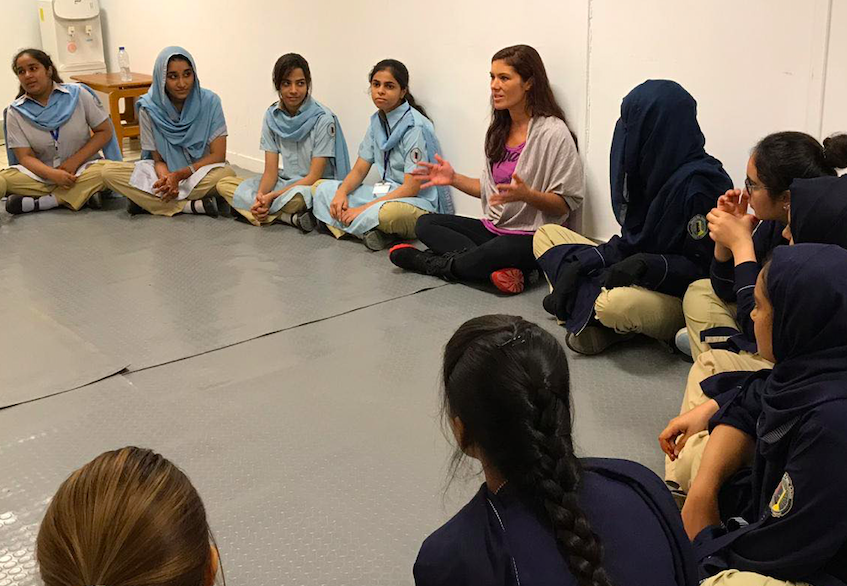 ~
"The NFL has an obligation to warn people with children that what they're about to see may be upsetting to some viewers," @usatodayopinion contributor Gil Smart writes. #halftimeshow #superbowlhttps://t.co/ToDUzY6MQD

— USA TODAY (@USATODAY) February 3, 2020
~
For a different perspective on the Super Bowl Halftime show, check out these two Elephant articles here and here. 
~
I don't watch football.
My last appearance at a Super Bowl event was a decade ago, while in a serious relationship with a die-hard Redskins fan.
I was clueless of Sunday's "nationwide pastime," until my colleagues told me the Friday before.
Their smiling heads shook when I asked, "Who is playing?"
Despite my disinterest, I attended a Super Bowl gathering. As a lifetime athlete, I can appreciate competitive sports and am always down for a party.
All the pieces were unraveling smoothly. I had a few beers. Spoke with some interesting people. Ate a bacon-wrapped date and also a bacon-wrapped shrimp (I love bacon-wrapped anything).
I snuggled up on the couch and was excited for the halftime show.
Who doesn't love a solid musical performance, on a world stage, with unlimited funds to back it up?
A few women sitting close to me started guessing Shakira's age. These were kind, smart, savvy young women.
What year was she born? 1977? Wow! She is 43!!
I recently turned 42. I am the most confident, powerful, beautiful version of myself.
A common response to my age is, "Wow, you do not look 42!" but that's not why I consider myself beautiful.
I am beautiful because I am unabashedly me.
Who created the rules of what makes a woman "sexy" and "attractive?"
A woman's "beauty" is often defined by specific physical traits.
Research "beauty industry." Mouths would drop with the amount of dollar signs spent on wrinkles erased, bags lifted, lips and butts injected, all to satisfy cultural beauty standards.
I am not judging.
I get it.
I am not immune to feeling shamed, judged, and insecure because I don't look a certain way.
I too have struggled with body image and measured myself against magazine pictures.
As a high school girl, Cosmo, Glamour, and Shape defined what I thought a woman should look like.
I am by no means "above" my socialization.
I have also spent my life working to change these arbitrary measures of beauty for myself and all women.
Through years of hospice work, I have sat intimately with death. I have learned how simply beautiful our next breath is.
I have lived in poverty-stricken neighborhoods, nationally and internationally, where basic needs and kindness are much more valued than physical beauty.
I created a company, Warrior Woman Republic, teaching self-defense to keep women safe and shatter paradigms of "this is what a woman should be."
I have fought through fear in a ring, because I believe we are more than just our panties holding numbers on the outside.
Like many women, I have endured trauma and refuse to be identified as only my body.
I love my body. It is strong. It kicks ass (literally).
My body also loves to walk barefoot in the grass. It can still swing through the air and lean back until my hair touches the ground. It shakes when I laugh and squeezes people tight.
I also love dancing, singing, and moving in my body (I am no J.Lo or Shakira, but it makes me happy).
My body is the conduit of my one "wild and precious life."
I am more than a wrinkle-free face, big boobs, round booty, pouty lips, long legs, filtered existence.
I am more than Instagram photos of my ass.
We all are.
I am brilliant. I am brains. I am creative. I am magic. I am love embodied. I am sometimes crazy and irrational, but willing to ask for forgiveness when I miss the mark.
I am sexy, because I am intimate, real, and primal. I am sexy, because you feel my presence when I walk into a room. I am sexy, because I no longer apologize for taking up space. I am sexy, because I am deeply kind.
I believe that every woman has a right to choose who she wants to be.
We saw fierce fire in the souls of Jennifer Lopez and Shakira.
From a distance, these beautiful women are talented dancers, performers, and humans.
They are both inspiring, confident, and seemingly don't give a "f*ck."
I celebrate these two women.
I am not a puritan, but I still have questions around the Super Bowl halftime show.
I watched as these two female badasses danced around in very little clothing. Surrounded by an army of other women dancing in very little clothing.
They were amazing dancers. Powerful. Stunning. Professional.
A display of "women's empowerment?" Who holds the power here? The music video industry? Media? Television? Advertising? A man's idea of what is sexy?
Why do we celebrate two women "still having it" at 43 and 50, because they are able to look the part of "cultural beauty" and shake their ass and vagina on a worldwide stage?
I am not shaming these women. I am asking the question of our collective consciousness.
Why can't they "still have it," because they are smart, brilliant, stunning performers? Women who have risen from the ground up, as entrepreneurs?
I think the conversation needs to change to address the underlying issues, beyond J.Lo and Shakira.
If so much of a young girl's socialization is connected to her body, how does she gain agency and power beyond just her ass and tits?
I don't have answers, and I will talk to my therapist this Wednesday about why I am triggered.
But I do have questions about how we define a "beautiful, sexy woman."
I love my five-year-old niece, Jo Jo, like she were my own. If I were to try and explain to her the meaning of "women's empowerment," I'd probably wax poetic from some of my favorite heroines, like Harriet Tubman, Maya Angelou, and Michelle Obama.

Just saying, America, I think our conversation needs to change.
"You may write me down in history
With your bitter, twisted lies,
You may trod me in the very dirt
But still, like dust, I'll rise.
Does my sassiness upset you?
Why are you beset with gloom?
'Cause I walk like I've got oil wells
Pumping in my living room.
Just like moons and like suns,
With the certainty of tides,
Just like hopes springing high,
Still I'll rise.
Did you want to see me broken?
Bowed head and lowered eyes?
Shoulders falling down like teardrops,
Weakened by my soulful cries?
Does my haughtiness offend you?
Don't you take it awful hard
'Cause I laugh like I've got gold mines
Diggin' in my own backyard.
You may shoot me with your words,
You may cut me with your eyes,
You may kill me with your hatefulness,
But still, like air, I'll rise.
Does my sexiness upset you?
Does it come as a surprise
That I dance like I've got diamonds
At the meeting of my thighs?
Out of the huts of history's shame
I rise
Up from a past that's rooted in pain
I rise
I'm a black ocean, leaping and wide,
Welling and swelling I bear in the tide.
Leaving behind nights of terror and fear
I rise
Into a daybreak that's wondrously clear
I rise
Bringing the gifts that my ancestors gave,
I am the dream and the hope of the slave.
I rise
I rise
I rise."