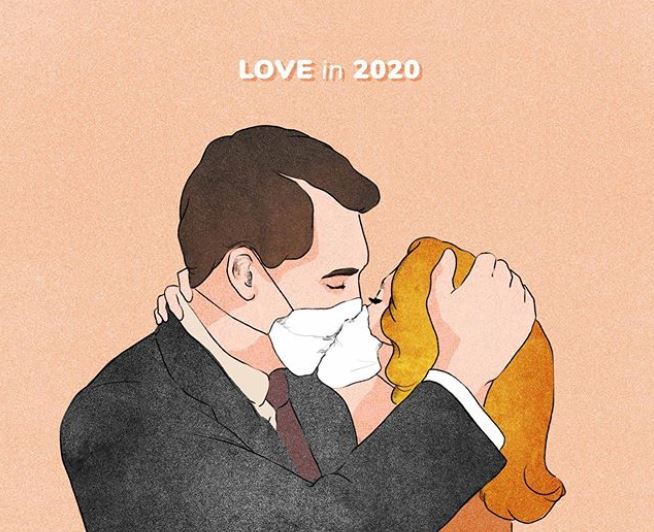 Coronavirus is no laughing matter.
I would list some statistics off for you as proof, but I'm concerned that none of my sources would actually line up with each other. I'll refrain from spreading fake news for now. 
Not only is this virus running rampant in the world, but so are its powerfully scary rumors (Does COVID-19 really survive in sewage systems? Does drinking rum protect me from acquiring COVID-19? Is this the beginning of a messianic apocalypse?).
Either way, it's fair to say that the future is looking a lot like that movie "Contagion," a medical thriller about a worldwide epidemic without a cure. Which honestly I can't say I've watched, but my roommate watched it with her boyfriend last night and I'm curious why they chose that particular movie for their romantic night together.
I don't mean to make light of the situation—we all understand that it's a serious public health crisis especially for certain age groups. However, my Russian-Jewish grandmothers both taught me from a young age to take every bad, uncertain situation as an opportunity for training your humor-and-bright-side muscles.  
Let's get back to why my roommate watched "Contagion" with her boyfriend. I have to wonder: isn't there something also a little bit (sickeningly) scintillating about the prospect of unkempt disaster that makes us feel alive? Isn't it, perhaps embarrassingly, a relief to have a break from an otherwise monotonous routine? Doesn't it, like in many shameful (or heroic, depending what side you're on) moments in history, bring us together when we face a common enemy? I would say, based on all the memes popping up, that the prospect of quarantine is looking like the new Valentine's Day: who would you chose to be quarantined with? 
I've had the flu for four days now and have self-quarantined in my room, eating mostly oranges. If I could smell my room, it may smell like stale citrus and grandma's old eucalyptus oil. I thank my lucky stars for not having to clean anything up for anyone else's sake. I'm somewhat grateful that my three-month-long partner lives 201 miles away (but who is counting?) and that I can pick and choose when to speak with him in this state. I ask myself: what if we were quarantined together? Big life question these days. 
While we are freaking out about coronavirus, maybe we can treat this trying time as an opportunity to reflect on our relationships. Maybe this is an opportunity for some of us to fall in love again, deepen our friendships, or decide to hack our relationship into shreds. As they say, desperate times call for desperate measures. Whatever it takes to survive. 
Here are seven ways to rethink love in the time of coronavirus:
1. Fall in love again (if you are proximal in distance and both into the idea).
If your relationship has been on the rocks for some time, and you both mutually want to spice things up, this is prime time for you. Uncertainty is rampant, the stock market is crashing, and you have no future travel plans to look forward to. You may or may not be banned from attending work or school soon. The outdoors may or may not be deemed dragon-territory. We'll be playing lava-floor in grocery stores, avoiding touching apples other people have touched. All this is to say that the drama is high and your time may free up. 
Talk to your partner about spending quality time getting to know one another again beyond the routine that has dragged you into this tired monotony to begin with. You may have ample time to gaze into each other's eyes again, or maybe truly for the first time. You may discover new sides to each other. Perhaps one of you is really great at hoarding canned corn in basements. Perhaps you have been too tired to learn how to give a good foot rub and your partner has been resenting that for the last four years. Now, you have some freedom to learn. 
As people stop going to public spaces, perhaps you will be stuck with each other and can bond over your survival planning. 
If you can't fall in love again in such a ripe time for bonding, it is possible that the fire has been out for too long. Read #2 if this is the case. 
2. Jump ship!  
Perhaps you're in a relationship that you're sort of not feeling anymore. Maybe your partner did something that really hurt you and you've been trying to heal from it but you just can't. Maybe you never really felt too connected to begin with and you're just sort of tired of convincing yourself that you can make it work. 
Whatever it is, we recognize what is most important when we feel like time and resources are running short. Trying times can be formative because they are transformative. Here is an important question to ask yourself: would you want to repopulate the earth with your person?
Okay, maybe that's too dramatic. Would you want to sit in the hospital with your person if they were ill, or would being with them truly bring your soul comfort if you were ill? 
If the answer is a very thunderous "no," then maybe it's time to jump ship. 
You could argue that being alone in the time of coronavirus would be even more sad than being with the wrong person. But I beg to differ. Please read #3. 
3. Love yourself and self-isolate.
By "love yourself," I don't mean going to a spa, because spas are bacterial cesspools and will most definitely be closed. I just mean that solitude is a hot commodity these days and making space to be alone can be a radical act of self-respect. 
We're always tapped in and running around trying to climb social ladders, ingratiating our employers, and then wondering why our hair is falling out by the age of 25. With some time to be alone (whether you are worried about infecting everyone or worried about getting infected), you can cultivate your interests. Read that book about feminist pregnancy that your friend who just had a baby loaned to you. Take up sketching house plants. Maybe get to know how bird song sounds different in the morning, afternoon, and evening from your window. Though this shouldn't be the main motivator, having different interests does make one a more compelling person to date, especially when interests align. So in a way, you're fostering a relationship with yourself that would eventually lead to a relationship that you might actually be into.
The bright side is that you can rest assured knowing that most of the population is probably stuck with someone they don't really want to hang out with right now. At least you have yourself for company, and you don't have to worry about impressing anyone for the time being.
If you really get lonely, you can always talk to friends on the phone. Or, you could try online dating which is certified coronavirus-safe. Please proceed to #4 if this is the case.
4. Try online dating again.
In everyday life, many of us dread the process of online dating. If I had a dime for the number of times I've heard people complain about dating apps, I'd definitely try my cards at being a full-time writer by now and not worry about being able to afford my electric bill. 
Here is why people hate online dating: it feels transactional. It's the same as getting a loan interview or a job interview or your grandma setting you up with an older man of the same background who may or may not be a distant cousin but he owns a house and wants children. 
Love in the time of coronavirus is different.  
People are not going to go out of their way to meet up with someone they don't really care to meet. It's too big a risk. Everything will start online and proceed quite gradually. I heard a rumor that pocket-sized hand sanitizer was being sold at $50 a pop nowadays, so people aren't messing around with your germs or my germs. Let alone holding hands or kissing strangers. 
This also means that if you're the type of person that feels really comfortable chatting online but hates in-person improvised conversation, you have a totally legitimate excuse to postpone meeting up indefinitely. 
Perhaps my projections are unfair and off. It's also quite possible that people are stir-crazy and really just want to watch "Contagion" with somebody. Or maybe the young people don't care too much about getting infected because they know their immune systems could handle it. If by some miracle you do meet someone you connect with, rest assured that they are not going anywhere on business or vacation. If they "can't hang out" again, it's not because of their travels. It's because they don't feel the same way as you do or they've acquired something that resembles coronavirus. 
I think my point is that online dating is a generally safe and viable option for quelling some loneliness because it opens up conversations in which you don't need to breathe the same air as another person. Unless you take a risk and meet up. 
5. Fall in love with a fantasy (if you are new to long distance and both into the idea).
There are a few ways this could go. Let's say you met online (à la #4) and you've met once in real life but they go for a business trip in Italy and they're now stuck there indefinitely. You could either cut things off now or fall in love with whoever you think they might be. Why not?
The result of this could be some very interesting emails, texts, phone calls, and Snapchats (I've actually never used Snapchat but I hear that it's pretty casual). Perhaps you'll find yourself opening up in new ways you never expected. Maybe you and said person will play a lot of remote video games together or write an anthology on a Google Doc or learn to play ukulele songs together over Skype. Maybe you'll find that without physical contact, there is room to really enjoy the company of each other in ways that you never could have in real life.
The situation could also look like this: 
If one of you lives in, say, Boston, and the other in, maybe, San Francisco, that's quite a distance. Maybe you met five months ago. Whatever the reason for the distance, you can start to make some interesting plans that you never expected. 
Maybe you talk about quarantine plans. Maybe your relationship timeline speeds up urgently. What if you can't see each other again for a year and your flight was cancelled and everything is going to be hard? Maybe one of you makes a decision to betray your lease and move in with the other person right now. Where would you move? The place less likely to get coronavirus spread? 
Or maybe, you decide, you will wait and see. In the meantime, you can build a fantasy about that person in your head. Maybe you didn't like them so much to begin with but the distance makes things easier. Now, with coronavirus at our heels, you can really long for them and think, oh, I wish I could see them, how I wish we could be together if not for this horrid illness running rampant through our human systems! 
Alternatively, what could happen is that you realize that you can't communicate with this person over the distance at all. In which case, it may be be a good idea to refer back to #2. 
The most important thing to remember is that everything has a time and a place. If talking with this person virtually helps you both get through trying times, we can call that love. They say love gives us the will to live. This is useful in the time of coronavirus. 
6. Be sick together and make it feverish. 
If you and your partner are in close proximity, and are already deeply in love, then you are the lucky ones. You have been blessed and have done your fair share of communication to achieve this feat. 
However, it is highly likely that one of you will get the flu or maybe the coronavirus. 
This means that you will both get it. One could lament this or treat it as an opportunity to explore the depths of human consciousness. It is possible you will both experience delirium and fever. Why not integrate this into an erotic, transcendent experience?
That's all I'll say about that. 
7. Honestly, everything is a test. 
Oh, I know this is a terrible thing to say. Terrible, terrible! And yet, don't we want to know who will really be there for us in the time of coronavirus?
Here is an example: I told one friend I had the flu. He immediately helped me buy oranges and cough syrup and sat with me at home while I boiled water. Was I fun? No. I definitely smelled bad. Was he afraid of being infected with whatever I have? He said, "I'd rather hang out with you!" A true friend. Perhaps not the best for the public health crisis. 
Here's another example: my grandmother wants to make me soup and help me heal, that angel. She is 84. My answer is strictly "no." That is the right answer, we can all agree. 
Last example: I tell another friend I have the flu and I'm not sure he'd want to come over this weekend. He says, "Oh cool! Maybe I won't have to go to work if I get sick!" Questionable motives, but keeps me company. 
It is a two-way test. We are testing ourselves and our friends. 
This is how we test ourselves: When we are ill with something like the flu, we are faced with many choices about how to interact in the world. Should we go outside? Should we go to work? Should we interact with people if we don't absolutely have to? This question is serious. Some of us don't have paid time off. Some of us don't have access to anything but public transportation. Some of us don't really care as long as we get to where we need to go. Some of us get really lonely and want someone to watch a movie with or cry on or yell at. What risks are you willing to take? What is our responsibility to humankind?
This is how we test others: We want unconditional love. Of course, we want someone we love to hear that we are ill and take the fastest route to our apartments and spoon-feed us broth (or is this just me?). 
What if they say, "you know, I really can't get infected right now." Or, "honestly, this coronavirus stuff is freaking me out and I don't want to risk it." Can you be angry about that? Can you feel disappointed? Does that mean someone doesn't love you? What is humankind's responsibility to us? 
This is all relevant if you're the sick one. If you're not the sick one, think about the other side of the equation. Every side of this could be an opportunity to either prove you love someone by helping them or not helping them or finding new, creative ways of helping them without sparking a public health crisis.
Stay safe and healthy and remember, love can be abundant even if hand sanitizer is sold out. 
*Note to the reader: I recognize that this list kind of completely excludes people with children or elderly people in their care. I do not claim to actually know anything about coronavirus. This piece is intended to be a satire (with some food for thought) and I do not mean to diminish the very real and serious dangers and traumas that coronavirus is bringing to families across the world.
~
Editor's note: Title inspired by Love in the Time of Cholera by Gabriel García Márquez,