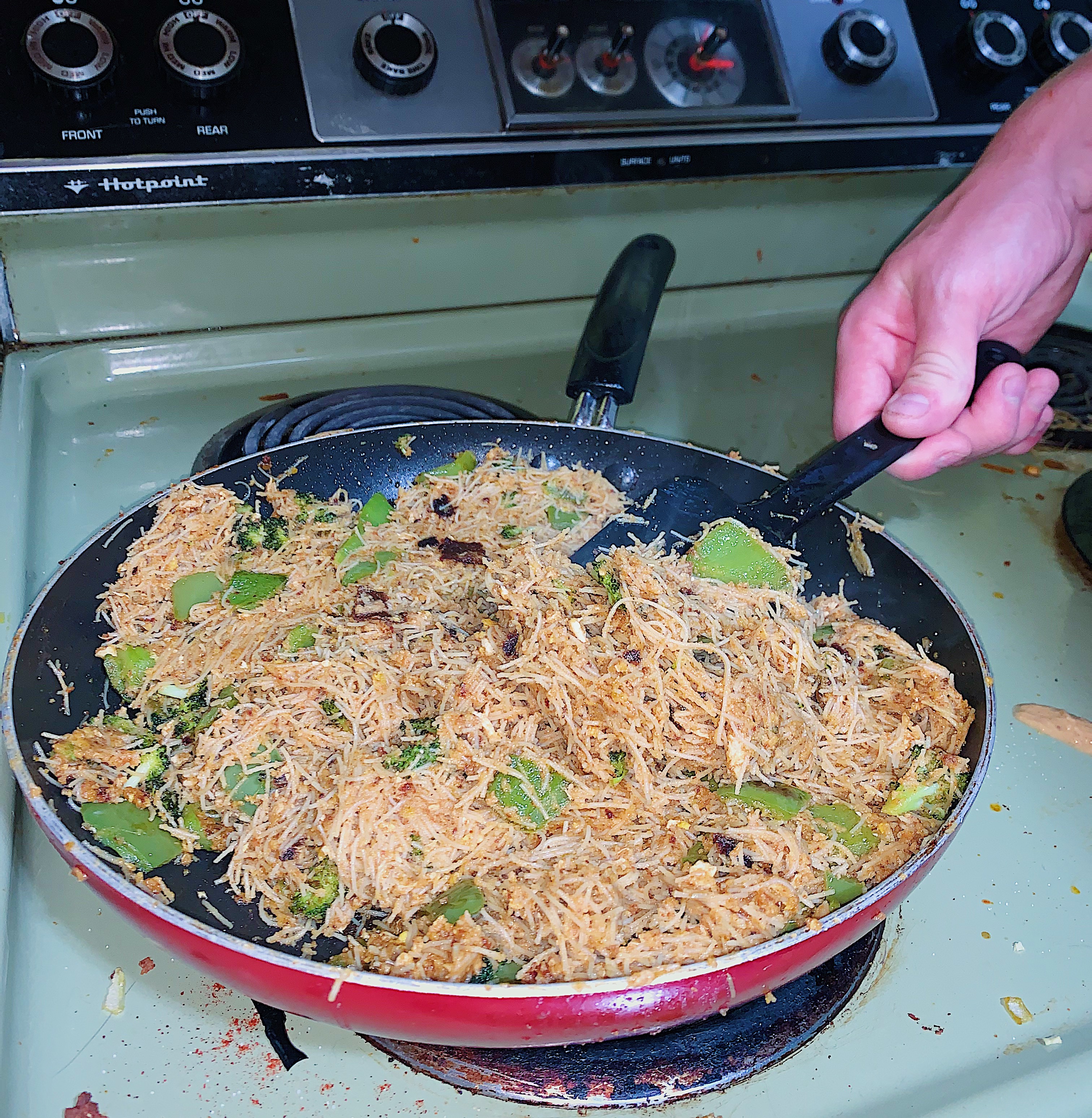 We all have one recipe that brings with it all the nostalgia of our childhood.
One of my mother's staple recipes was Thai Peanut Pasta. She cooked peanut butter into oblivion until it became runny like a sauce. I used to come home from work every evening to the smell of sweet peanuts permeating each floor of our house. 
As an adult, I have always found myself craving a hearty pasta with plant-based protein. Every recipe that I found online was based in either vegetable stock or broth—which did not provide the full flavour I was looking for. 
After several attempts of subjecting my poor roommate to mediocre taste testing, I believe I've finally perfected the recipe. It's packed with healthy fats and protein since the sauce is mostly made of peanut butter and coconut oil. 
I tend to taste everything while I cook until the spice ratio is about right. That said, add your own taste and trust your intuition when it comes to applying a recipe. 
One of the reasons I have fallen in love with cooking is how customizable it can be. Consequently, substitute out the vegetables that you might despise—such as broccoli or mushrooms—and add in whatever you might like.  
I have named this recipe "Vegan Pad Thai," but it's mostly known as "Spicy Thai Peanut Pasta."
What you need:
Half box of cremini or portabello mushrooms 
1 large (or 2 small) yellow or red bell peppers
1 medium stock of broccoli
4 oz of brown rice noodles (I prefer the Annie Chun brand, but you can substitute it for thicker Pad Thai noodles) 
Sauce ingredients:
¼ cup soy sauce or coconut aminos
½ cup peanut butter (I like the Adams Natural brand)  
½ cup coconut oil 
1 tablespoon Sriracha 
¼ teaspoon lemon juice
Raw garlic cloves or garlic powder (as per taste)
Hemp seeds or scallions for garnish (optional) 
The tools you need: 
A saucepan 
A pan 
A strainer 
What to do:
I start by chopping the vegetables into decent-sized cubes instead of smaller slices (mostly because I'm a lazy prep cook.) I put all of these ingredients together into a pan on medium heat and coat them with coconut oil.
Next, I add a big scoop of peanut butter. I try to break it up with a rubber spatula so that it melts more easily, then I add soy sauce, lemon juice, and Sriracha. 
Pro tip: a rubber spatula is also the perfect shape for scooping peanut butter clean out of the jar. Do not crank the heat up too high in the pan or the peanut butter will easily burn. 
Add water to the sauce and veggie mixture if you're having trouble melting the peanut butter.
I'm a massive salt addict, so I usually go pretty heavy on the coconut aminos when I'm cooking this dish, but it's completely up to you. 
If you're a lazy cook like me and hate to wash a ton of dishes, you may cook the vegetables and sauce all together.  
I sauté the veggies until they're well-cooked and no crunch is left behind (usually this takes about 15 minutes.)
Then, I fill a saucepan with water and set it to high in order to get it boiling. Once it begins to boil, I put in four ounces of brown rice noodles, which is enough for roughly four servings. Since the pasta is so thin, the noodles may cook rather quickly so be careful not to overcook them.
The noodles become ready once they are completely soft from the inside (usually after three to four minutes of boiling.) 
Once the noodles and vegetables are finished, combine them into one pan and mix them together. 
Top the dish with chopped green onions and hemp seeds for an extra crunch. 
Makes between three to four servings. 
~