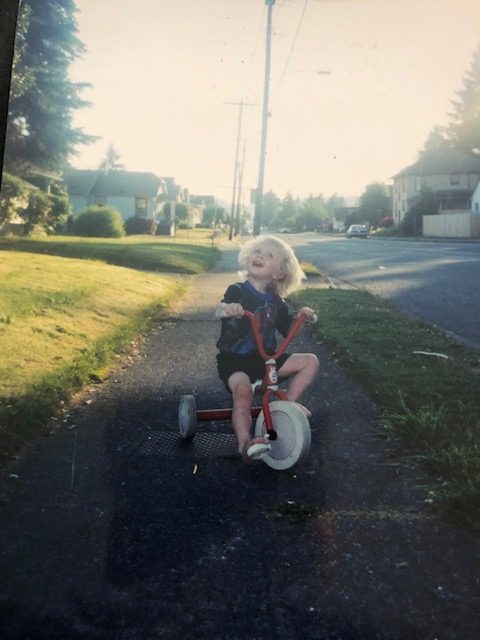 I met your dad at an AA meeting.
Well, actually, to be honest, I met him through his brother at a bar. We had one night of partying at their house and I ended up sleeping over (on the couch) while my friend stayed in the bedroom with your now uncle.
Your dad asked me if I wanted to sleep in the bed and promised he wouldn't touch me, but I declined. My friend and I woke the next morning and headed out. I remember another guy was sleeping on another sofa in the living room and peed on it. We were a motley crew.
I had met your uncle the night I got my DUI. I was the exact age you are now. I met him in a bar. I actually thought he was pretty cute and introduced myself. We ended up sitting out in his car talking for a while. He told me how his dad had cancer, and about his brother and the rest of his family—that is now your family as well.
He invited me home with him, but I declined. I had work in the morning and needed to sleep. I'd been out for a girlfriend's birthday and this had been my third stop of the night. The bar had closed, and it was after 2 a.m.
I made the good decision to go home but wasn't so lucky. As I turned toward home, I saw the flashing lights behind me and had to pull over for a field sobriety test. 
This DUI slowed me down, but not much. I was out at a bar again a few weeks later and saw your uncle again. I asked him where the party was and he invited me and my girlfriend over. That's when I met your dad.
He had wild, long, curly hair, and seemed the artistic, moody type. He had a darkness to him, but we chatted and listened to some of the same music. We had some drinks and smoked, and, as I mentioned above, the night ended with me on the couch.

A few months later, I was attending my court-ordered AA meetings and I saw your dad. I recognized him and asked if he remembered me. He was playing one of the arcade games at the Alano Club where the meetings were. He did remember me, but if recollection serves me right, he wasn't interested in meeting any women at that time. 
Your dad had been an alcoholic and put himself into treatment at 19. He met a guy there who introduced him to heroin, and he spent most of his time shooting up until he was able—miraculously—to beat that addiction.

By the time I met him, he was 23, and had come close to a suicide attempt that Christmas, and had been sober since. 
We continued to see one another at meetings and say hello. He was 23. I was 21. There weren't many young people getting and staying sober in AA meetings at that time. We eventually started to hang out with some other people in the room and created a sober friendship.
In early sobriety, they recommended for us to find new friends. Our old, using friends weren't good company for us any longer. We attended meetings together and through our shared comradery of walking through this battle, we got closer. It was tough and there were emotions and tears and anger. We stuck together and one night somehow we kissed. It was awkward and we both knew it, but eventually, we became a couple.
The day I found out I was pregnant, we were shocked.
I'd been sober for eight months and him for 10. We were still babies. Some noble advice in AA is to not get into a relationship for a year, but we did not heed that warning. After some discussion, we knew we would keep you. Your dad had a good job but wanted to finish college. He was a writer and a singer and songwriter. He was an artist. He read an abundance of books. He was off-the-charts smart. 
I, on the other hand, had no skills for living. I like to say I was raised by neanderthals. I could barely make toast. I had no emotional or communication skills. I was a young girl working hard to be an adult but lacked the knowledge of how to not just play the persona. 
I loved fashion and socializing. I was good at bar hopping and being the life of the party. Sober life was hard for me, and I had a lot of unrecognized trauma from my childhood. It was somewhat a recipe for disaster, but here's where the story gets good.
You were born and you changed both of our lives. You were the best thing that could have happened to either of us. You helped us grow in ways we could have never imagined. We have both stayed sober all of this time—for ourselves, but mostly for you.
You came and we brought you home—two kids with a new baby. We looked at each other and had no idea what to do. We learned, though, and you birthed a new life in each of us. We laughed, we reveled in your new discoveries, we held you when you cried, we learned empathy and how to look outside of ourselves. We wanted to do better and be more—through you, our lives were born.
We love you, son, we cherish you, son. You are literally our sunshine. 
~