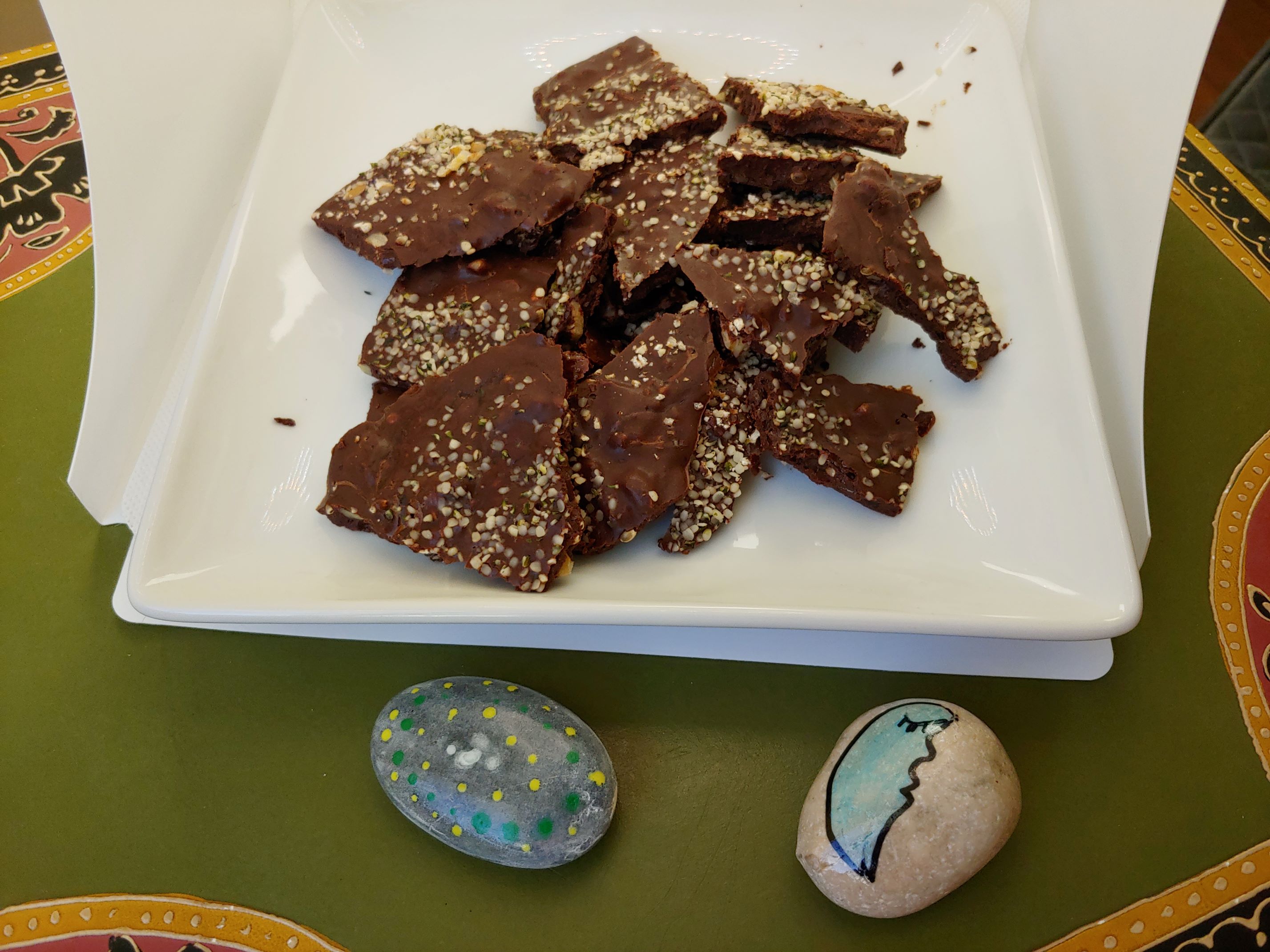 An almost out-of-this-world chocolate yummy.
Have you ever thought of combining chocolate and mushrooms into one yummy dessert? It's not a new concept, and I am not the only person who has taken this 'shroomy approach into candy land.
I read an article by a friend for her cacao candy and knew I wanted to make it and include some shrooms. I see you rolling those brown eyeballs, and you too blue eyes and green and grey and hazel. Trust me, I will explain briefly, and then we dive into the magical world of chocolate and mushrooms. Down the rabbit hole with Alice, this is not.
I am certain all of us have heard of and maybe eaten mushrooms in some meal. Some of you may even forage and have vast knowledge about this fungi kingdom. Culinary use is awesome, but I initially consumed dual-extracted powdered mushroom elixirs in early August 2016 and was hooked.
No worries. No magical psychedelic shrooms were consumed and this chat is not covering that trippy lane. Although it is a rising topic in research.
No, I am referring to functional mushrooms—organic, dual-extracted into powder form and consumed in coffee, teas, hot water, smoothies, brownies, chili, stew, soup, and candy. There's no doubt more. Use your imagination and shroom away.
Not all mushrooms are edible, not all are functional. I think. However, the brand I trust and use has functional mushrooms, and the ones used here will be described briefly after the recipe.
Functional mushrooms are immune-modulators. They are safe and work, over time, to build into your immune system. Note: these are different than immuno-stimulators which work as needed and are used for relief from early symptoms such as an oncoming cold. Echinacea is one example of an immune-stimulator that you only take as needed and for a short window of time. Elderberry is another immuno-stimulator.
If you are looking for a quick response to a first-time, one-time hit of a functional mushroom, you are barking up the wrong tree. Pun intended; lots of these grow on the bark of dying or dead trees.
Taken consistently and over time, these do their work of helping your immune system stay healthier and assist your stress response. Does this mean you have to consume all of them and every single day? No way, shroom friend. But, hit or miss, and rarely taken is not going to work.
Let's stop here and read the recipe and get ready to have fun, and enjoy some 'shroomy cacao indulgence.
Recipe and Ingredients:
If possible, use all organic ingredients. For this recipe, I was able to find all organic items at local grocery stores and my auto shipment from Four Sigmatic.
Cacao, powdered, raw: organic, ½ cup.
Coconut oil: organic, virgin, ½ cup.
Maple syrup: pure and clean, a couple dashes, maybe a tablespoon's worth.
Vanilla extract: quick dash.
Cinnamon: depends on taste, I had a heaping teaspoon of Ceylon cinnamon.
Walnuts: crushed (from whole), about ½ cup.
Toasted hemp seeds: just a heavy dusting, maybe one tablespoon or less.
Hemp seed hearts: sprinkled over the finished product before placing the tray into the freezer.
Ten mushroom blend with rose hips: 5 scoops of Four Sigmatic Mushroom Blend. A blend of chaga, reishi, cordyceps, lion's mane, shitake, maitake, enokitake, agarius blazei, meshima, tremella, and a non-mushroom: rose hips.
Misc.: mixing cups, measuring spoons, glass bowls, silicone spatulas, spoons, parchment paper, baking pan(s). A lot of love, an enjoyment of messy since it is chocolate and you can lick the spoon.
Directions:
1. In a large glass measuring cup or bowl, combine all the dry ingredients, except hemp seed hearts, mix. Add the coconut oil, maple syrup, and vanilla. Mix thoroughly, rotating the bowl and making sure all the goodness is combined and distributed throughout.
2. Line your baking pan with parchment paper. I used a small sheet pan about 7 x 9 inches and half-inch high. Since I had no roll of parchment paper, I took one of the small parchment bags I keep for storing certain food items and cut it to open into one long, narrow piece.
3. Enjoy the fun of pouring this into the pan. I used a pour method and silicone spatula-spoon to keep helping this onto the sheet. You decide if you want uniformity or irregularity. I went with irregular borders to add interest to my eyes.
4. Sprinkle the delicate hemp seed hearts over the chocolate and place the tray into the freezer. Check later to finger test hardness.
5. Cut or break into pieces. I kept the imperfect, irregular pattern and created various sizes. Stack them all into a glass container with a decent fitting lid. I tried keeping them in the fridge, but when I removed a piece, it would start to melt too fast for me.
Well, if you plan to shove that yummy chocolate into your mouth in one bite, no worries. I wanted to savor one piece at a time. So, I keep it in the freezer.
And remember to please give gratitude before that first bite. Enjoy!
Here's a brief primer on the shrooms and add ons:
Chaga: the king of the fungi kingdom of shrooms, and super good for the immune system. Grows on dying birch trees and available in those snowy places like Finland.
Reishi: the queen, once only available to royalty! A chill-out shroom I use with hot cacao and on easygoing days. This queen of the fungi kingdom is calming.
Lion's mane: brain booster, balance that checkbook, and go solve that puzzle.
Cordyceps: loved by athletes for its endurance assist. And by lovers too, for possible endurance in between the sheets. Or car, or tent. Or kitchen table, lake, hot tub, barn loft, pool table. Oops, got carried away there; maybe that's a different article.
Tremella: healthy skin.
Shitake: skin that glows.
Enokitake: antioxidants to the rescue.
Agarius blazei: immune system helper.
Meshima: known as "women's island" in Japan.
Maitake: referred to as "hen-of-the-woods, or "dancing shroom"; supports blood sugar and digestion.
Rosehips: vitamin C galore.
If you are interested in exploring this fungi kingdom of over 1.5 million types and traveling underground to this vast network of mycelium communities, here are some references to consider:
"Healing Mushrooms: A Practical and Culinary Guide to Using Mushrooms for Whole Body Health" by Tero Isokauppila, Penguin Random House. New York. 2017.
This recipe my bestie wrote led me to my shroomy version: Melt-in-your-Mouth Goodness: an Easy Recipe for Healthy & Delicious Chocolate.
~
For a whole bunch of delicious recipes, scroll through my author page.