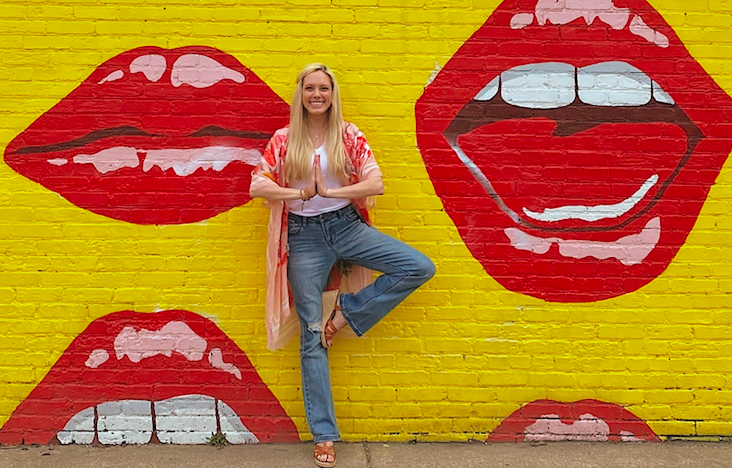 One of the greatest lessons I took away from my yoga teacher training was this: you've got to feel it in order to heal it.
After having my soul crushed and my heart thrown down a garbage disposal, that's exactly what I did. I retreated to my own little world and shut the door tightly behind me. I stayed there, alone, for quite some time.
The healing process wasn't quick and it wasn't pretty either. But I did the work. It wasn't until recently that I began to feel like I had healed and that I wanted to open the door I had shut—maybe just a crack to see what was on the other side.
I inadvertently blew that door right off its hinges when I joined the world of casual online dating, which I had vowed to never do.
I joined an application and realized that it actually wasn't too bad. In fact, it was pretty fun. I've joked that it's a bit like that old board game from the 90s, Dream Phone, where the objective of the game was to find out which "hot" guy had a crush on you.
Similarly, when you see on your phone that "it's a match" or that "Brad" super liked you, you can't help but feel excited. I half expect confetti to fall from the ceiling.
But throughout my journey in the past few years, I've finally found peace and true happiness. I'm content with living the rest of my life as a solo person, so I'm not looking for a husband. What I am looking for are individuals who compliment my already complete life. I'm looking to connect with interesting people, make new friends, and hopefully, find someone with whom I'd like to share my energy.
It's been said that yoga isn't for the flexible, but for the willing. In a similar way, connections don't come with time, but with a willingness to be brave and to share parts of ourselves without the fear of judgment. Whether it's your soul sister, your lover, or the special ones who exit your life as quickly as they entered it, you just know the universe had sent them to you for a reason.
True connections are precious and oftentimes rare. Yet, they all begin with an unveiling of your true self in the form of authentic conversations.
As someone who genuinely enjoys getting to know people on a deeper level, small chitchat just doesn't work for me. It feels so phony and sometimes even forced. It makes me anxious.
I need you to give me more—I want you to tell me the story of how you got that scar below your eye, or about the one on your heart that you keep hidden from the world. And tell me, was it worth it?
I need to know what song you listen to on repeat, and why it speaks to your soul.
Please tell me about your tattoos, your passions, and your irrational fears.
And if it's okay with you, I'd like to hear about the darkest time in your life, but also the brightest. Remember, beauty is in the raw details, and I want to understand you.
If you're not willing to share those things about yourself, just be real. Whatever you do, don't try to feed me any bullsh*t, because I can see right through it. Don't come at me with that whole pervy, "So, you're a yoga teacher? I bet you're really flexible. Can you give me a private lesson?" attitude. If that's the most interesting thing you've got to say to me, you've already lost my attention.
Though that's not as bad as the ones who say, "I drink too much. I need someone like you in my life to balance me out." Sir, my job as a yoga teacher, as well as an adult woman, is never to fix anyone, whether on or off their mat. I won't physically assist you in a yoga pose, and I wouldn't dream of ever attempting to alter the way another person lives their life.
Dating certainly requires a level of mindfulness. Sure, you could mindlessly swipe all day long, and maybe that would feed your ego for a short time. But what's the point if you don't know what you're looking for and, most importantly, who you truly are?
Is there a void that you're trying to fill with another person? Don't cover up your problems with the next match. Spoiler alert: they can't fix them, and I'm betting they don't want that responsibility either.
I brought myself back from a low place. It was agonizing, but I sat alone with my grief and my loneliness until the grief subsided and the loneliness didn't feel lonesome anymore. It felt the opposite; it brought comfort.
All of our paths are different, and we all have our own sh*t to deal with. So, deal with your own. Get uncomfortable with it, then, when you're ready, open yourself up to genuine connections.
Whatever you do, don't disturb another person's peace, because you never know what they had to go through in order to find it. Be mindful, be brave, and know that it's okay to let another person see your darkness.
Anyone who would judge you for your journey isn't someone you want to walk with, anyway.