I was hooked on traveling after I went on my first international trip by myself to Costa Rica.
I had booked my trip with an agent who coordinated everything. I was to take part in an eco-tour starting at the airport in the capital of San Jose then continue up to Monteverde Cloud Forest Reserve then ended up on the Pacific coast at an all-inclusive hotel. The tour group was small with just six people in a van plus the driver. 
Everything was taken care of—the schedule, the places we stayed, what we saw, and all of our meals. It was one of the most fascinating experiences of my life to see this foreign world, meet people from all over the place, and connect with nature.
I went away from this experience vowing to make it a priority, to fill that newfound adventurous part of me with more of these experiences. I was fortunate to have been part of a tour that focused on connecting with nature, seeing how real local cultures lived, and how precious our planet is. The wonder and beauty of what I witnessed only sparked a fire in me wanting to know more of the world, more of the people who lived in it, and the deep rich history humankind has on this earth.
My next trip was to travel to Thailand to visit an exchange student who had once lived with us in Minnesota for an entire school year. My awe and passion for travel deepened even more with this experience. I was picked up by our "adopted son" from the airport, taken to the northern province of Chiang Mai, and then to Nan where I toured the area with my son, met his family, and was welcomed with open arms. Everything was accounted for. Everything was taken care of for me by his family because of their deep appreciation that we had taken in their only son for a year and treated him as one of our own. The experience was amazing to feel the deep culture of their lives, see a part of the world with thousands of years of history, and feel so safe in my time away.
I knew deep in my soul that I needed to experience more of the world. I needed to experience more of who I felt I was discovering within me. I felt excited to be alive for the first time in my life.
The opportunity came up to travel to the Amazon Rain Forest in Peru where I would take part in a five-day Ayahuasca retreat with a friend of mine. I felt called to experience this journey, and the moment I clicked the "pay" button on the flights, I could feel reality shift. 
It was as if the world around me changed in an instant to align with this new experience.
The change was subtle, but I could feel it nonetheless. Our priorities shifted to accommodate the retreat. We ate different foods which eliminated pork and processed foods. We had to abstain from sex and alcohol and any other medications or supplements. We were being prepared to clean our bodies so our souls could arise and show themselves.
Planning the trip was difficult, but not impossible. All in all, it would take two full days of traveling to reach our destination after using almost every form of transportation to reach a remote jungle camp in northern Peru. The trip was exhausting. In looking back, I can see that the journey there was, in itself, part of the process of peeling the onion skins of my outer shell of protection. This peeling away was important in order to prepare me for what I experienced with the plant medicines and guided by the shaman's icaros song.
Traveling to such a remote place was unsettling. Being in a foreign country, having to place my trust in people I not only didn't know, but I didn't even understand what they were saying. What really saw me through that fear was a deep calling to have the experience I felt I needed. There was danger and risk in each step including finding out that our landing gear was not down on the first landing attempt at the airport in Iquitos, to the military checkpoints with soldiers carrying machine guns, to the piranha-infested waters of the Rio Ucayali, to the large cats and deadly spiders of the jungle surrounding the retreat center. Even with all of this, I had a sense of safety around me. It was as if I was wrapped in a cocoon of sorts that allowed me to relax and fully experience my time with the shaman's family and the others who had gathered there from around the world.
With these experiences under my belt, I felt as if I was beginning to become a seasoned traveler. Knowing the way through an airport, customs, and immigration was just a necessary inconvenience. I felt as if I could handle pretty much any new travel adventure I wanted. What I didn't realize was, that up to this point, I had only been responsible for myself on these trips. Everything changed once I started to include people whom I loved dearly.
The next trip was all set. My wife and I were going to the Dominican Republic for a week-long stay at an Airbnb near the beach. We had chosen a place where we were going to share space in a larger apartment with several other bedrooms. We met people from England and Argentina and Germany. It was so great to hear about their dreams, aspirations, and cultures. It was exactly what I'd hoped for and I felt as if my wife was enjoying the time in this new place.
The host had several other rentals in the area but found time to give us a personal tour and give advice on other places to go and things to see. We decided to strike out on our own and rent a small motor scooter and journey up the coast to Montana Redonda. The journey didn't seem like it was too far away, so we struck out to find a scooter and be on our way.
As we walked along the streets, there were dozens of locals riding around on scooters providing advice on places to go and gladly providing transportation for a few pesos. One particular driver stopped and began his lingo of, "Where you want to go, Mister? No problem, I can take you. Tell me how I can help you, Mister," and so on over and over.
At first, we tried to tell him that we weren't interested because we'd been warned that some of these hucksters would overcharge us if we weren't careful. Finally, we gave in and jumped on the motorbike to be taken to a local scooter rental shop.
From the moment we jumped on the bike, I had a deep knowing that we were not safe. Even though my wife and I had agreed together to accept his offer, I regretted deeply for having given in and accepted the ride. I was the seasoned traveler, my wife had traveled some but barely gone out of Minnesota for most of her life. And here we were, in a foreign country on the back of some strange man's motorbike, being taken to some unknown location. I felt as if I had just stepped into the "Twilight Zone" and was being transported to another realm of the imagination.
When we reached the rental place and no one (supposedly) spoke English, the driver happily agreed to translate—for a fee of course. We were offered to wait in a small air-conditioned "cigar room" while they prepared the motorbike. We no more than sat down when my wife said, "We can't stay in here." So, we immediately left and sat outside.
But it just got worse.
As we sat outside, the driver of the scooter and several other men from the rental place stood around us. I felt uneasy and I kept looking back and forth at their faces. I mentioned a few times that maybe we would take a walk and think about if we wanted to rent, but the driver kept moving closer and kept talking. "No problem mister. We can get this for you now. The days are getting shorter, you can do this now."
I could feel my wife's eyes on me. I had a sense that she was relying on me to decide what to do. I knew we had decided to do this trip and the pressure I felt from these men kept increasing. I felt trapped but couldn't muster the strength to just walk away. I didn't know what they would do if we did.
Would they pursue us further down the street? Could we make it back to our apartment safely?
My feet felt like they were encased in cement. I didn't feel like I could move or escape. I decided to the safest route was to just rent the bike and get out of there.
We didn't have local currency so we told them we only had US dollars. They said, "No problem, just give us the money and we will get it exchanged." All I had was a $50 US bill. I handed it over and one of the men took the bill and walked away down the street.
I was shocked. I didn't know if I'd ever see my money again. We stood there a long time not knowing what to do.
Finally, the man came back. I had done some quick calculations and knew approximately how much money I should get in return. I asked for all the money back. When I counted it, it was short by a lot. I asked again, and reluctantly the man pulled out of his pocket the rest. It was close enough.
We did the paperwork to leave as quickly as we could. I couldn't speak. I was focused solely on getting away. My wife jumped on the back and I kicked the motor over and off we went. I wasn't more than two blocks away when a flood of emotions cascaded out of me. As I drove, I balled and wailed as the tears rolled down my face and I gasped for air. My wife was holding onto me tightly and asked, "Are you okay?" The best I could do was shake my head and continue to drive and cry my eyes out.
This was only the beginning of our journey and the tests we had yet to experience, riding on the back of a small scooter, to a far-off destination in this foreign country. We had no idea what was in store for us next.
~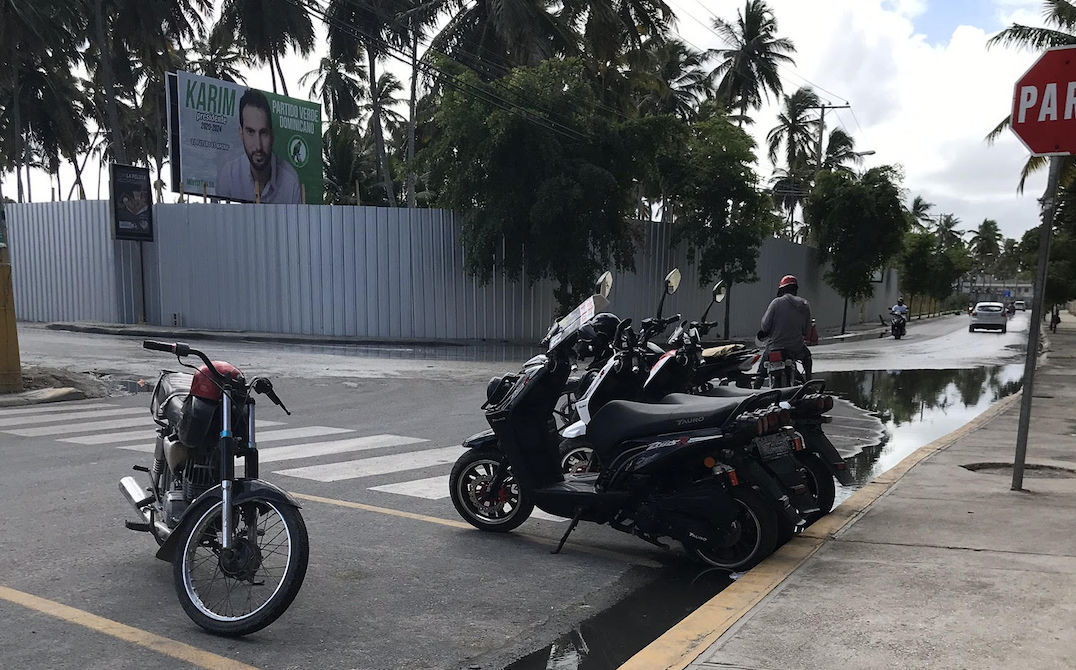 ~