This Sunday morning, a flock of Pine Siskins delivers a dose of gratitude on delicate tawny wings, bringing a cocktail of quietude and restorative peace.
Springtime is here, equally ushering in a cacophony of noise and exploding energy alongside promises of new life.
Fresh, green growth is erupting everywhere. Last week, the elk came for a few days of grazing before migrating onward. A wayward, young male moose trotted up to join them. He did an about-face when the crowd of females clustered together, trotting back into the safety of the woodlands bordering the pasture—I watched his scrawny tush disappear into the pines.
At this early hour, a lone black-capped chickadee is perched on the rolled bamboo screen, awaiting his turn at the feeder to snatch nuts and berries.
After a raucous Saturday afternoon, I crave the soothing balm of tranquility found in our returning avian population. Coupled-up cliff swallows perch atop Frank's bird boxes, watching others swoon and swoop about the pasture grasses, snatching up protein of the insect variety.
This morning, the self-love teachings of Visuddhimagga counsel us on the great afflictions of our time: anger, hatred, greed, craving, anxiety, and ignorance. That they are the most ubiquitous and persistent feels truer today than memory can recall. The self-love teachings also say that in practicing deep looking through meditation, we can transform these feelings so as not to cause harm to ourselves—or others.
The self-love teachings say that by knowing ourselves, we can take better care.
In our collective at present, an abundance of negative mind states can arise alongside each waking breath. Resisting the tendency to drill down deeply into any one of them can prevent more emotional triggers. Self-preservation becomes a skill worth cultivating in a world replete with challenges.
I think of the pack of 20-something men on screaming crotch rockets racing up a crowded canyon highway yesterday afternoon. They meant to disrupt the peaceful flow of others in pursuit of a beautiful, relaxing respite from the ills of urbanity down below. Intensity reverberated amidst canyon walls, calling attention to their appearance like the way Marjorie Taylor Green tries to call attention to herself by screaming during President Biden's State of the Union address.
So much reckless, desperate need in our society, giving rise to more negative mind states.
Thoughts arise of other reckless young males five thousand miles away. You know the ones—the 10 Russian soldiers who tied up innocent Ukrainians and pulled a trigger. Or the ones who violated women and children. All of the physical evidence is being literally unearthed by investigators.
All I can think of is that whether we're trying to enjoy a peaceful Saturday afternoon at home or living five thousand miles away, harm, hatred, anger, violence, and aggression are ubiquitous, happening everywhere.
It brings to mind another story of one of the Buddha's disciples, who took along his most irritating people to challenge him in overcoming their effects in his practice. When he arrived at the monastery he was told:
Oh, you didn't have to bring them along. There are plenty of people who will irritate you here.
Helplessness, born of the perception that law enforcement deems racing men on crotch rockets too great a risk to the traveling public to pursue, also arises. I suspect motorists driving up in the midst of racing testosterone units feel equally helpless, afraid, or irritated.
I turn my attention back to the moment. All of the displays of fresh, springtime energy and expressions of life are on grand display for all to witness. The two recently returned hummingbirds at the porch feeders reveal beauty of a vibrant kind.
The practice of looking deeply persists, carrying along with it the strongest feeling of all: fear.
Fear underlies the most triggering of our emotions, its energy seeping into the veins, producing screaming expletives that reverberate throughout nationalist and white supremacist movements ala Tucker Carlson, or carried across screens depicting the unfolding nightmare in Ukraine. Fear is being used as a manipulating tool to deprive others of their right to life, whether in the mind or the emotional body. Its effect is strong if we allow it to swallow us whole.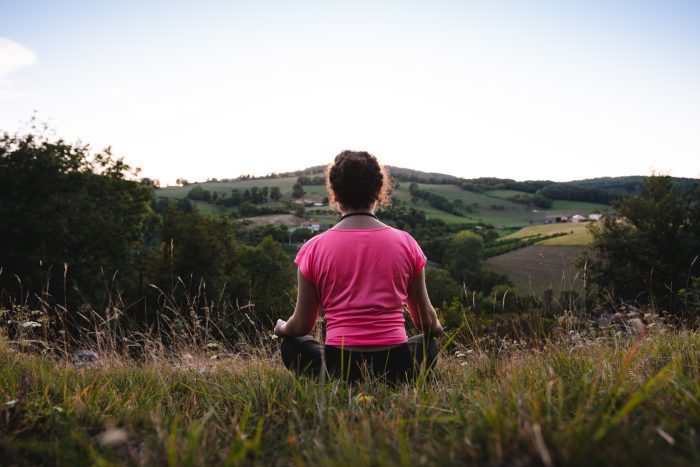 The existence of pervasive fear elicits a return to the teachings on the practice of looking deeply to understand the underlying emotions. Every time I do, it's all there, as clear as the cerulean sky this Sunday morning:
Love of life and a wish for all to enjoy it—humans and nonhumans alike—underlies every arising thought, blanketing over feelings of fear like a balm to our pulsating souls. That all may be free from injury, sickness, or disease; that they may be happy and at peace. That they may be free from suffering, or causing suffering around them.
There is so much material with which to practice in order to live a peaceful life in these messy times. I wonder if the Buddha didn't feel equally challenged to find peace in the happenings of his own days.
Namaste.