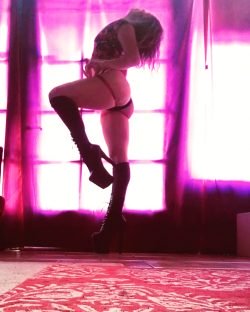 I used to be terrified of other people's opinions of me.
I used to be so afraid of myself—hid parts of me away because I thought I would make men run away.
That I would make my friends run away.
That I would be abandoned and alone.
But I am done with the old me. The scared me. The insecure me.
The girl who tried so hard to find herself in men and relationships.
The one who wanted to always be a good girl—never provoke or tease, or do anything out of the box. Always feeling bad about being myself. Being considered weird, or too much.
I have always had the feeling that most people couldn't handle me and my energy. It took three decades of my life to realize that it is not my f*cking problem.
Now, as I look back, I hold myself in the present—in my arms of radical acceptance—and I deeply know that I do not feel the same way anymore.
I do not feel alone, or fearful of any type of abandonment, as I enter my inner kingdom and discover the wild queen of my spirit. The one who knows how to crown herself. Not out of arrogance, but out of total freedom and radical self-acceptance.
She knows how to lead me.
I have reached a point in my life where my thoughts about myself are what matters the most.
And my skin keeps shedding and keeps shocking some people. But it fulfills me.
It fills my well with fresh water, and sparkling stars in my eyes.
Expressing myself is vital to my well-being. It's a need I cannot define with words. It's just my way of being free and complete with myself.
I am no longer afraid of losing people. I know that the right people will always stick around. The right men will show up and will honor the whole of me. 
The right kind of love, the one like I have dreamed, will come as a caring addition to my life. It will honor all of me because I don't accept anything less than what I'm offering to myself—total self-respect and self-honoring.
I am willing to be myself and lose it all.
Losing ourselves because of fear and other people is a wasted life. I am proud of my path. I am proud of myself for the transformation I have gone through. I am not scared anymore.
I want to experience, explore, and enjoy myself in full amplitude. I want to walk a path that is uniquely mine—full of magic, beauty, mystery, and colors. I want it all.
Because I deserve it all.
Living a life of lies, out of fear, is a life wasted. Living a life where we can't be completely ourselves is a dry life. It does not serve anyone.
Living a life that does not belong to us, but to others, is a life wasted.
Living a life that fully belongs to us, in its full spectrum of colors, means we are in tune with ourselves. 
Dare to shock. Dare to surprise. Dare to get naked (metaphorically and literally). Dare to tell the real story. Tell all the so-called ugly, filthy, dirty parts—squeeze this life to its fullest.
Otherwise, we will always be one half searching for the other half. Do not be ignorant of these parts. The ones that sleep in the dark, waiting to wake up like a volcano when least expected.
Allow your spirit to come forth in its full colors. Shed the old skin. I will be here, holding space.
Let's let our wings grow free from the glue of society. Let's fly free into new dimensions of our being.
Only we can master ourselves. With radical self-acceptance, and by daring to shed old skins. Over and again.
I hope we all start to live the life of our dreams today. Go after it.
The woman within me is not for the faint of the heart.
She is not for the weak men or women. She is not for the insecure men or women. She is not for wounded men or women who feel inadequate. The woman within me is not even for my ego and my old self-image. She is far distant. The woman within me is writing a new storyline.
It is terrifying for some people and inspiring for others. It is showing me the parts of myself that I have outgrown.
The woman in me is too much for some.
She is too sexual. Too exposed. Too explicit. Too sexualized. Too sensual.
But, guess what? I am tired of this sh*t!
I came into this world to discover and experience new experiences in this form that I now hold—female. I want to see the woman in me rise in all her forms, shapes, and passions. 
No one (and I mean no one) will have a free ticket to her. No one will touch or diminish her splendor. I will honor and hold her every time others attack her. I will create a safe space for her to be.
I am not complete without Her. 
For she is me, and I am
Her.