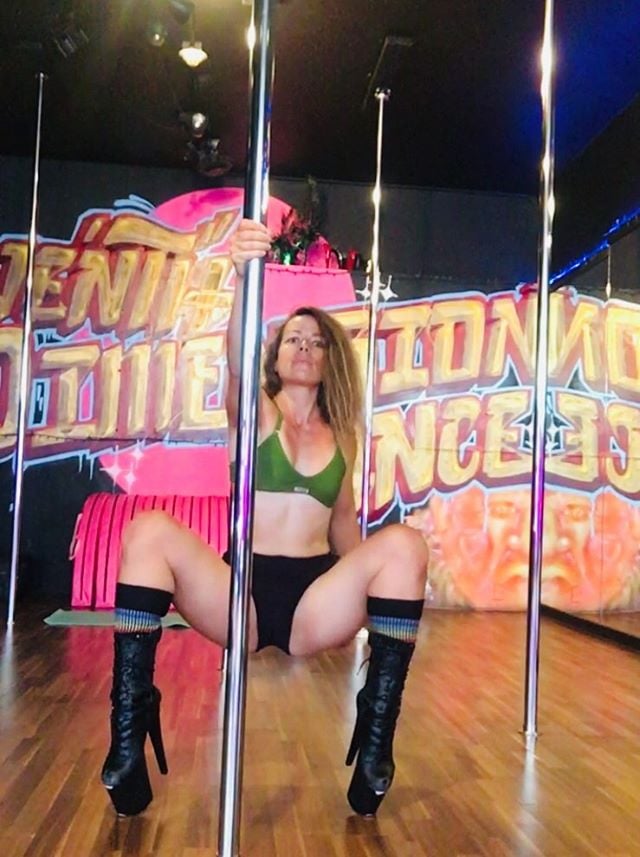 *Editor's Note: Elephant Journal articles represent the personal views of the authors, and cannot possibly reflect Elephant Journal as a whole. Disagree with an Op-Ed or opinion? We're happy to share your experience here.
"I can't tip you for writing an article, so you better go work as a stripper when the lockdown gets over. You look like one anyway."
I read, in wonderment, the snarky comment left by a woman under one of my articles.
Recently, I have had many people (mostly women) call me a "stripper" when they see my pictures and posts on social media associated with a piece of my writing.
I wonder if that snarky-comment woman had encountered many strippers in her life, or if the "stripper" within her was triggered by my posts.
Honesty, I have not yet visited any strip club. Though I know what a stripper does as their job, I am quite curious to meet them in person. I am intrigued to know how their spirit manifests in those dark, dimly-lit environments with lots of music and clients.
I do not see being a stripper as a "bad" thing. Or not "appropriate" for women and men alike.
Why?
Because, what the f*ck do we know about the journey of those strippers? Or of any human being really?
How do we know what their spirit is like, or what she or he needs to fulfill their desires or dreams? There are many things that only they know, and we just cannot grasp nor understand.
When it comes to my online posts and photos associated with a specific erotic (or not) piece of writing, instead of using standard stock images of other women, I choose to use my own photos most of the time, to lend authenticity to my message.
My pictures intrigue some people, disturb others, and disgust a few. They trigger some form of inner trauma in some women, and some may simply not like them, because to them I look like a "stripper", a "porn model," or a "porn movie star."
Holy sh*t.
All these "compliments"!
I have trained myself to see people's judgments with more detachment than before. I do not take their opinions to heart. Because they don't define me. They don't create me. They don't feed me. They don't even picture me correctly. They are not the first thing on my mind when I wake up in the morning. I dream of a new world instead of worrying about what people think.
What most people see in me is usually their hidden or suppressed desires and parts of themselves that they might have never been able to set free or accept. My authenticity and transparency trigger those hidden parts of their psyche.
When I started my pole dancing journey, I would react with anger and tears, or be defensive toward those people who projected on me their inner shadows, fears, insecurities, ugly opinions, and more. Then I realized that I cannot control the level of understanding of other people, nor can I control their opinions and the way they see life and this world.
I can only control my way of seeing and living life. And change and adapt, if need be. 
As time goes by and I discover and allow hidden or severely repressed parts of me to come to the surface, I feel empowered to live life on my terms and not by others' rules. Now, I do not allow anyone to define me. To put me in a box. To give me a label. A price tag. Or any name. Because no one has any ownership over me.
I own myself. All parts of me.
I f*cking know how to crown myself now, without any apology. Even in my vulnerability. Even in my rawness. Even at my most sensitive times. Even in my cries.
Because exposing my vulnerable parts is a testimony to myself, first of all. I do not need attention. I need to express who I am at my core, and I will do that in whatever form it comes to me at any time. Whether my writing and the accompanying images provoke, disturb, tease, or arouse someone, it is an indication of the need for their own self-work. 
My intention is to liberate myself and those women who are interested in getting to know who they are and own it all, darkness and light. It's time we don't see a woman's body and her body's self-expression and desire for nudity as something to be scared of, to stay away from, or worse, as a reason to label or call her names. to label her with all kinds of names. 
It's time we allow nudity to be expressed with awareness, and as an artistic outlet, for women and men alike, to express what has been repressed for too long. This is a woman's or man's opportunity to connect with deeper levels of their being as they are. Just because you are not them, does not mean they have to be you, right?
I know who I am at my core and no one can take my essence and my destiny from me. No one can create images around me that are not close to my spirit.
And oh, for those to whom I look like a stripper—I'll take that as a compliment next time.
Because to me, it means recognizing the unlimited potential within me. I can be a stripper, then a doll, then a mystery; I can be all the women I want to be, within me, with complete awareness, without grappling with those who don't see me beyond my appearances and the characters I like to play and have fun with.
At least I am honest with myself.
I know how to honor all parts of me.
And that's my victory.
Once we reach the point of not giving any f*cks, the entire reality works in our favor. We begin to blossom, unfold, heal—be whomever we choose to be or play, at any given stage of our lives.
I love to be provocative. To tease. To be different. To be fun. To have fun. In ways that honor the whole of me!
I have learned that people will not like in you what they cannot ever be. That's their cross to bear.
I will keep evolving and rising—higher—in all ways that fulfill me from within. Without asking for anyone's permission.
~