Why do any of us spend time and energy attempting to live more mindfully?
When I ask myself this question, I naturally gravitate to the conclusion: I want to be happy. Inevitably, I then ask: what does it mean to be happy? Is happiness, like mindfulness, intangible? And if we found happiness, would we even know it?
Thomas Jefferson, the author of the Declaration of Independence, understood before most in America that happiness wasn't something that could be given or guaranteed in American life. For Jefferson and the founders, happiness was a state of being that ought to be pursued; therefore "the pursuit of happiness," alongside "life and liberty" was written into the document.
Wisely, America's founders left it to each of us to determine what happiness means and how we might pursue it once life and liberty were secured. However, the founders likely didn't foresee that this powerful concept, happiness, would eventually be sold to us incessantly. Today, corporations sell it, and some Americans go into debt to buy it, as we fail to recognize that it's not the best way to know it.
So, how do we discover happiness and attain it?
As I researched this question further, I thought of Dallas Thornton, a musician and filmmaker based in Boulder, Colorado, who told me about a documentary film that he was making called, "My Key to Happy."
Instead of sitting behind my screen reading more about happiness, I decided to reach out, sit down, and connect with Dallas to learn a bit more about what he's discovered—and to explore happiness by connecting on a topic important to both of us. I was thrilled when Dallas agreed to come to my house to discuss the documentary, break bread, and give me his insights on the key to happiness.
Dallas did some homework before arriving. He had read a previous article that I wrote for Elephant Journal, titled: We want a Revolution—as long as Someone Else will do the Dirty Work. In that article I asked: "Where the hell is our 21st Century punk rock (e.g. Sex Pistols) and rap (e.g. Public Enemy), which we need more than ever in this resurgent authoritarian time?"
Dallas' response was direct, "It's right here—but it's fueled by love and happiness, over anger." After his response to my article, I wanted to know more about his music too. Fortunately, there was a connection between the documentary and his music that I was unaware of until he explained.
The traveling documentary series, "My Key to Happy," explores "the lifestyles, philosophies, and modern movements that are making the world a happier place." To accomplish his goal, Dallas set out on a journey to film in Europe and the Middle East during the summer and autumn of 2016. His journey took him to Greece, the Netherlands, Portugal, Italy, and Lebanon.
A recent graduate from the Berklee College of Music in Boston, Dallas was keen to do something of value after finishing college. He chose to ignore the proverbial "real world" and seek out the key to happiness and quality of life over the illusory American dream—the shimmering mirage in the desert that emphasizes standard of living and capital accumulation over all else. He wasn't buying it.
After landing in Greece in the summer of 2016, Dallas met up with Karim Sabry, an Egyptian videographer who was living in Rome, Italy. Karim had agreed to be the Director of Photography for the documentary, and he filmed, while Dallas conducted the interviews.
Both spent several months traveling, volunteering, and living with people who were focused on everything from the Syrian refugee crisis, to minimalism, to alternative education, to intentional communal living in modern eco-communities.
Along the way, Dallas noticed a pattern. He said, "There were three themes related to happiness that came up over and over: relationship with self, others, and the environment." He knew that he was onto something, but he couldn't yet define the key to happy. However, he did have three themes to organize the documentary film around.
After four months of filming, he returned to America. A month later, a clownish cartoon character was elected President of the United States to our own chagrin. Although disappointed with the result of the election, Dallas didn't let it discourage him. He decided to hunker down and begin editing all that was filmed.
After months of editing, Dallas grew increasingly frustrated. He realized that the film was only revealing what he already knew: happiness is elusive. He admitted that he didn't know how to capture the connections or the emotions that were transmitted during the journey. He couldn't figure out how to show the audience the feeling of shared happiness that he experienced with others or while he was in nature.
Naturally, I asked: why? In a follow up email exchange with me, here's what he wrote:
"Happiness is the experience of a healthy relationship between one's concept of self and one's environment. We tend to chase happiness by changing our environment, which is sometimes successful in yielding happiness, usually temporarily. But we can also change our relationship with our self, which is a more direct path to happiness. Put simply, we have to create harmony inside of ourselves before we can create harmony outside of ourselves."
Dallas continued, "Film turns out not to be the most effective way of delivering this message—it appeals to the head, not the heart, which is important for getting this point across." It was clear that he felt it was very difficult to show an audience how harmony is created inside of oneself—but if it can be done, he thought, music might be the means.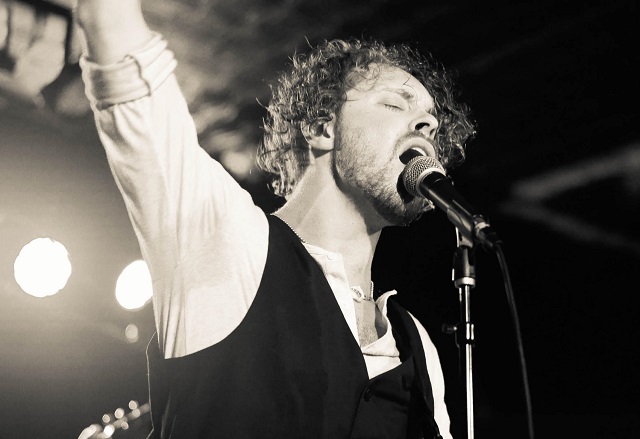 Once he had this realization, Dallas stopped working on the documentary and went back to his most trusted medium for communication: music. The result is his new album, called "Talking To Myself."
When he mentioned the title of the album, I didn't get how it related to the documentary, "My Key to Happy." Dallas explained, "In the end, whatever message we transmit outwardly is as much a message to ourselves." Hence, the title, "Talking to Myself." Now, he's taking his message to the stage in Denver, Los Angeles, and around the world.
Although I'd engaged Dallas to discuss the documentary and the topic of happiness, the new album intrigued me. I've always been a fan of Dallas Thornton's music, so I was delighted that he was willing to share the full album, before its official release on Wednesday, April 18th, while we spoke about creativity, happiness, love, music, and his documentary. There was clearly a connection between all of them.
The album is his sophomore worldwide release as a solo artist, and one of his most vulnerable to date. The entire album centers on the three themes that he discovered when filming the documentary—relationship with self, others, and the environment. Love is the leitmotif of the entire album.
After listening to the album, I felt raw and vulnerable—and I knew that I had just heard something unique from an extraordinarily talented artist, musician, filmmaker, lyricist, and composer.
I quickly bought tickets for the album release on Thursday, April 26th, at Lost Lake Lounge in Denver. For those on the West Coast, he's performing a second release show in Los Angeles, California, on May 11th at The Study Hollywood.
When we listen to the new album, we'll quickly notice that the three themes discovered via the process of filming the documentary are the raison d'être behind the songs on it. The Huffington Post covered the release of the first single in December 2017.
The most interesting discovery made during my interview with Dallas was that he actually wrote between 30 and 40 songs for this album when traveling and filming in Europe and the Middle East for the documentary. He distilled them into the nine-song album that is being released this week. The music clearly expresses what he found on his journey to happiness: love.
I won't give too much away, but the nine songs focus on everything from self-love, to taboos and concepts of love and happiness that are riddled with clichés, yet they're a ton of fun to listen to. The last third of the album is more serious and brings it all home, emphasizing that being present with happiness is possible through love, which requires vulnerability and a willingness to overcome our fear of rejection.
When you listen to the album, you'll hear the word love (or a variation of love) 52 times. However, you will only hear the words happiness or happy a total of three times. It seems Dallas inadvertently discovered that the key to happiness is simply love—love of self, love of others, and love of creation.
As frustrated as Dallas seems to have been with the process of finishing the documentary, he seems to have inadvertently discovered a truth related to happiness that Thomas Jefferson knew all along: it's the pursuit of happiness, not the attainment of it, that leads to happiness. And, sometimes, it's the unintended experiences or outcomes of those experiences—an album, in Dallas' case—which could have never been planned when he set out to pursue happiness in the first place.
As Dallas started filming for the documentary, he was clearly searching for the key to happiness. Ironically, he ended up producing it as he wrote songs while interviewing and filming in Greece, Netherlands, Portugal, Italy, and Lebanon. Although he hasn't finished the documentary yet, he did produce a new album, which tells me that sometimes the pursuit of happiness can inadvertently result in the very happiness that we seek, even if it feels frustrating while doing so.
If anyone reading this article is trying something new, creating something unique, or establishing new relationships—a job, hobbies, or chasing a new dream—don't fret. The pursuit of what you think will make you happy can be challenging, but it'll be worth it in the end.
If you need proof, read about the choice Claude Monet, the famous impressionist, had to make. He literally had to choose between going to war and being a painter. And, if you're not sure what your dreams are right now, meet the artist who paints your life to help find the key to your dreams. Once you know, write your dream biography, and begin the pursuit.
Once you start the journey, it may be uncertain, frustrating, and even frightening—but in the end, you just might find exactly what you've been looking for: happiness. (And, it may look nothing like what you set out to discover when you began the pursuit!)
As for Dallas, he's clearly focused on encouraging people to find their "key to happy" by elevating the message of love through music. Dallas has definitely taught me that pursuing the questions that arise from within—as a result of our passions, creativity, truth, and love—are one key to happy.
On that note, keep up the pursuit of happiness, but don't try to buy it. It doesn't work—and if you need to be convinced, read this Elephant Journal article on the 7 Habits of Happy People. Ultimately, it's what happens as a result of the pursuit that matters most.
~
Relephant:
~
Author: Dr. Matthew Wilburn King
Images: courtesy of Dallas Thornton
Editor: Yoli Ramazzina
Copy Editor: Nicole Cameron